Give fall meals flair with decorations and serving pieces you make—or make better—yourself

BY:

Corynne Pless, Houzz Contributor

|

Updated: November 23, 2016

Image Credit:

Corynne Pless, original photo on Houzz

This article originally appeared on Houzz.com.

It's that time of year again, when dried leaves crunch under the soles of your boots, the evening air is crisp and it's time to gather with family and friends for food and drink.

I recently asked some experts — including a stylist, a florist and a chef — to share their insights and tips for hosting this season. Their simple, low-cost projects can brighten any holiday get-together and add a personal, fresh touch to your fall table.

Gina Sims, a photo stylist (among many other creative titles), offers the following advice for styling your holiday table: "First comes the theme, the vibe and the colors," she says. "Then the items that will make the biggest impact."

I chose a neutral palette to fit with a rustic theme and added a few splashes of bold colors through the plates and florals. Name tags add a personal touch. "I like to label everything," Sims says. "It makes your table look thought-out and special."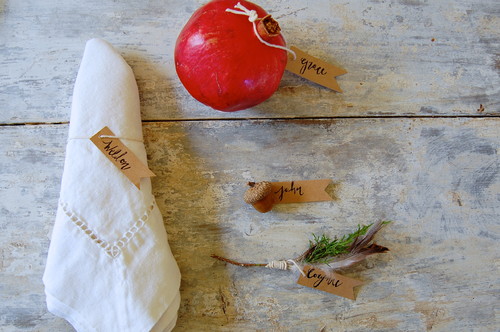 Project: Name Tags
Create name tags with some string and card stock. Look outside or in your kitchen for alternative place card holders. I tested a few different options before choosing simple string tied around a cloth napkin.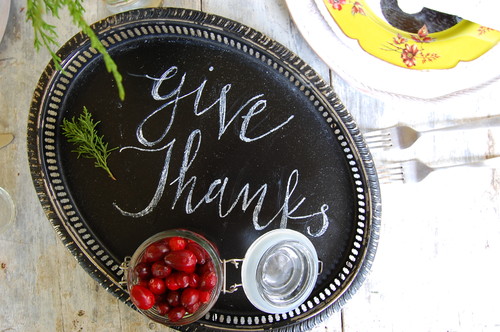 Project: Chalkboard Tray
Coat a metal tray with chalkboard spray paint and write your personalized message on top. This project can be used year-round.
Note: Avoid placing food directly on the surface; the tray works best for displaying wineglasses, jars or candles.
Related: Set the Right Mood With Better Dining Room Lighting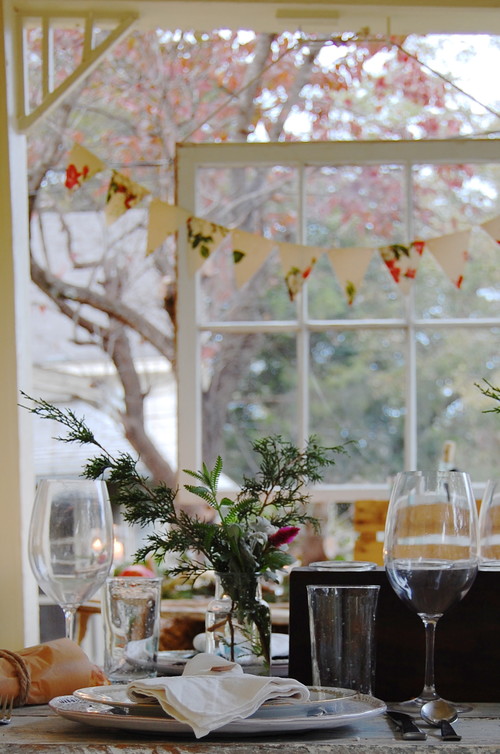 Sims suggests adding layers and height to your table to direct the gaze upward. "Using the entire wall makes the setting really interesting. I almost always hang something from the ceiling or from trees if we're outdoors, whether it be a garland, banner, lights, pom-poms or lanterns," she says.
To add height to my display, I suspended a window and dressed it with a colorful garland.
Project: Paper Garland
Create a simple, colorful garland by cutting paper with vintage floral prints into triangles and threading them onto a string. Old art books or textbooks with thick pages can offer decorative options for your garland as well.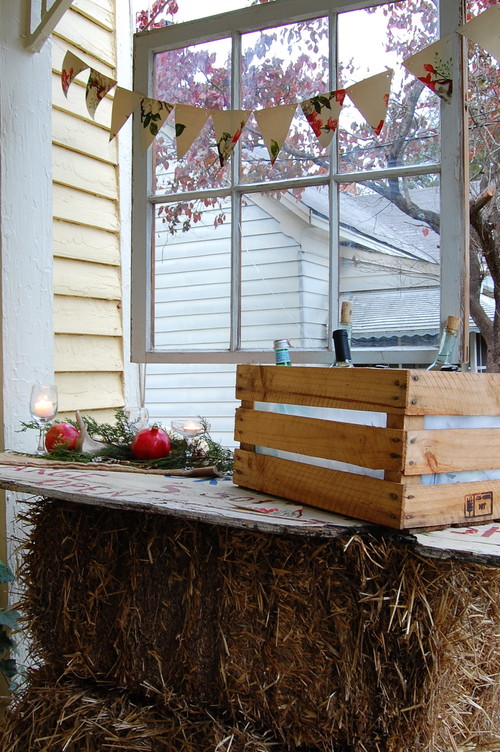 Project: Outdoor Bar
A simple table made from hay bales works perfectly for a temporary outdoor bar. Whether you are hosting dinner outside or gathering around a fire, it's an easy way to keep drinks close at hand. I created my bar by stacking a couple of hay bales together and adding a vintage wooden sign on top. I also turned a wooden crate into a cooler by stapling a clear plastic bag to its interior.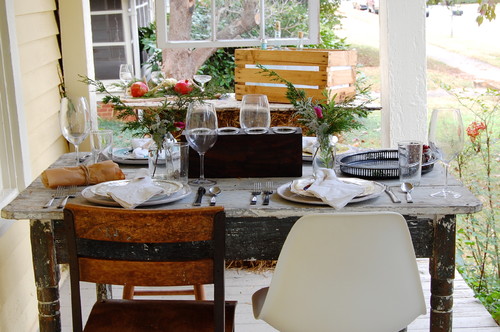 These colorful projects and a hay bale or two can easily transform your table, backyard or patio into an unforgettable setting for fall entertaining.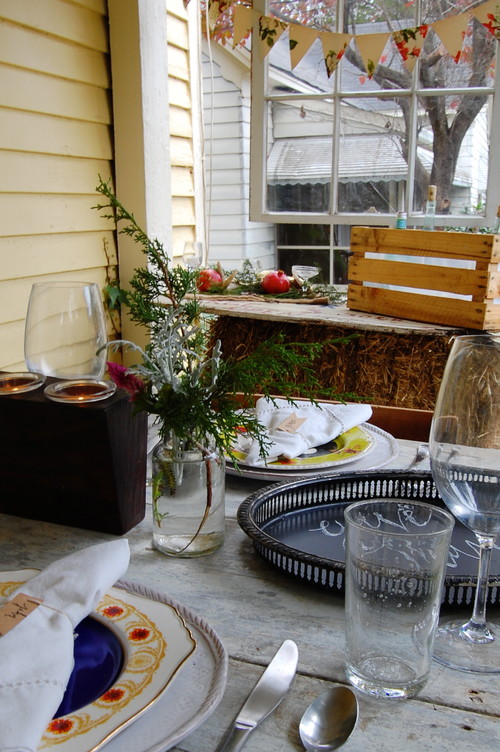 "For a fabulous fall table, step outside," Sims says. "I love using leaves, nuts — au naturel or spray painted a great metallic shade." Copper is especially effective in the fall, she says. "I send my kids outside to hunt for acorns with tops still on," she adds. "You can't go wrong with nature."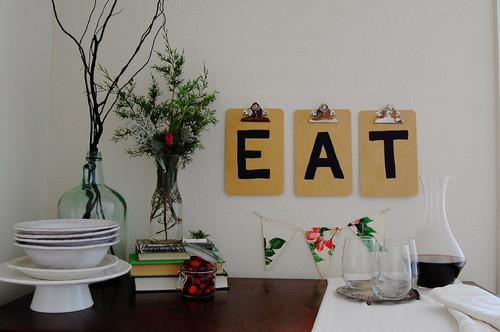 "I like large-scale items like vases or cloches, and use varying heights to add more interest," Sims says. I took Sims' advice and raised some of the accessories and flowers to vary the elevation. Long sticks from our yard are gathered in a simple, large vase, which adds texture and height to the display.
Related: Small Space? Try a Bar Table Instead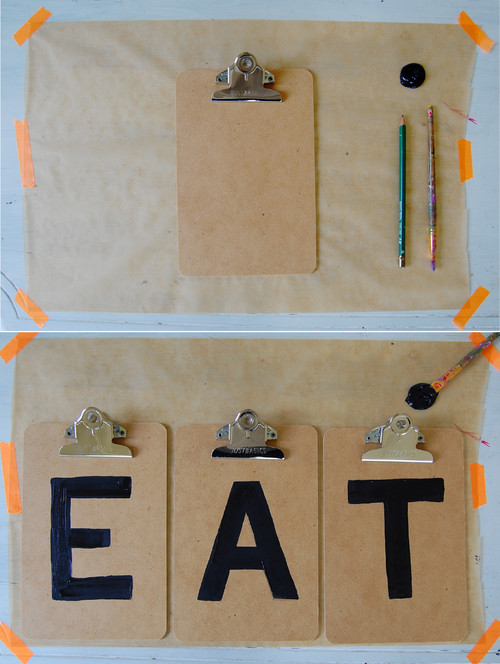 Project: Illustrated Clipboards
Clipboards are an inexpensive and easy way to update a blank space on your wall. Begin by prepping your space and outlining your letters in pencil. Add paint and you're done! If you want to reuse the clipboards later, try using colorful Japanese washi tape to spell out something instead.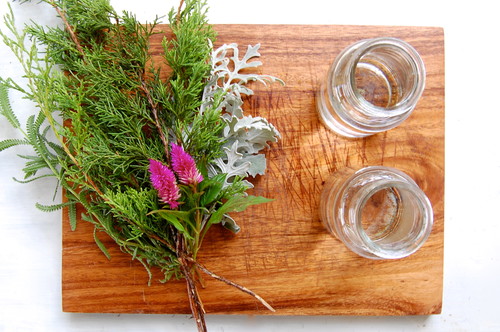 Project: Natural Flower Arrangements
John Cooper and Celia Barss manage Woodland Gardens, a farm that grows more than 80 types of certified organic vegetables, fruit and cut flowers. Cooper offers a few tips for arranging a seasonal, low-key bouquet.
He suggests collecting items like grasses, leaves or herbaceous wildflowers from your yard or a neighbor. The white tuberose flower is one of Cooper and Barss' preferred seasonal blooms. "They are simple in appearance and so fragrant, so they are among our favorites. We dig and store the bulbs for the following year," Cooper says.
I spotted these coniferous branches on a hike and added a few sprays of greenery from our miniature garden, including lavender, spiked celosia and dusty miller.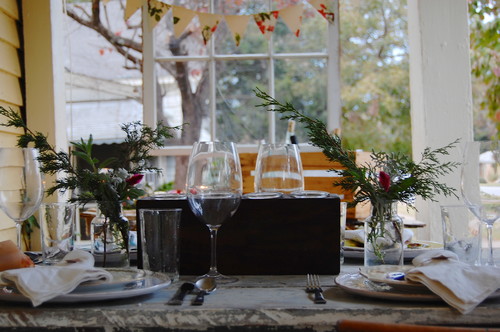 If you are not sure where to begin, Cooper suggests looking around you outdoors. "The natural world provides the best inspiration," he says. "See what blooms or grows in groups and try to replicate — observe plant communities and work those into natural arrangements."
Cooper also encourages simplicity. "If you are doing more than one bouquet, find a pattern and repeat — not too many different types, textures or colors."
Related: Upgrade Your Dining Table Before Guests Arrive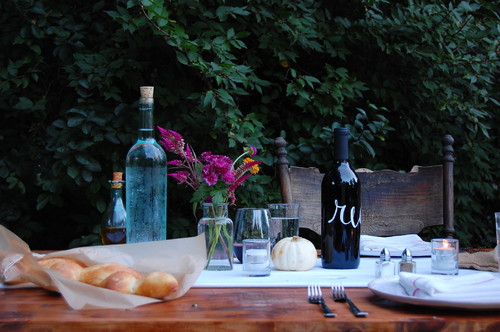 Project: Recycled Water Pitcher
This idea was inspired by many of my favorite restaurants in New York City and by this DIY project by Molly Jacques. I relabeled the wine bottles using enamel paint and a small bristle brush.
Try recycling clear wine bottles and using them for water. Scrape off the label adhesive using hot water and a flat utensil, and thoroughly wash the bottle. Fill the clean bottle with water, chill it in the refrigerator, and place it on the table before guests arrive for a chic alternative water pitcher.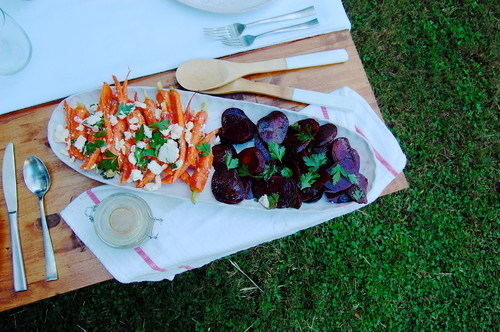 Project: Dipped Spoons
Give your serving pieces an update by painting the handles. I followed this detailed online tutorial from House of Earnest. Use them to serve something like this fall-perfect side dish:
Roasted Carrot and Beet Salad With Feta, Pulled Parsley and Cumin Vinaigrette
(from A New Turn in the South, by Hugh Acheson)
Serves 6
Ingredients:
1 teaspoon salt
1 pound baby carrots, peeled, ½ inch of green top left on
1 pound baby beets, cleaned but not peeled
¼ pound feta
1 tablespoon extra virgin olive oil
¼ cup cumin vinaigrette (recipe below)
1 cup flat-leaf parsley leaves, pulled
1. Preheat the oven to 450 degrees. Bring a large pot of water to a vigorous boil, add ½ teaspoon of the salt, then the carrots. Blanch for 1 minute and remove the carrots, placing them in a bowl of ice water to stop the cooking. Once they're cool, remove them.
2. Place the beets in a large pot of cold water. Bring to a boil, add the remaining ½ teaspoon of salt and simmer until the beets are tender. Strain the beets and peel them using paper towels to rub off the skin. This is easier when they are still warm. Crumble the feta and set it aside.
3. Toss the carrots with ½ tablespoon of the olive oil and place them on half a baking sheet. Toss the beets with the remaining olive oil and place them on the other half of the baking pan. Roast for 15 minutes.
4. Remove the beets and carrots from the oven and place them in separate bowls. Add 1 tablespoon of the cumin vinaigrette and ½ cup of the parsley to the beets and toss. Add 1 tablespoon of the vinaigrette, the remaining parsley and the feta to the carrots and toss.
5. Divide the carrots evenly among 6 plates. Then divide the beets evenly among the plates and gently mix them with the carrots. Drizzle with a touch more of the vinaigrette.
Cumin Vinaigrette
Makes ¾ cup
1 teaspoon Dijon mustard
½ cup extra virgin olive oil
1 teaspoon lemon juice
2 teaspoons sherry vinegar
1 teaspoon cumin seed, toasted in a dry pan and then pulverized
1 tablespoon finely chopped fresh mint
Salt and pepper to taste
Place the Dijon mustard in a bowl and whisk in the olive oil, then the lemon juice and the sherry vinegar. Add the cumin and the mint. Season with salt and pepper.
Used with permission from A New Turn in the South, by Hugh Acheson. Copyright © 2011 by Hugh Acheson. Published by Clarkson Potter, a division of Random House, Inc.