9 New Restaurant Trends We Love
From growler-filling stations galore to house-churned butter, these are the trends on our radar
By Seattle Mag April 13, 2015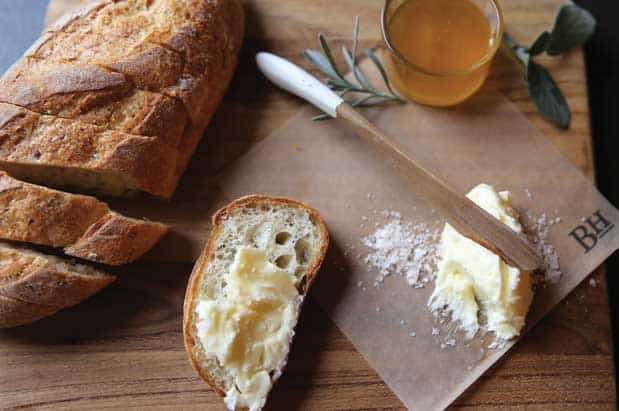 1. Fishy Fish
Less flake, more flavor. Little silver fish—anchovies, smelt, sardines—and oilier fish, such as mackerel and herring, are all over menus these days. It's a groundswell, with chefs seeking sustainable seafood. At West Seattle's Mashiko (sushiwhore.com), the entire menu is built on sustainably sourced seafood, but the saba (mackerel) is a standout: It's grilled until the fats caramelize, then given a squeeze of fresh lemon and a shower of dill. At Blueacre Seafood (blueacreseafood.com) downtown, the herring is pickled in-house and served with toasted seed bread, pickled onions and horseradish-spiked sour cream. Sardines top thickly cut toast at The Whale Wins (thewhalewins.com), their flavor balanced with curried tomato paste and shaved fennel. Or hit West Seattle's Westcity Sardine Kitchen (Facebook, "Westcity Sardine Kitchen") for a triple hit of the fishy fish: pappardelle with sardine puttanesca, grilled sardines with chili-caper sauce and fresh baguette with—what else?—whipped sardine butter.  


Mackerel nigiri at Mashiko in West Seattle
2. House-churned Butter
Not long ago, a restaurant making its own pasta was headline-worthy, and a kitchen baking its own bread was extraordinary. These days, chefs insist on doing nearly everything in-house, from curing meats for charcuterie plates to making yogurt. And, lately, to churning butter made with milk from local dairies. At Hommage (hommageseattle.com), on the north edge of Queen Anne, the kitchen crew makes butter flavored with charred corn husks, and at Bottlehouse (bottlehouseseattle.com) in Madrona, baguettes wear house-made butter, local honey and sea salt. Wallingford's Tilth (mariahinesrestaurants.com), Eastlake's Blind Pig Bistro (blindpigbistro.com) and Pioneer Square's London Plane (thelondonplaneseattle.com) are all among a growing number of restaurants that realize really good butter makes a big difference in flavor.
3. Ramen
We've long been flush with pho, but lately Seattle is becoming a real ramen town. Within the last two years, Japanese chains have raced to open on the Eastside (Santouka; Kukai, kukai-ramen.com; Jinya, jinya-ramenbar.com) and Seattle-area Japanese restaurants, such as Yoroshiku (yoroshikuseattle.com) and Miyabi 45th (miyabi45th.com) in Wallingford, have packed houses at lunchtime, drawing crowds in search of the very best bowl of the noodle soup. Japantown's venerable Tsukushinbo (206.467.4004) has had a line out the door for its Friday-only ramen lunch for decades, and Samurai Noodle's ramen is so popular it's opened three locations (in the University District, the Chinatown–International District and on Capitol Hill; samurainoodle.com). So, which is best? For my taste, Hokkaido (Bellevue, 103 Bellevue Way NE, Suite 3; 425.462.0141; santouka-usa.com), with its rich but nuanced broth and properly barely firm noodles, rules.
4. Yogurt, Yogurt, Everywhere
In Moroccan, Middle Eastern and Indian cuisines, yogurt sauces are de rigueur, timeless and delicious whether cooling with mint and cucumber or punchy with garlic and lemon. Lately, however, yogurt is showing up on restaurant menus across the city, and not just for breakfast or dessert. For years, chef Matt Dillon has made his own yogurt and used it as a sauce on everything from wood-fired meats to chickpeas at his influential Melrose Market restaurant Sitka & Spruce (Capitol Hill; sitkaandspruce.com). Dillon still leads the trend in savory applications at all of his restaurants—kale and sheep's milk yogurt seasoned with sunflower seed butter and chili paste is a dish on the menu at Pioneer Square's Bar Sajor (barsajor.com)—and in sweeter manifestations, adorning the thick, tart yogurt with pistachio, rose and toasted coconut granola at that neighborhood's The London Plane. Across town at Capitol Hill's Artusi (artusibar.com), yogurt successfully marries an unlikely combination of raspberries, roasted beets, garlic chips and hazelnuts. It's spiced with sumac and served with miso-roasted carrots at buzzy Korean barbecue spot Trove on Capitol Hill (troveseattle.com); and, in a dish that has a cult-like fan base, it's mixed with garlic and lemon, cooling the heat of harissa on the caramelized roasted carrots at Fremont's The Whale Wins (thewhalewins.com).
5. 21-and-older-only restaurants
This year we're seeing a slew of restaurants eschew a family-friendly welcome and cater only to grown-ups. Damn the Weather, Bourbon and Bones, and Single Shot join longtime 21-and-older-only spots LloydMartin, Purple Café and Wine Bar, Smarty Pants and the Red Door in only welcoming diners of legal drinking age. Not that there is anything R-rated going on behind their doors. While parents frequent the many area restaurants that cater to families—such as JaK's, Vios and the dozens of nicer pizza spots, and really, many other Seattle-area restaurants—it's a welcome change of pace to leave the kids (especially other people's!) behind, if only for a few hours every once in a while.    
6. Pop-up Restaurants 


Meat & Noodle pop-up at Kurtwood Farms on  Vashon Island
When Kirkland's fine Italian eatery Cafe Juanita, established decades ago, temporarily relocated to the old Lark space for a special prix fixe dinner service during its winter renovation, it left little doubt: The pop-up trend is firmly set. Though Juanita's regular 926 Pop Up was longer term than most, the idea is that a chef with a new idea borrows restaurant space from an established restaurant on a night or time said restaurant would usually be closed. At this point, there are several regular pop-ups happening all over town, including a Mexican-Chinese pop-up at Ballard's Bloom restaurant called Chinese Laundry (bloomballard.com); Filipino Lahi pop-up dinners (Facebook, "Lahi Seattle") and Parchment Bakery (Facebook, "Parchment"), which pops up at Ballard's Brimmer & Heeltap two Sunday mornings a month. And then there's Vashon's Meat & Noodle (Facebook, "Meat & Noodle"), a ramen (and more) pop-up that has a growing cult following. Get on the mailing list and prepare to board the ferry for a dinner well worth the trip. 
7. Over-the-top, High-end Burgers 


Who can resist the sensationally over-the-top burger at Loulay (yes, that's foie gras!) 
Higher-echelon hamburgers—made with pedigreed beef, fancy cheeses and extravagant toppings—have been a thing in Seattle since Tom Douglas debuted his (then outlandishly expensive $15, now $18) Palace Burger Royale at Palace Kitchen (tomdouglas.com) in the late '90s. Lately, though, chefs are getting even crazier, building hulking burger masterpieces. Check out the 5-inch beauty at Pioneer Square's Damn the Weather (full write-up here), where the beef patty is topped with bacon, melted Swiss and matsutake mushrooms on a house-baked sourdough bun ($10). Brandon Pettit spent months perfecting the wood-fired-oven-roasted burger for Essex (essexbarseattle.com) in Ballard, which is served only on Sunday nights. It's got two secret sauces, and seasonally appropriate toppings. Finally, at downtown's chic Loulay (thechefinthehat.com), the perfectly seasoned burger ($16) is simple yet exceptional on its own; top it with seared foie gras for $15 and you, friend, have built yourself the city's priciest patty. Bravo.
8. Dukkah  
As the flavors of Egypt and North Africa continue to pop up on menus around town, it's dukkah (pronounced dook-ah), the savory toasted spice mix of coriander, cumin, sesame seeds, thyme and nuts (and often hazelnuts, sometimes almonds, pistachios or macadamia nuts), that most enchants. I first spotted it sprinkled on soft-boiled eggs at The London Plane, and then again adding a warm, nutty crunch to cheese at Capitol Hill's Sitka & Spruce. Jerry Traunfeld adds nutty texture to carrot-lemon soup at Poppy (poppyseattle.com) with dukkah, and at Mamnoon (mamnoonrestaurant.com), Garrett Melkonian coats goat cheese with dukkah and serves it with a shaved pear, pomegranate and chicory salad.
9. Growler-filling Stations Everywhere
You've gotten into the habit of carrying reusable grocery bags everywhere you go. Add your growler to that luggage, because it's never been easier to fill one up as it is right now. Dozens of growler-filling stations have sprouted, in boutique groceries (East Capitol Hill's Cone & Steiner; coneandsteiner.com), inside oyster bars (Little Gull on north Lake Union; littlegullgrocery.com), at sandwich shops (the new Mammoth on Eastlake; mammothseattle.com). Even Bartell Drugs is getting into the game, adding growler-filling stations to three of its stores (Ballard, Greenwood and South Lake Union; bartelldrugs.com), as is QFC in Bellevue (qfc.com). Of course, Chuck's Hop Shop (in Greenwood and the Central District; chucks85th.com), and West Seattle's Beer Junction (thebeerjunction.com) and Tap Station (tapstationseattle.com) offer stellar brews and unmatched variety. But sometimes, whatever's on tap wherever you are is plenty good enough.
Which 10 new Seattle restaurants did we name the best of the best this year? Find out here.
This article was updated on April 22 to correct the name of the Japanese restaurant Santouka.