New amenities, plantings and paving elevate these outdoor living spaces

BY:

|

Updated: August 31, 2016

This article originally appeared on Houzz.com.

A patio can be more than a concrete slab, as these six transformations show. From a geometric brick paving pattern that alludes to a homeowner's vision for a labyrinth, to bluestone pavers intermixed with gravel to spread the budget further, these patios previously featured on Houzz inspire stylish outdoor living and solve distinct landscape challenges.

1. Asian-Inspired Patio for Both Dog and Owner
Location: Kalorama neighborhood of Washington, D.C.
Designer: Jennifer Horn of JHLA

BEFORE: The existing patio behind this Washington, D.C., home already featured bluestone paving and a water feature, but the water fountain splashed everywhere and the natural cleft bluestone was laid in a loose pattern that made the patio appear smaller. Additionally, the homeowner's beloved black Lab trampled anything planted at ground level.

The homeowner asked landscape architect Jennifer Horn for an attractive, modern garden space inspired by his travels to Asia where he could entertain and also keep his dog.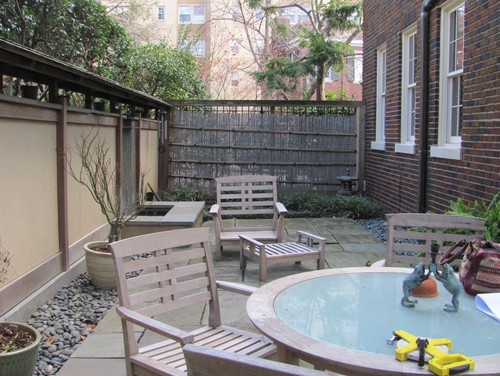 AFTER: Horn re-envisioned the patio with the homeowner's requests as her jumping-off point. While bluestone paving still covers the patio floor, the thermal finish and running bond pattern make it feel more cohesive and organized — and also feel good on dog paws. The new water feature runs the patio's length, slowly recirculating water in a gentle rhythm.
Aquatic plants like water lilies and lotuses grow in the fountain, which also acts a bit like a moat, protecting plants next to the repainted stucco fence from the dog. Vines, including passionflower and trailing forsythia, and ferns dangle from wood planters down into the side yard.
Related: Transform Your Own Outdoor Living Space
A new ipe fence along the patio's far wall provides a clean, bright backdrop and also shields the side garden from the street.
2. Family-Friendly in Washington, D.C. 
Location: Cathedral Heights neighborhood
Designer: Mark White of GardenWise

BEFORE: A family in Washington, D.C.'s, Cathedral Heights neighborhood already had an expansive backyard, including a patio between their house and detached garage, but its slope and poor space-planning didn't make it all that usable or inviting.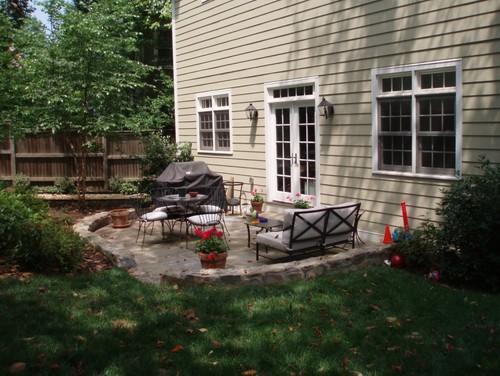 AFTER: The homeowners worked with landscape architect Mark White, who graded the backyard into two flat, usable levels. He expanded the patio next to the house, adding a fireplace, an elegant seat wall and new perimeter landscaping. 

A new patio features a crisscrossing paving pattern of brick and bluestone, anchoring the space and contrasting the light-colored patio furniture and fireplace. 
The fireplace was designed as a focal point, built in between two garage windows and along the new raised planter. (You can see plants to the sides if you look closely.) The fireplace surround pops against the gray stone of the chimney, tying in with the house and garage. 

The mostly evergreen plants frame the space, creating a green backdrop for outdoor dining and lounging. 

Dining furniture: Kingsley-Bate; chimney: Chocolate Gray stone; fireplace surround: capstone; paving: brick and bluestone
3. Lush Living on a San Francisco Parking Space
Location: Mission District
Designer: Beth Mullins of Growsgreen Landscape Design

BEFORE: An unused concrete parking spot in the backyard of a couple's first-floor home in San Francisco's Mission District was the perfect opportunity for a new outdoor living space, especially since they already had underground parking.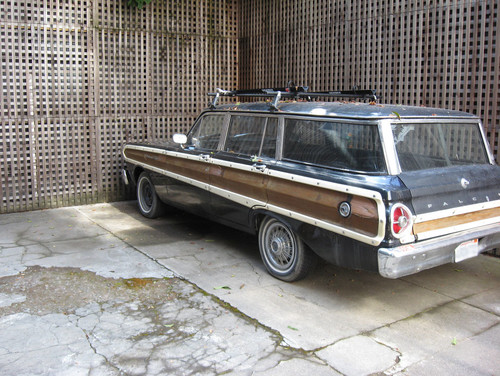 AFTER: Landscape designer Beth Mullins worked a near garden miracle, transforming the cracked concrete pad into a lush back patio with a new upper-level ipe deck. With the two distinct areas she created, the space appears larger and less sunken. The raised deck also allowed Mullins to avoid demolishing the existing concrete underneath. 

Related: Patio Details: Seattle Townhouse Gets a Taste of Outdoor Living

Built-in planters filled with Bay Area-friendly succulents, grasses and other low-water plants frame the deck and also function as a guardrail.
Poured-in-place concrete pavers form a solid base for outdoor dining and entertaining, and the couple's young daughter enjoys playing hopscotch on them. Dwarf mondo grass (Ophiopogon japonicus 'Nana', USDA zones 6 to 11), a slow-growing, clumping grasslike perennial, grows in between the pavers. It is easy to grow, doesn't require too much soil and can handle foot traffic.

Sectional: Ikea; white dining set: vintage
4. Enhanced Outdoor Living in the Pacific Northwest
Location: South Seattle
Designer: Mark S. Garff

Related: Open Up Your Deck With a Paved Path

BEFORE: The owners of this traditional Seattle townhouse had an outdoor deck, but the scale didn't feel right in the compact backyard, and the deck didn't have the contemporary industrial style they liked. Additionally, to reach the deck's stairs to the lower part of the garden, visitors had to cut through any activity or gathering happening on the deck.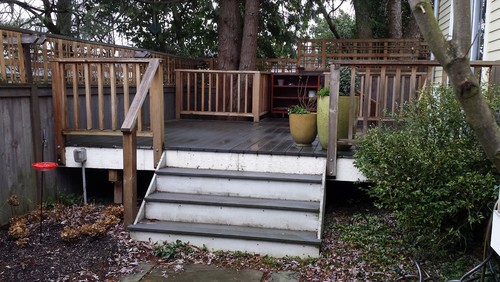 AFTER: Landscape architect Mark S. Garff maintained the existing deck, but he removed the railings and moved the staircase closer to the house, opening up the deck to the rest of the yard and rerouting the circulation to the edge of the deck. 
New extra-wide steps framed with steel lead down to the new patio, a combination of bluestone pavers and gravel. By spacing out the pavers and filling in the gaps with gravel, Garff created a permeable patio that also made the more expensive bluestone go further. 

Built-in cedar planters hold perennial flowers and edible plants, and also function as a railing, a barrier and extra seating.
5. Simple Modernity in New York City
Location: Brooklyn Heights neighborhood
Designers: Sean Lewis and Jesse Terzi of New Eco Landscapes

BEFORE: A run-down patio behind a couple's home in Brooklyn had a couple of plants, cracked concrete, a cobblestone wall and some other decrepit features. The rear wall abuts a church. 

The homeowners, who are dog owners, wanted an outdoor space where their pets could play and where they could entertain, while still leaving the patio open to other activities. They also wanted the yard to speak more to the surrounding architecture.
AFTER: Landscape designers Sean Lewis and Jesse Terzi channeled New York with their design, but they didn't replicate the home. The homeowners had wanted a backyard labyrinth, which Terzi and Lewis didn't think they had room for, so they installed the brick patio in a circular pattern instead. The brick paving ties into the home's facade, while new tiered steel planters complement metal stairs and a balcony off the townhouse. Two seating areas can easily be moved around, to make plenty of room for the dogs to play.
6. Peace and Quiet on a Busy Los Angeles Street
Location: Brentwood neighborhood
Designer: Kurt Krueger Architects

BEFORE: Southern California is all about outdoor living, but as this house in Los Angeles had limited backyard space and a very exposed front yard on a busy street, the homeowners had never really been able to take advantage of it.
AFTER: Architect Kurt Krueger was hired to renovate the whole house, which included converting the unused front lawn into a private patio sanctuary. Tile paving, a privacy fence, sliding sunshades and a bubbling water fountain, plus ambient landscape lighting, mean the homeowners can relax outside — day or night — forgetting the heavy traffic that lies just on the other side of the fence.