Must List: Balkan Night, Patti Smith, MoPop Sound Off!
Your weekly guide to Seattle's hottest events
By Seattle Magazine Staff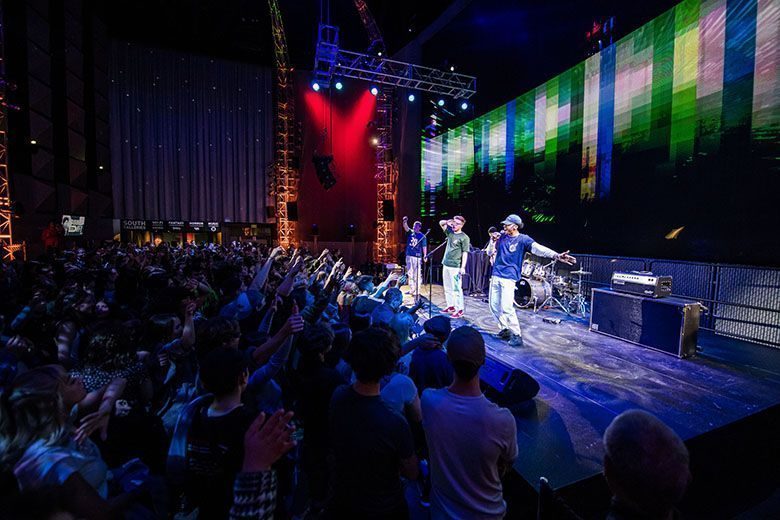 Love the Must List? Get it right in your inbox. Subscribe.
*Due to evolving public health concerns related to the coronavirus (COVID-19) outbreak, be sure to check with event hosts and venues for updates on event schedules and cancellations.
MUST DANCE
Balkan Night
(3/7) Now in its 9th year, this annual celebration of Balkan musicians in the Pacific Northwest hosts an evening of Balkan food, drink and dancing. More than 20 bands are slated to play this year, and you can expect a special appearance from famed Bulgarian saxophonist, Yuri Yunakov. 5 p.m. Prices vary. Saint Demetrios Hall, Montlake; balkannightnw.com
MUST EXPERIENCE
Ugly
(3/5–3/16) Washington Ensemble Theatre's Gush Series presents groundbreaking performances by out-of-town artists, works that Seattle audiences otherwise might not have a chance to see. In this installment, explosive New York-based director/choreographer Raja Feather Kelly presents his solo show UGLY, which is billed as "part dance-theater and part pop-culture collage." 7:30 p.m. $25. 12th Avenue Arts, Capitol Hill; washingtonensemble.org
MUST DOWNSIZE
Seattle Miniature Show
(3/7–3/8) Dealers in miniatures gather to show off furniture and accessories for antique dollhouses during this showcase of diminutive pieces. Peruse the displays of miniature mastery, upgrade your own collection or put that dusty dollhouse on the market at "Mini Acres," a neighborhood of dollhouses for sale. 10 a.m. $7, children younger than 12 free. DoubleTree Suites by Hilton, Southcenter; seattleminiatureshow.com
MUST DIM THE LIGHTS
March is Cabaret Month
(Ends 3/28) If listening to a sultry chanteuse in a dimly lit club is your idea of a good time, clear your weekend calendar this month. Every Friday and Saturday in March, you can listen to both established and up-and-coming singers perform everything from classic cabaret repertoire (think French chansons and the Great American Songbook) to more unusual cabaret offerings, including folk music, opera and political satire. Times and prices vary. Egan's Ballard Jam House, Ballard; marchcabaret.com
MUST CELEBRATE AN ICON  
Patti Smith
(3/11)  Singer-songwriter, poet and National Book Award-winning author are just a few titles associated with America's punk pioneer, currently touring with her band. Starting with her debut 1975 album, Horses, this 2007 Rock and Roll Hall of Fame inductee launched a career of excellence now more than four decades long. 8 p.m. Prices vary. Paramount Theatre, downtown; stgpresents.org
MUST APPLAUD OUR YOUTH
[POSTPONED] MoPop Sound Off! Finals 
(3/7) This annual 21-and-under music competition, which helped launch local artists like Dave B and Naked Giants, will name its 2020 winner this Saturday. Finalists include Seattle hip-hop collective 49th Parallel and Human Missile Crisis, a Tukwila punk duo. 7 p.m. $14. MoPop, Lower Queen Anne; mopop.org
MUST ANALYZE
Fade to Black: Eve's Bayou screening at LANGSTON
(3/11) This monthly screening explores how culture and society are affected by Black representation in film, with a special focus on horror movies. The 1997 drama Eve's Bayou, starring Samuel L. Jackson, will be followed by a talk-back with hostess Isabella L. Price and a special guest. 6 p.m. $10. Langston Hughes Performing Arts Institute, Central District; brownpapertickets.com
Coming up: 
These events are weeks away but are bound to sell out—get your tickets now. 
MUST GET POLITICAL
The Seattle Process with Brett Hamil
(3/13) Seattle comedian Brett Hamil is an incisive and insatiable consumer of local politics, so do your civic duty and get to "Seattle's favorite crackpot leftist political comedy talk show." Previous guests have included writers Lindy West and Ijeoma Oluo, Seattle City Council member Kshama Sawant and Washington State Solicitor General Noah Purcell, who argued against Trump's Muslim travel ban in the Supreme Court. 8 p.m. $17. Northwest Film Forum, Capitol Hill; nwfilmforum.org
MUST REMEMBER THE '90S
Bikini Kill
(3/16–3/17) Riot grrrls unite! Coming straight out of 1990s Olympia, Bikini Kill's feminist punk music remains at once an expression of rage, frenzy, joy and a rallying cry, particularly for Northwest women of a certain age. After breaking up in 1997, Bikini Kill reunited in early 2019 for a four-show tour, and now keeps the party going with this additional North American tour, kicking off March 13 in Olympia. Between these shows and a never-ending feud with Courtney Love, it's like the '90s never ended. 8 p.m. $39.50. Paramount Theatre, downtown; stgpresents.org
MUST LISTEN CAREFULLY
Lindy West and Samantha Irby: Heavy Flow
(4/5) Individually, authors Lindy West and Samantha Irby are cacklingly funny and candid writers, each with her own unique voice and devoted fans. But they're not just best-selling authors, they're best friends. In this live show Heavy Flow, Irby and West will lead "a raucous conversation about womanhood, pop culture, body image and politics," followed by a Q&A session. 7:30 p.m. $25–$53. Benaroya Hall, downtown; benaroyahall.org
This article has been updated since original publication.