New auditorium, better BMX track and a greener Seattle
By Rob Smith February 2, 2023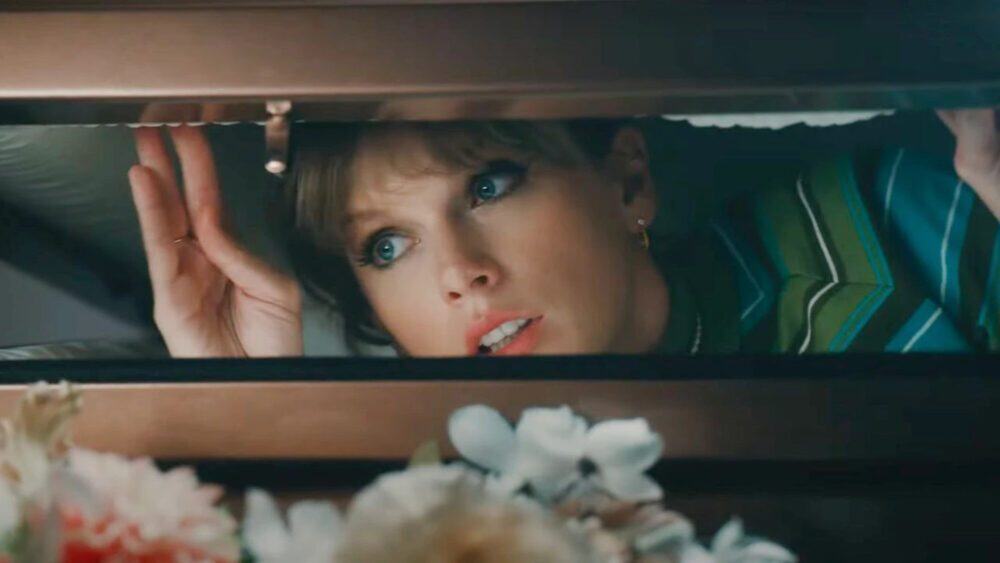 Photo of Taylor Swift/YouTube
Casket Case
Bellevue company's product featured in Taylor Swift video
Social media absolutely lost it after a casket manufactured by Bellevue-based Titan Casket was featured in American singer-songwriter Taylor Swift's recent "Anti-Hero" music video.
Tweets and Instagram posts from Swift's fans about the casket have generated tens of thousands of likes and retweets, resulting in a mountain of free publicity for the company, which was co-founded by Josh Siegel in 2016.
"Where can I buy that??" wrote one user on Instagram. Another wrote on Twitter: "Now I know what casket I'll be having at my funeral."
Siegel says Swift's handlers found the casket via a simple online search because of a lack of private brands in the casket space. Most consumers rely on a funeral home to provide one. The production company reached out and asked Siegel to sign a release. 
Months later, "We woke up [one] Friday and Taylor had released this album," Siegel says. "An employee who is a big fan watched the video and saw what appeared to be our product. We are delighted."
The song, inspired by Swift's nightmares, is the lead single from her 10th studio album, "Midnights."
 According to Wikipedia, the song broke global and U.S. records for the biggest opening streams in Spotify's history. It quickly hit No. 1 in the U.S. and numerous other countries.
"She has a very active fan base," Siegel adds. "They posted where to buy it."
Taking It to the Streets
Seattle is, indeed, a fashion mover and shaker
Those in fashion-forward cities across the country appreciate Washington state's unique, down-to-earth sense of fashion. 
Just ask those who know best. The state ranks No. 8 in a nationwide survey for best street style in the United States based on influence, interest levels and online voters. "Street style" is generally defined as grassroots street wear, rather than coming from a runway or studio.
The Street Style Index, published by men's brand boohooMAN, analyzed social media data and also conducted a vote of the online fashion community. Google data reveal that the Evergreen State has the 18th-highest interest in street wear and is the 22nd-most Googled state for fashion, receiving 350 average monthly searches. The state also received the 19th-highest number of video views on TikTok.
New York and California, unsurprisingly, took the top two spots.
Some other interesting data: Cargo pants are making a comeback. In September, searches for cargo pants rose by 257% in New York, an all-time high. Searches are also exploding across the country for bomber jackets, tracksuits and graphic T-shirts.
Gang Green
Seattle climate actions capture international recognition
The Green New Deal is alive and well in Seattle.
The city recently won an award from C40 Cities and Bloomberg Philanthropies for "Building a Climate Movement" through its Green New Deal, which addresses the climate crisis and environmental injustice through carbon-pollution reduction and other efforts. The end goal seeks to reduce climate-related health disparities, as research shows that race is the top indicator of whether a person lives near contaminated air, water or soil.
Seattle has reduced greenhouse gas emissions the past 15 years by almost 5% in buildings, transportation and waste, despite a 25% population increase. Building standards are expected to reduce emissions by 27% more by 2050.
Mayor Bruce Harrell says the ultimate goal is to transition away from dependence on fossil fuels and create healthier neighborhoods. "It's about people, connection and partnership," he says.
Here's the real Puget sound
Seattle ranks tops for vintage vinyl
Seattle ranks as the No. 4 Most Artsy city in the U.S. based on almost two dozen factors, but one metric really stands out: The city ranks No. 1 for its number of vinyl record stores per square mile.
That won't surprise audiophiles. Top stores include Daybreak Records in Fremont, West Seattle's Easy Street Records, Georgetown Records and Single Going Steady Records in Belltown. There are many more.
In compiling the overall list, lawn care provider Lawn Love analyzed 22 metrics, including the number of art museums, galleries, performance theaters and music venues. Besides record stores, Seattle scored particularly well for its entertainment scene and its educated population.
San Francisco is No. 1, followed by Miami and New York. We're not judging, but the least artsy of the 200 cities analyzed is West Valley City, Utah, a suburb of Salt Lake City.
Track Record
BMX facility receives significant upgrade
The BMX track where Olympic bronze medalist Jill Kintner learned how to race has received a significant upgrade. The SeaTac BMX track, which has also produced multiple national and world champions, recently reopened after an extensive $700,000 renovation.
"The track has been radically transformed," says SeaTac Mayor Jake Simpson. "It is even better than I could imagine."
The track is in the city of SeaTac but is a national-level BMX track operated by nonprofit community group SeaTac BMX. It was originally built in 1981 at a different location [years before SeaTac incorporated as a city] and relocated to South 136th Street 21 years ago. 
Bryce Phillips, the founder of outdoor gear company Evo and the developer behind The Pass Life in Snoqualmie [featured in the September-October issue of Seattle Business magazine], donated the first $100,000 toward the renovation.
The track is open to the public but closed until May 1.
Hear Here
New Cornish auditorium boasts topnotch sound system
A new state-of-the-art auditorium that may boast the best sound in the city of Seattle recently opened on the Cornish College of the Arts campus. A flip of the switch can create the feeling of a giant auditorium or an intimate jazz hall, says a Cornish spokesperson.
The 175-seat auditorium is equipped with the Constellation System from Meyer Sound, a Berkeley, Calif.-based company that has installed sound systems at venues across the country, including the Telluride Film Festival and Portland's Arlene Schnitzer Concert Hall. 
The venue is formally known as The Raisbeck Auditorium, named after longtime Cornish supporters Sherry Raisbeck and her late husband, James. It is at 217 Boren Ave. in the South Lake Union neighborhood.
Sign up and get Seattle's best events delivered to your inbox every week.