At SAM, Jeffrey Gibson Pushes His Art Over the Borderline
In an age hostile to mixing, he blends associations of all kinds
By Gavin Borchert April 10, 2019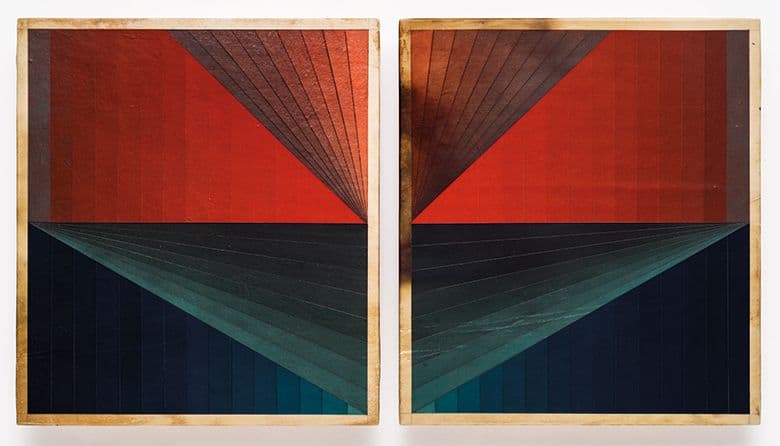 Photos are encouraged—a wall placard says so—at Jeffrey Gibson's exhibit Like a Hammer, running at the Seattle Art Museum through May 12. The New York-based artist of Cherokee heritage, in tune with the social-media zeitgeist, is happy to see his work shared, and plenty here is shareable. Boldly colored geometric patterns—often triangles whose apexes point the eye, arrowlike, every which way—cover much of his work, while other frequent eye-catching motifs are verbal: Chinese and Hebrew characters and song lyrics, often drawn from dance pop referencing queer club culture. One room-filling installation, "Don't Make Me Over," incorporates gauzy chiffon organza curtains in Pride Flag colors covered with slogans, surrounding an elaborate garment Gibson has worn in performance.
One object his colorful geometric patchwork covers is an ironing board repurposed as a shield, and much of Gibson's work similarly explores the idea of mixing gender associations and blurring the line between them. The exhibit's most familiar works are highly decorated punching bags, the kind seen in any boxing gym; Gibson has added fringe, beadwork tin jingles, and more song lyrics in what must have been an extraordinarily labor-intensive process. You may notice the exquisite, painstaking craftsmanship first, or you may notice that many of the bags now look like they're wearing skirts. 
In a recorded video, Gibson explains his intentions, and for me one quote stood out: "Ultimately, everybody is at an intersection of multiple cultures, times, histories." We live in a time, of course, in which a significant segment of the electorate is frightened by and hostile to this sort of intersectionality and obsessed with purity, difference and borders in many senses of the word. Over email I asked Gibson if he cared to comment further on the way this aspect of his art speaks to this cultural moment:
"I think many people are considering their position to the different political agendas that are impacting our daily lives and causing us to question our choices and how we interact with one another," he said. "In my work I am acknowledging the inherent layers and complexity of our individual identities and of different communities. I want to reflect the true massive demographic scale of people who have been identified collectively as 'other' by people other than themselves, and create a space where when we are among people like ourselves, we feel our presence and the dignified empowerment of our communities."
Times and prices vary. Seattle Art Museum, downtown, 1300 First Ave.; 206 625.8900; seattleartmuseum.org
Sign up and get Seattle's best events delivered to your inbox every week.