Book Bindery Speaks Volumes
Does superstar chef Shaun McCrain live up to high expectations?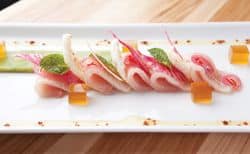 As a psychology major in college, I studied expectations. How both low and high expectations can turn into self-fulfilling prophecies. Part of my job as a restaurant critic is assessing what kind of potential a place has, and then judging whether it lives up to that potential.
But there is also our expectation of a place when we walk through the door—be it a fine dining establishment, corner diner or local teriyaki joint. It's all the more complicated now that we're Yelping and Urbanspooning, jotting down so-and-so's impressions in our mental notepads, along with following reviews and food blogs. These days, it's the rare diner who walks into a restaurant without ideas about what kind of experiece she's about to have. I'm no different. In fact, I might be the worst offender of all.
Case in point: Book Bindery. After hearing about chef Shaun McCrain's stacked résumé, which includes  stints at Les Élysées du Vernet in Paris (two Michelin stars); Per Se in New York (three Michelin stars), the lovely fine dining house by Thomas Keller of the French Laundry; and Michael Mina, a two-starred restaurant in San Francisco, I'll admit I was giddy. There just aren't many chefs in Seattle with that kind of experience. And during conversations last July with general manager Patric Gabre-Kidan, former business partner of Seattle superchef Ethan Stowell, the excitement in his voice was contagious. They'd move away from the ultracasual service we've become so accustomed to, he said, and the food would be composed and plated with the utmost care. Add to that the owners' distinctive history—Mike Almquist, the former techie turned winemaker, and his wife, Sumi Hahn, erstwhile Seattle Weekly food critic—and let's just say that, walking into my first dinner at Book Bindery, which opened in October, my expectations weren't anything to sniff at. I was ready to be impressed. And I was.
There's the magic of walking into the space after being certain that you're lost—is this the right warehouse? Really?—in an industrial stretch of Nickerson Street, not far from Ponti Seafood Grill. And the magic of being swept into a gorgeously lit, richly layered dining room with wainscot paneling, lovely dove gray paint set off by bare wood ceilings, expanses of Carrara marble, and deep, plush, tufted black leather upholstery (not to mention the most comfortable bar stools I've ever perched upon). Look out the expansive windows in one direction and you'll have a view of the Lake Washington Ship Canal. Turn in the other to bask in the warm glow of up-lit wine barrels visible through a bank of windows in the adjacent Almquist Family Vintners space. Bookshelves are artfully arranged with what look to be the possessions of well-read world travelers. At Book Bindery, one can breathe in the good taste.
Likewise the spoils of the kitchen. Chef McCrain's fine dining training is readily apparent: On his artful plates, curls of pristine hamachi dance with wisps of radish and, for a salty accent, itty-bitty cubes of dashi gelée ($14), surely placed just so with tweezers. An apple salad (served in autumn, and a gorgeous celebration of the season) consisted of three types of apples served three different ways (caramelized, raw and poached), with pork belly lardons for a savory punch ($12). Of course, there's a foie gras terrine, here as smooth as butter and carefully sliced into an impossibly pretty rectangle, a task so painstaking that chef McCrain insists on cutting each order himself. Tiny bits of poached quince are neatly placed nearby for a hit of sweet acidity.
It is a good start, for sure. Delicious, beautiful. But this is where my expectations started to poke at me. Promises of modern American cooking rang in my ears. But haven't we tasted food like this before? Restaurants like Lark and the now-shuttered Union have shown us plates like this; Canlis and Rover's do, too.
But when the entrées arrive, McCrain's cooking opens up. Plates are still carefully composed and plated just so, but the flavors don't taste so tightly wound. On my second visit I had possibly the best grilled sturgeon I've ever tasted ($20), with sensational black pepper gnocchi and sautéed black trumpet mushrooms playing supporting roles. (During my first meal, that same fish, also perfectly cooked, was plated with a discordant pumpkin purée in a clumsy nod to the season.) A duo of pork—a gorgeous and deliciously pink chop and a sliver of meltingly tender pork belly—was quite good, though the maple-bourbon jus was a bit thin. And the Flavor Curve, a custom cut of Mishima Ranch beef, is possibly the best piece of meat I've tasted in a restaurant this year ($34), the salty, fatty, tender piece of meat cooked to a perfect medium red and placed in the lush depths of a Bordelaise sauce. If it weren't for the twee, pinky-size twice-baked potatoes, which seemed silly alongside such a burly cut, I'd call that plate flawless.
The servers at Book Bindery are appropriately attentive, well-versed in the menu and generally there when you want them to be without hovering. But they're a bit green: On one occasion we were served triple the usual amount of tawny port for dessert (something that may seem like a deal, but if it's fine-dining service they're going for, it's an amateur move). And they're a bit stiff: service in even the most formal restaurants can sense when a table would prefer a more bantering style, and that's not quite the case here.
But Book Bindery is still in its infancy. All of the pieces of the puzzle are accounted for: careful service, a lovely space and a chef who has learned from the best. I went in expecting  a meal unlike any I can get in Seattle, and that's not quite what I got. I get the sense that the kitchen is playing it a little bit safe; McCrain's cooking tastes like the food he's learned to create from the masters he's been taught by, but perhaps not quite like his own yet.
Remarkably, this is still some of the best food going in Seattle right now: There were many, many sublime bites. But it's no easy feat making precise food also taste soulful and, even better, playful. That's really where the elite chefs play. I think McCrain and Book Bindery will get there. This place has potential in abundance.