Chophouse Row to Debut with Eats Aplenty
Capitol Hill's second gourmet food market delivers platefuls of new tastes
By Seattle Mag April 13, 2015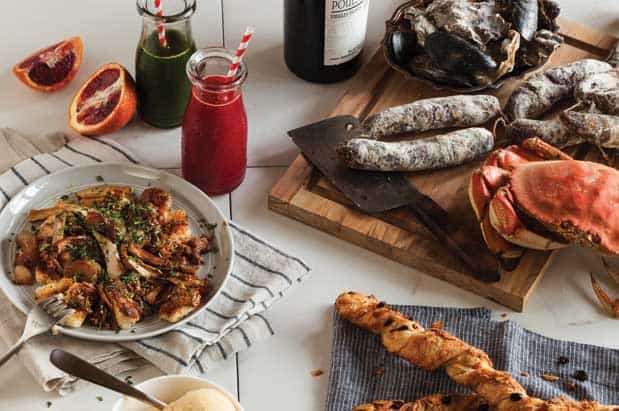 With Chophouse Row's debut (opening May 1 on 11th Avenue between Pike and Union streets), Capitol Hill will be home to two destination food halls; the first, of course, being the west end's marvelous Melrose Market (at Melrose and Pine streets).
At Chophouse, we will find fine viennoiseries (Viennese-style pastries) from Amandine, the long-awaited bakeshop from Bruce and Sara Naftaly of Ballard's iconic (and now shuttered) Le Gourmand, served with coffee from Empire Espresso. We'll stop in at Kurt Farm Shop for scoops of artisanal flavors of farm-fresh, just-churned ice cream made with milk from Kurt Timmermeister's cows, who graze on his Vashon Island farm. There will be a second Bar Ferd'nand, a more full-scale expression of Matt Dillon's Melrose Market wine bar concept (with much of the menu showcasing wood-fired, dry-aged meats). In keeping with the health-obsessed times, at Chop Shop Juice and Provisions, veggies will vie for equal billing with fruit, and in the anchor space, the Chop Shop Café and bar, a casual, open-all-day affair—both from Ericka Burke, proprietress of the perennially charming Volunteer Park Cafe. Something good to eat and drink is planned for everywhere you turn, just as we would've hoped. Here, a sampling of food finds from each.
Wake up, Capitol Hill. Ericka Burke's Chop Shop Juice and Provisions is your new stop for freshly pressed juices—kale, ginger and apple and blood orange, among others. Her Chop Shop Café & Bar is an open-all-day affair where fresh and hearty coexist: Look for beet and apple salad with celery and goat cheese, and a gnocchi dish with lamb ragu, cipollini onion and gremolata.

At Matt Dillon's second Bar Ferd'nand, dry-aged meats, local seafoods and fine seasonal produce will be prepared simply, much of it in a wood-fired oven. Wine, too, takes center stage (expect an excellent selection of boutique wine finds from co-owner and sommelier Marc Papineau, for purchase or as glass pours).

Craving real ice cream made from scratch from Jersey cream? Look no farther than Kurt Farm Shop, where, yes, you'll find Kurt Timmermeister's beloved Dinah's cheese. But also, small-batch ice creams in such echanting flavors as tomato jam (pictured below). Is it summer yet?
We've been waiting for years for pastry chef Sara Naftaly to showcase her viennoiserie in a proper bakery. The former Le Gourmand co-owner will do just that at Amandine, where you'll, of course, find almond croissants, for which the bakery is named, as well as assorted macarons, rhubarb buttermilk cake, and the puff pastry sacristain with Zante currants and sliced almonds.