Spend a weekend here sampling Washington's exceptional diversity of wine.
By Paul Zitarelli July 19, 2012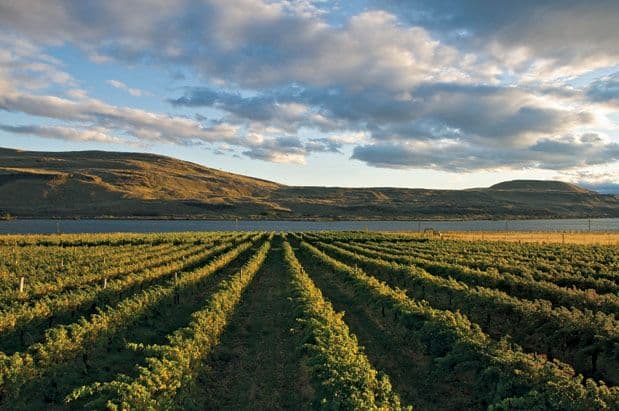 Tucked away in a cranny between the Columbia and Willamette valleys, the Columbia Gorge American Viticultural Area (AVA) is a little wine-tasting paradise that looks more like Germany's Mosel wine region than it does anyplace in the Northwest. The area is still better known as a destination for windsurfers and Lewis and Clark Trail buffs, but lovers of pure fruit, nervy acid and low alcohol are quickly discovering this AVA's cool-climate charms and natural beauty. The beating heart of the Gorge is Underwood Mountain, an extinct volcano whose southern flanks are composed of a silty loam that drains well. Those mountainsides also are home to Celilo Vineyard, planted in 1972 and prized for fruit that produces aromatic whites.
Standout Wineries
The flagship winery of the Gorge, and the best place to begin a tour, is Syncline (111 Balch Road, Lyle; 509.365.4361; synclinewine.com), where James Mantone, former winemaker at Willamette Valley's LaVelle Vineyards, and his wife, Poppie, produce a lineup that is Rhône focused, but includes several stunning one-offs from surrounding Gorge vineyards. To go from teacher to student, it's less than a two-mile drive, as Luke Bradford's Cor Cellars (151 Old Highway 8, Lyle; 509.365.2744; corcellars.com) is just one left turn away from his old stomping ground at Syncline, where he served as an assistant before launching his own winery in 2005. Alexis Pouillon's apprenticeship happened a bit farther away. His time at renowned Châteauneuf-du-Pape producer Château de Beaucastel informs his winemaking at Domaine Pouillon (170 Lyle Snowden Road, Lyle; 509.365.2795; domainepouillon.com), and you're as likely to encounter chickens and pigs as wine bottles at this cozy tasting room in the hills above Lyle. Now head back down to the Columbia River to Memaloose's new tasting room (34 State St. [Highway 14], Lyle; 360.635.2887; winesofthegorge.com). Brian McCormick moved to the Gorge from California, where he worked as a viticulturist in Sonoma, specifically to make cool-climate, food-friendly wines, and he has lovely vineyard holdings on both the Washington and Oregon sides of the border.
Where to Eat
Nothing hits the palate reset button quite like an ice-cold beer, and the Columbia Gorge is littered with tasty microbrews. A fine lunch option in the attractive town of White Salmon is Everybody's Brewing (151 E Jewett Blvd., White Salmon; 509.637.2774; everybodysbrewing.com). To accompany your pint, order your burger "XXX Style" (peanut butter and pickles) for a full-scale cleansing of the palate. After your day of wine tasting, cross the Columbia River and dine at the impressive Nora's Table (110 Fifth St., Hood River, Oregon; 541.387.4000; norastable.com), which serves locally sourced fish and meats, and boasts the only exclusively Columbia Gorge wine list in the world.
Where to Stay
You'll find most of the lodging options on the Oregon side of the border, including one just across the Hood River Bridge. Ask for a riverview room at the Best Western Plus Hood River Inn (1108 E Marina Way, Hood River; 541.386.2200; hoodriverinn.com; $101–$450) and you'll think you have the entire Gorge to yourself. Seven miles southwest of the town of Hood River, nestled in the foothills of Mount Hood, sits the more charming Sakura Ridge Farm and Lodge (5601 York Hill Drive, Hood River; 541.386.2636; sakuraridge.com). This working farm sits on 72 acres, but has only five guest rooms, so you'll have plenty of space to stretch your legs and gaze at the snowy upper reaches of the big mountain.
Must-Try Columbia Gorge Wines
Syncline 2009 Scintillation Blanc de Blancs Celilo Vineyard, $40
Cor 2009 Malbec, $24
Domaine Pouillon 2009 Katydid, $24
Memaloose 2010 Cabernet Franc Idiot's Grace Vineyard, $27
(SIDE TRIP)
Vines and Veggies 
As far as wine regions in arid eastern Washington go, Columbia Gorge is the rainiest. For a clear visual illustration of this, drive west on Cook Underwood Road (it intersects Highway 14 at the White Salmon River) until you reach Celilo and Underwood Mountain vineyards. The happy-looking, neon-green moss growing on the gnarled old vines is not something you typically see in the more arid Columbia Valley.
Check out other green, growing things at Dickey's Farm Store (806 W Steuben St., Bingen, Washington; 509.493.2636; dickeyfarm.com). Huckleberries are the specialty here, but the store carries a wide range of local fruits and veggies, and occasionally hosts a local winery pouring its offerings. A sign on a sandwich board reads "Hot Chicks Inside!" which turn out to be—of course—the clucking variety.
Sign up and get Seattle's best events delivered to your inbox every week.