Must-Visit Stops in Skagit Valley
This agricultural wonderland just north of Seattle is dotted with delightful small towns to add to your trip list
By Chelsea Lin January 30, 2020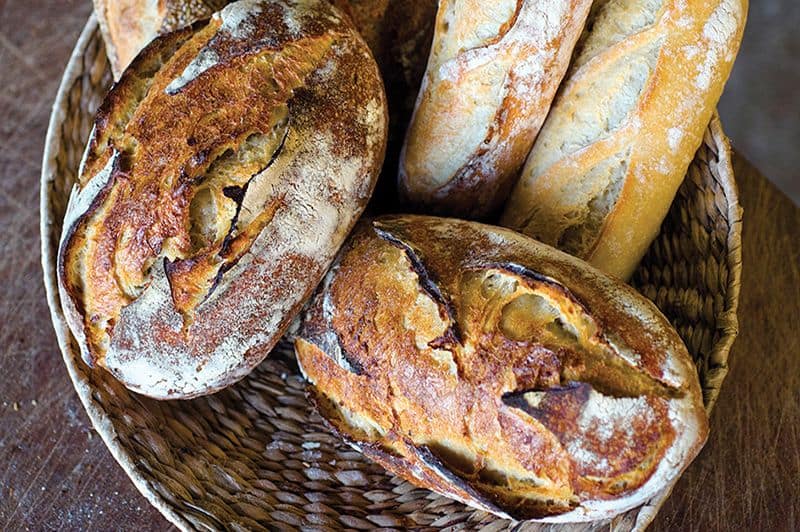 This article appears in print in the January 2020 issue. Click here to subscribe.
Bow/Edison
Most people head to Skagit Valley for the tulips, but smart foodies head straight for the charming area of Bow/Edison to take advantage of the local snacks. Pick up fresh baked goods at Breadfarm, pickled blueberries at Bow Hill and Ladysmith fresh cow's milk cheese from Samish Bay Cheese to set yourself up for picnicking farther on. If you're on scenic Chuckanut Drive (which passes through Bow/Edison and ends in Fairhaven), don't miss a stop at Taylor Shellfish's Samish Bay Farm and Shellfish Market for oysters on the tidal flats.
Mount Vernon
This charming town lies conveniently close to any of the seasonal Skagit farms—from spring flowers to fall pumpkins—you plan to visit with the family. Skagit River Brewery makes a convenient pit stop for a Northwest IPA after a day spent touring, or swing by on the way and try its breakfast pizza, served from 8 a.m. to noon on weekends. A few of our favorite farms: RoozenGaarde in the spring for tulips, Schuh Farms in the summer for berries, and Gordon Skagit Farms in the fall for pumpkins and apple picking
Anacortes
Known to Seattleites predominantly as the jumping-off point for a trip to the San Juan Islands, Anacortes is worth a visit on its own. First stop: the Shrimp Shack, a popular roadside destination for freshly caught shrimp. The shack is open year-round, though shrimp season runs from May through August. Then head to Outer Island Excursions for a whale-watching tour on a high-speed vessel in search of orcas, humpbacks and other marine animals. Whale sightings are guaranteed (or you get to come back for free).
La Conner
Where these other Skagit small towns make perfect day trips from Seattle or detours on the way somewhere farther afield, La Conner is a popular overnight destination, in part because of its bevy of boutique hotels, like the historic Hotel Planter and the intimate Wild Iris Inn. Be sure a stay includes brunch, lunch or dinner at Seeds, a farm-to-table bistro featuring fare such as foraged mushroom risotto, local oysters and doughnuts made with Bow Hill blueberry powder.
Sign up and get Seattle's best events delivered to your inbox every week.