New Look: Smith Tower's Makeover Includes Prohibition Era-Inspired Cocktail Bar
The recent overhaul of the the historic 1914 Smith Tower includes new cocktail bar.
By Haley Durslag July 15, 2016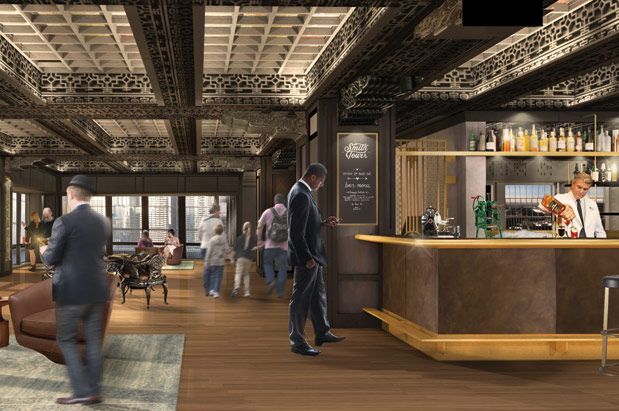 When the historic 1914 Smith Tower reopens its 35th-floor observation deck this August after a recent overhaul, a new Prohibition era-inspired bar will be unveiled.
Will there be flappers, gin fizzes and jazz?
The folks at Unico Properties, which bought the building in 2015, were tight-lipped on the details at press time. But with an interior designed by Graham Baba Architects, the firm behind posh downtown eatery Miller's Guild, it's sure to honor its place in Seattle history. "We're honored to enhance [Smith Tower's] reputation as a premier city landmark," says Scott Brucker, senior asset manager at Unico Properties. The redesigned space will offer an "unparalleled and fully immersive experience" that mixes the present with the tower's past, says Brucker, adding that elements from the Chinese Room, such as the Wishing Chair, will be incorporated.
But be careful what you wish for after sipping a few of those cocktails—legend promises marriage within a year to any single woman who sits in the chair.
Sign up and get Seattle's best events delivered to your inbox every week.