Salt & Straw Finally Has Opening Dates
Here's what to expect when the scoop shops open in the next couple of weeks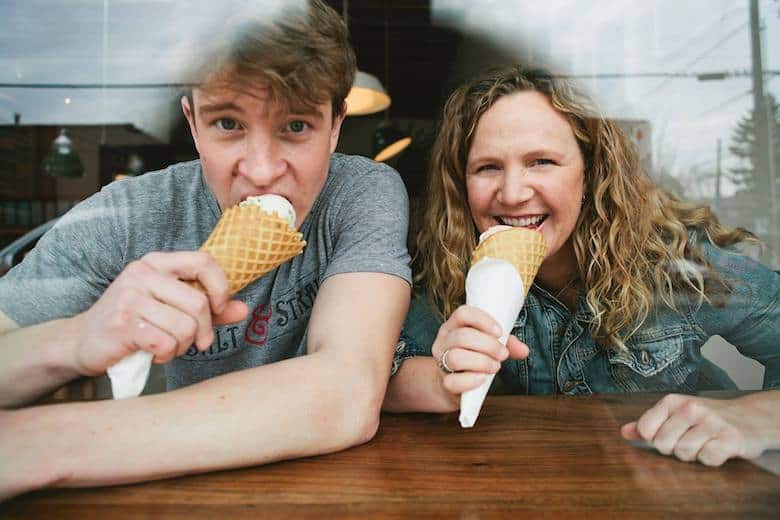 If Ben and Jerry symbolized ice cream for Generation X, Tyler Malek symbolizes ice cream for millennials. But the culinary mastermind behind Salt & Straw—the Portland-based scoop shop with legions of fans and two Seattle locations opening in the next few weeks—is about as humble as they come.
Tall and disarmingly smiley, 30-year-old Malek launched Salt & Straw with his business-savvy cousin Kim in 2011. Then, it was merely a pushcart precursor to the brick-and-mortar location they dreamed of: A single shop with a kitchen in back where Malek would make everything in house. In a self-deprecating way, he says they designed that first Portland shop poorly, didn't know what they were doing, and spent most of the time making sure people knew they were selling ice cream and not salt, or straws. 
Well, people caught on, in no small part to Malek's creative flavor profiles and the company's policy that you can sample as many flavors as you want while you're waiting in (regularly a 45-minute) line. The Seattle shops in Ballard (5420 Ballard Ave. NW) and Capitol Hill (711 E Pike St.) will mark shops 12 and 13, if you don't count Wiz Bang Bar, the soft-serve-only counter inside Portland's Pine Street Market.
Salt & Straw offers a line of signature flavors like sea salt with caramel ribbons, almond brittle with salted ganache and honey lavender. But where Malek really excels is in collaborative projects with local purveyors. Initially, he says those artisans taught him the ropes—he was a culinary school dropout with big plans, but didn't know how to execute them exactly. "I'm not sure I have the strongest palate or that I'm even the most creative in mixing flavors," Malek says—though I think he's wrong about that. "My goal, every time I'm working with someone, is to capture their voice and tell it in the truest way possible through our ice cream."
In the Seattle shops, that will look like flavors that highlight Ellenos yogurt ("It's not frozen yogurt, though!" Malek says), Beecher's Cheese, Elm Coffee Roasters, Westland whiskey and more. The opening menu will also feature a seasonal assortment of chocolate flavors, so he tapped local favorites like Theo, Fran's and Intrigue.
Why did a company with so much Pacific Northwest pride head to Los Angeles, San Francisco and San Diego before coming north to Seattle? Malek even grew up in Lake Stevens—this is home turf. He laughs at this question, and says when they were expanding four or five years ago, L.A. was "at this weird cusp, where farmers markets, that artistic approach to coffee and beer and chocolate was just taking off." He thought they'd be able to have the greatest impact there. "With our brand, we want to use our ice cream flavors as a soap box to tell different stories about the purveyors and artisans we work with," he says. "[Seattle] is almost too obvious, too easy, because this is like mecca for that voice." But he speaks about meeting Fran Bigelow (of Fran's chocolates) and Kurt Dammeier (of Beecher's) with a sense of star-struck awe: "These are all my idols growing up."
Salt & Straw's Ballard location will be open on Feb. 9 and Capitol Hill will follow shortly behind on Feb. 16. The lines are sure to be long, despite the cold and rain.