Three Impressions of Batch Bar
By AJ Rathbun March 24, 2017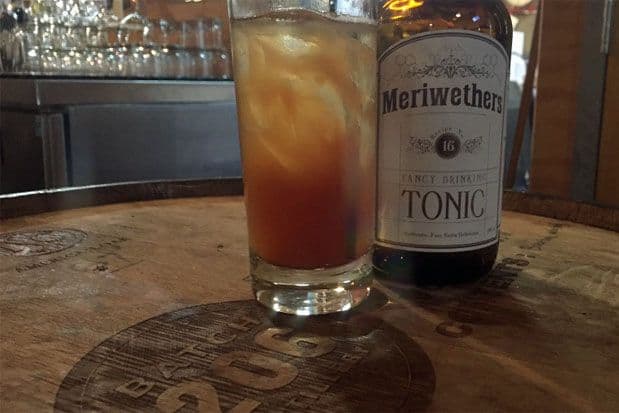 Opened in mid-December, Batch Bar is adjacent to its sibling Batch 206 Distillery, in the Interbay area on Elliott Avenue W. In a symbiotic relationship of drinks and food, it's also home to Windy City Pie. I stopped in recently with my wife to try the cocktails and pizza, and here are three impressions of the visit.
The Drinks: As you'd expect because you can see the distillery's barrels and still from windows behind the bar, the drink list, or "Distiller's Library" as the menu calls it, features a bunch of drinks using Batch 206 spirits, but it also utilizes a wide range of other local products. The list includes a special "Cocktails" menu of three drinks with the new Barrel Raider II Irish Whiskey (released for St. Patrick's Day, and a buttery delicious tipple), followed by a variety of Batch Cocktails and others broken out by base spirit. The Batch 206 Gin and its house-made Meriwether's Fancy Drinking Tonic (I'm a sucker for a good tonic) was a springtime refresher, with citrus and herbal notes and just a hint of bitter at sip's end. The Tomoka's Demise is another worthy choice: Batch's Elliot Bay Rum, Sodo distillery Westland's peated single malt whiskey and a little sugar and salt, it was memorable and intriguingly marine-y. There's a list of local draft beers taped to the wall, and wine and cider are available. You can do flights of Batch's spirits, too, and purchase that tonic and other Batch products at the distillery. 
The Food: At a counter in one corner is where you order and pay for the 'za (you order and pay for drinks separately at the bar). The pizza is Chicago-style, deep dish and comes in one 12-inch size; half of one filled up my wife and me. Windy City has a amazing (magical, even) caramelized cheese covered outer crust. We had the veggie pizza, with red bell peppers, caramelized onions, mushrooms, spinach, mozzarella with a tangy, well-seasoned red sauce, and it was hearty and oozing cheesy goodness, with a soft, slightly-sweet, chewy crust. The pizzas come unsliced (to keep things toasty), accompanied by a pizza cutter. For the meat-eaters, we were told the Omnivore has been another popular choice, with pepperoni, house-made sausage, caramelized onion, spinach, roasted garlic, mozz and that red sauce. There are nine signature choices, or you can build your own. I look forward to trying one of the white sauce pies next time. A house salad, garlic brioche and slices are available, and pizza delivery via Caviar.
The Space: There's a very industrial vibe at Batch Bar—really, it'd be odd if there wasn't, as it's an industrial part of town—with a feel almost like a big mechanic's garage. But it's also very welcoming, thanks to the friendly folks working, like bartender Sean Bennett, who was making drinks, making friends and telling stories. Wood walls, some made of Birch, concrete floors, open ceilings and a few hanging lights surround wood-topped tables and metal chairs, with a few longer, more communal tables mixed in. Overall, the bar seats around 50, and it was full the Saturday night we visited, with guests stopping in for both drinks and eats in addition to some either coming from or heading over to the distillery. I'd grab one of the six stools at the wooden-topped bar if possible: the perfect spot to watch the bar action and get a view into the distillery.
Sign up and get Seattle's best events delivered to your inbox every week.