Evaluating Wounds via a Smartphone App
First-ever wound evaluator aims to reduce dangerous postoperative infection
By Sheila Cain July 13, 2015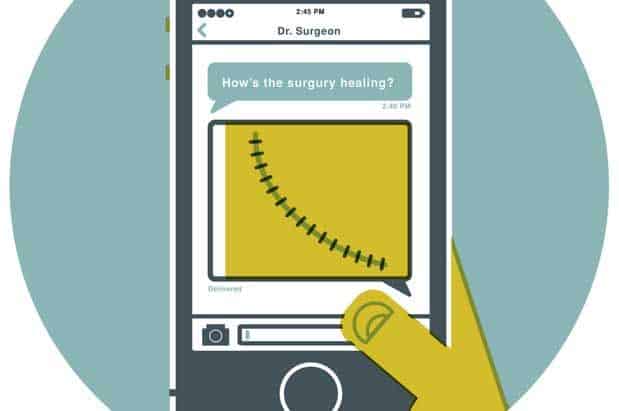 The images may not be be Pinterest-worthy, but to surgeon Heather Evans, they're priceless.
The associate professor of surgery at the University of Washington is leading the development of a smartphone application that will allow patients to send photos of their incisions to their care team—hopefully, before the wounds advance to the point of infection. A project of the schools of Nursing and Medicine, with support from the UW Center for Commercialization, it is the first mobile postoperative wound evaluator (known by the acronym mPOWEr).
"The time between discharge and planned follow-up visit can be difficult for patients—because they don't know what to expect, and feel disconnected from their surgical providers," Evans says. "Better communications during that time might facilitate more efficient, personalized care and could avoid more severe complications that would require inpatient treatment."
Surgical-site infections occur in as many as 33 percent of surgical patients, and more than half of patients who develop post-discharge wound complications are readmitted to the hospital.
"It's frustrating [when this happens]," says Evans, who leads the mPOWEr team of nurses, students, fellows and design experts. "Occasionally, I'll see a wound that's really terrible and I wish I could have seen the patient earlier. Complications escalate once infection has set in."
Evans and the mPOWEr team have received several funding awards to support a pilot implementation of the application at the Surgical Specialties Clinic at the University of Washington Medical Center beginning this summer. This will allow the team to test mPOWEr for the first time with patients after they go home following surgery.
Sign up and get Seattle's best events delivered to your inbox every week.