2018 Year in Review: Seattle Supports the Arts
In spite of growing pains and rising costs, Seattle showed its creative side with a number of contributions to the cultural scene
By Gwendolyn Elliott December 4, 2018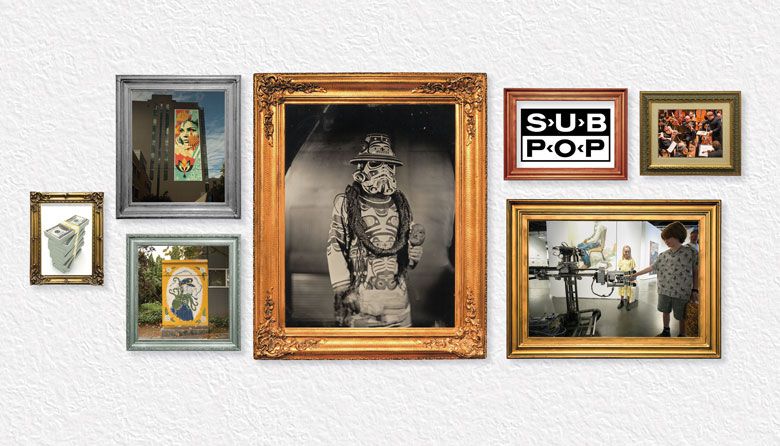 This article appears in print in the December 2018 issue, as part of the Year in Review feature. Click here to subscribe.
Photo by Will Wilson
Art History, Reframed
In recognition of Seattle photographer Edward Curtis' 150th birthday, Seattle Art Museum stages a group show that pairs his iconic images with work by contemporary indigenous artists, yielding new perspectives
Photo by Christopher Nelson
All's Fair
Mark Pauline's art machines mingle with guests at the Seattle Art Fair, alongside exhibits by the likes of Pee-Wee's Playhouse designer Wayne White, Seattle's C. Davida Ingram and others
Photo by Zaela Newco
Dressed Up
Inspired by The New York Times' obituary series about pioneering women, 17-year-old Avalon Hester of Seattle paints seven of their portraits, then sews the canvas panels into a dress
Photo by Alex Crook
Outside the Box
Artist Nathan Watkins paints serene scenes on electrical boxes on First Hill
Still Swinging
Sub Pop Records celebrates 30 years with an epic blowout on Alki Beach
Cool Coin
KEXP-FM receives an anonymous $10 million donation to carry on its mission of championing music and discovery
Photo by Brandon Patoc
Sound of Music
Seattle Symphony is named Orchestra of the Year by the Rolling Stone of the classical world, Gramophone magazine
Photo by Alex Crook
Oversize Art
In July,
an eight-story-high Shepard Fairey mural appears
on Ninth and Thomas; the artist explains it "touches on human rights and environmental issues;" in October, the artist completes another four-story-high mural at the State Hotel on Second and Pike 
Sign up and get Seattle's best events delivered to your inbox every week.