11 Cruelty-Free Style Products You Can Find in Seattle Shops
A dynamic group of local retailers offer a range of vegan, eco-friendly products, with no knock to style or allure
By Andrew Hoge August 21, 2018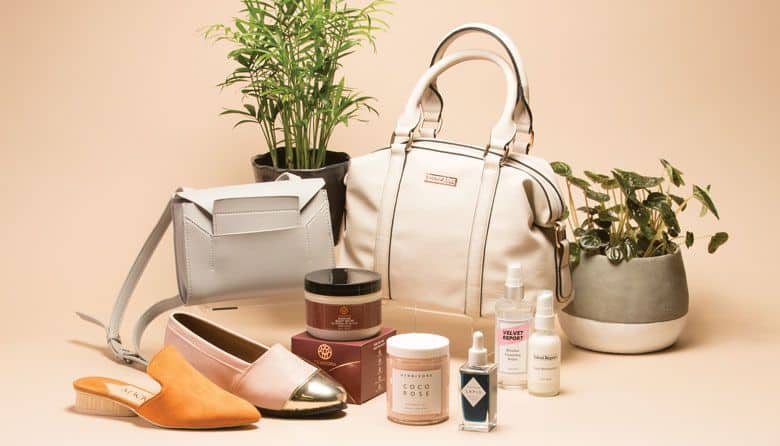 This article appears in print in the August 2018 issue. Click here to subscribe.
Decoding the label:
Vegan: Made without animal ingredients.
Cruelty-free: Not tested on animals.
Nontoxic: No toxic chemicals in the product.
PETA-Approved Vegan: People for the Ethical Treatment of Animals' (PETA) stamp of approval means a product has passed the organization's strict vegan guidelines.
1. Foldover mini bag. Pinterest sensation turned boutique shop owner Moorea Seal offers this Karu by Moorea Seal vegan leather side bag ($38), designed with minimalist lines and several interior pockets to take you from day to date night. Downtown, 1012 First Ave.; 206.728.2523.
2. Olivia purse. From Montreal-based Jeane and Jax, this off-white bag ($80) is made of PETA-Approved Vegan leather and available at Drizzle and Shine, a vegan-only boutique located on Capitol Hill. Capitol Hill, 102 15th Ave. E; 206.329.9274.
3. Daily moisturizer. Infused with jojoba, argan, chia and rosehip oils, this lightweight moisturizer ($32) from Bellevue-based Velvet Report can be worn alone or beneath makeup.
4. Micellar cleaning water. This PETA-Approved Vegan and cruelty-free face spray ($22) from Velvet Report effortlessly removes makeup, oil and dirt with a cloth, no rinse required—one reason it's a cult favorite during fashion week.
5. Lapis facial oil. Based in Belltown, Herbivore Botanicals created this plant-based facial oil ($72) that hydrates skin without clogging pores. The signature ingredient is blue tansy, a Moroccan flower that gives the concoction its brilliant sapphire hue and whose oil contains powerful anti-inflammatory and antibacterial properties.
6. Coco Rose body polish. This body scrub ($36) from Herbivore Botanicals combines virgin coconut oil, Moroccan rose, pink clay and sugar to moisturize and gently exfoliate your skin.
7. Brazilian Glow beauty butter. Seattle-based Teadora (which means "love yourself" in Portuguese) infuses its products with natural ingredients found in the Amazon rain forest. Made from eight super fruits and argan-plant stem cells, this nongreasy beauty butter ($38) absorbs quickly as it tones, reduces fine lines and deeply moisturizes.
8. ECU metallic slip-ons. Crafted with vegan leather and comfy interior cushioning, these metallic-tipped shoes ($55) from Drizzle and Shine are well suited for casual errands or a festive night out.
9. Kallen mule. These colorful Karu by Moorea Seal slip-ons ($68) are made with vegan suede, also at Moorea Seal's namesake boutique downtown.
Photo courtesy of Lancer and Lace
10. Vegan Eyelash Extensions. Founded in 2016, Belltown-based salon Lancer and Lace is known for their stylish cuts and artistic vibe. Earlier this year, owners Julia Anderson and Katie Rainwater introduced a range of vegan beauty services (pricing varies) the most eye-catching of which include PETA-certified cruelty free and vegan safe eyelash extensions. Belltown; 2317 Sixth Avenue; 206.420.8170.

Photo via VEQUE Facebook page
11. Nail Polish. Seattle-based VEQUE set out to create a nail polish without the commonly used toxic chemicals. The result is a fast-drying potion ($18 per bottle) that is 9-free, vegan, and cruelty-free crafted in modern array of colors.