2017 Seattle Record Store Day Round Up
By Hanna Yi April 21, 2017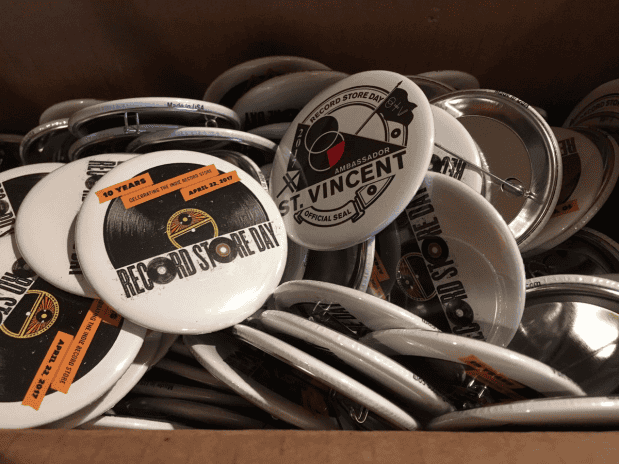 The 10th annual Record Store Day—the event that single handedly helped re-ignite the current vinyl obsession, while helping countless small, independent brick-and-mortar record stores remain open—kicks off today, April 22, at record shops around town with all kinds of in-store performances, special releases, sales and more. We've compiled a small list of some of the best; take a look, happy shopping and Happy Record Store Day!
Easy Street Records, 206.938.3297. Doors open at 7 a.m. sharp. Swag and prize giveaways all day long. Complimentary coffee, bagels and bacon while they last for those in line. In-store performance schedule: Noon Michigan Rattlers; 5 p.m. Swedish Finnish; 8 p.m Bread & Butter. 
Light in the Attic Record Shop, 206.359.5284. Located within the KEXP Gathering Space. 10% off new record releases. Free t-shirts will be available with a $100 purchase or more. In-store performances with Evening Bell at 9 a.m., followed by Mommy Long Legs at noon. 
Everyday Music, 206.568.3321 Complimentary doughnuts and coffee will be available. In-store performances start at 10 a.m. with: Mommy Long Legs, DJ Explorateur, Pleasures, Tomten, DoNormaal, Bankie Phones, DJ Veins, Raica, Zen Mother and DJ Doctor Troy.
Silver Platters (SoDo location), 206.283.3472. In-store with Chicago's Ne-Hi! promoting its latest album, Offers, 12:30 p.m. Zombies (yes, the Zombies!) signing and meet and greet at 2 p.m. Limited edition titles like a copy of the #BeforeTheFlood soundtrack on vinyl signed by Trent Reznor, in honor of Earth Day (which also falls today, April 22). 

Georgetown Records, 206.762.5638. In-store show with Paper Dolls and Bonneville Power, starting at 4 p.m.
JiveTime Records, 206.632.5483. Open 10 a.m. to 9 p.m., 25% discount on all used vinyl records and CDs. 10% – 20% discount on all new vinyl. Receive a free limited-edition, hand-screened poster with any purchase, and a free t-shirt with a purchase of $100 or more. 
Spin Cycle Records Seattle, 206.971.0267. Gift certificate giveaways, including gift certificates from Doc Marten. Receive a $5 gift certificate for every $50 spent. Store opens at 6 a.m.
Porchlight, 206.329.5461. Sales on merchandise, including travel mugs, sweatshirts, turntable slipmats and more. Some Record Store Day limited releases will be available. 
Sign up and get Seattle's best events delivered to your inbox every week.