2018 Spring Arts Preview: The Full List of Can't-Miss Shows From Seattle's Galleries, Museums, Venues and Theaters
From the provocative to the sublime, this season's shows and exhibits both reflect our times and rise above them. Here's what's in store this spring in the vigorous, vibrant world of the arts
By Gavin Borchert and Gwendolyn Elliott February 26, 2018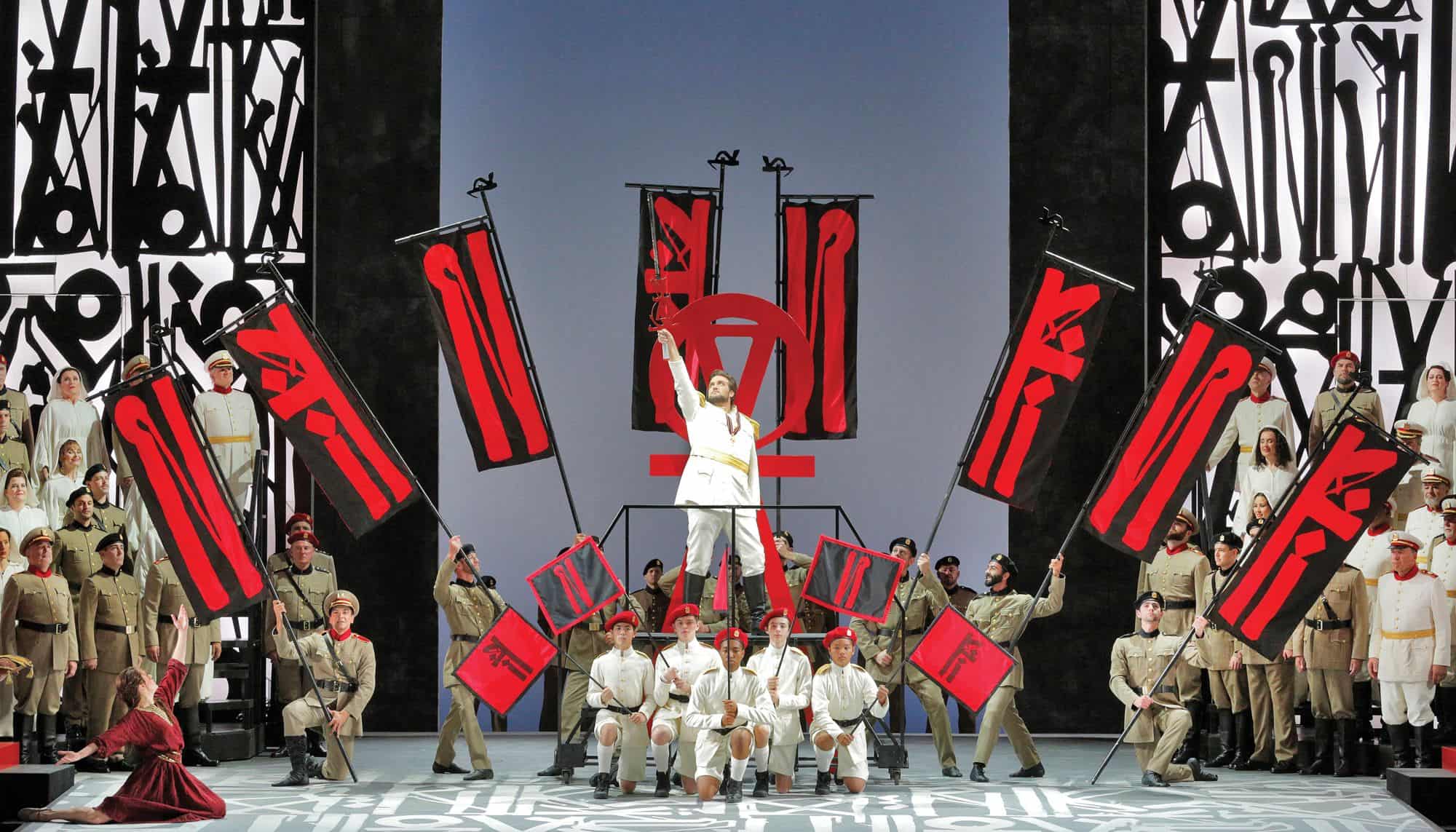 This article appears in print in the March 2018 issue.
See more from the Spring Arts Preview in the links below:
– The Nordic Museum's Grand Opening is Coming Soon
– Bring on the Bard: 30+ Seattle Arts Groups Will Be Celebrating Shakespeare
– 5 Author Appearances and Lectures to Check Out This Spring
– Change is Coming to Seattle's Art Scene 
What follows is the full list of events from the 2018 Spring Arts Preview.
VISUAL ART
José Guadalupe Posada and the Mexican Penny Press
4/19–8/5
In his illustrations, Mexican artist Posada (1852–1913) linked up folk art traditions and legends with the power of the popular press, using images of skeletons—calaveras—in social and political satire in media cheap enough to be disseminated among the working class. The Bellevue Arts Museum's exhibit traces his work and influence; his calaveras established the visual vocabulary of Day of the Dead celebrations used to this day. Times and prices vary. Bellevue Arts Museum, Bellevue, 510 Bellevue Way NE; 425.519.0770; bellevuearts.org
CLASSICAL
Become Desert
3/29 & 3/31
What happened the last time the Seattle Symphony commissioned a piece from Alaska-based composer John Luther Adams? The piece, Become Ocean, won a Pulitzer Prize and the orchestra's recording of it won a Grammy, that's all. One of the most anticipated new-music events of the season is the premiere of Adams' sequel, Become Desert, not just for the symphony's audiences, but for any listener who fell in love with Become Ocean's vast, roiling waves of sound and meditative reflections on humanity's connections to nature. (These fans include pop goddess Taylor Swift, who was inspired to give the orchestra $50,000 because of it.) Times and prices vary. Benaroya Hall, downtown, 200 University St.; 206.215.4747; seattlesymphony.org
PHOTOGRAPHY
Everyday Black
Through 5/15
One quote on Jessica Rycheal's Facebook page—"Ain't no competition when you're in your own lane. Nobody can do you better than you"—suggests the reason for the Seattle photographer's great success in both commercial and art photography: her focus on the unique individuality of her subjects. In this photography showcase about community, identity and belonging, her contributions celebrate, as curators C. Davida Ingram and Leilani Lewis put it, "blackness, queerness and liberation politics." Sharing the exhibit is Zorn B. Taylor, also of Seattle, who sees photography in terms of legacy: "It was because of my own children that my childhood desire to shoot was rekindled." Times and prices vary. Northwest African American Museum, Central District, 2300 S Massachusetts St.; 206.518.6000; naamnw.org
L-R: Photographs by Zorn B. Taylor, Edward S. Curtis, courtesy of the trout gallery. Photographer Zorn B. Taylor's (not your Michaelangelo's) David is now on view at NAAM's spring exhibit, Everyday Black; SAM's major summer exhibit pairs Edward S. Curtis' iconic images (like this one titled "Chief Joseph–Nez Perce") with work from contemporary Native artists; Posada's letterpress prints established the visual vocabulary of Day of the Dead 
OPERA/SPIRITUALS
Kathleen Battle
4/14
Battle made her career singing the kind of operatic roles sopranos think of as "inas" and "ettas": all those ingenues, from Adina to Zerbinetta, who require lightness and sparkle rather than force and thrust. But the warmth of Battle's voice and her ability to connect emotionally with an audience make her a fantastic interpreter of spirituals. For this recital, subtitled "Underground Railroad – A Spiritual Journey," she'll combine song with readings of the writings of Harriet Tubman and Frederick Douglass, and will be joined by jazz pianist Joel A. Martin and local choirs The Sound of the Northwest and UW Chamber Singers. 8 p.m. Prices vary. Meany Center, University of Washington, 4140 George Washington Lane NE; 206.543.4880; artsuw.org
VISUAL ART
Double Exposure: Edward S. Curtis, Marianne Nicolson, Tracy Rector, Will Wilson
6/14–9/9
In the seattle art museum's major summer exhibit, photographer and onetime Seattleite Edward Curtis' famous and controversial—they were often heavily staged—early-20th-century images of Native Americans are shown with modern work from indigenous artists offering new perspectives on the Native American experience. Pacific Northwest Coast artist Marianne Nicolson will show an immersive light installation/meditation on the Columbia River; Seattle-based Seminole/Choctaw filmmaker Tracy Rector presents new video work; and, in an artful reply to Curtis' silent subjects, Navajo archivist Will Wilson has created a series of tintype portraits—some of which "talk" through an app that plays video of the subjects. Times and prices vary. Seattle Art Museum, downtown, 1300 First Ave.; 206 625.8900; seattleartmuseum.org 
POP ART/COMICS
Marvel: Universe of Super Heroes
4/18–12/31
In a time of growing homelessness, addiction and injustice, what city needs a superhero more than Seattle? Billed as the largest exhibit ever staged at MoPop, Universe of Super Heroes is here to save the day, with more than 300 pieces of memorabilia, including iconic costumes, props and artwork from the adventures of Doctor Strange, Captain America, Black Panther, Spider-Man and others. (Superfans, rejoice: Many artifacts have never been seen before by the public.) Don't be surprised if you start to feel like a superhero yourself; that's just the exhibit's immersive soundtrack, created specifically for the exhibit by Spider-Man 2 composers Lorne Balfe and Academy Award winner Hans Zimmer, working its magic. Times and prices vary. Museum of Pop Culture, Seattle Center, 325 Fifth Ave. N; 206.770.2700; empmuseum.org
MUSIC FESTIVAL
Upstream Music Fest + Summit
6/1–6/3
In spite of a few first-year hiccups—namely hard-to-use digital wristbands and some scheduling lulls—last year's inaugural Upstream Music Festival, the music and tech summit dreamed up by Paul Allen and featuring some 300 local bands and keynote speakers like Macklemore and Quincy Jones, was a success. The event returns to Pioneer Square this year, again curated by music booker Meli Darby and guest curators such as record labels Sub Pop and Barsuk, for another weekend celebrating the local music scene. Expect bigger things this year, like new venues, an expanded mainstage experience and a new partnership with the Recording Academy Pacific Northwest Chapter to better assist aspiring, up-and-coming artists. Times, prices and venues vary. upstreammusicfest.com  
THEATER
Familiar
4/27–5/20
Actress Danai Gurira may be known for her role as Michonne on The Walking Dead, but her skill as a playwright—notably for her 2015 play Eclipsed, about female sex slaves to a rebel leader in Liberia—has generated its share of acclaim. (Eclipsed was nominated for multiple awards and won, among others, the 2016 Tony for Best Costume Design in a Play.) In this coproduction with Minneapolis' Guthrie Theater, Gurira weaves a tale about a Zimbabwean family in Minnesota preparing for the marriage of their oldest daughter; the Rep promises "layers of complexities rooted in the search for a sense of belonging." Times and prices vary. Seattle Repertory Theatre, Seattle Center, 155 Mercer St.; 206.443.2222; seattlerep.org 
FILM
Seattle International Film Festival 
5/17–6/10
For the 44th year, SIFF confronts local film buffs with a dilemma: how to choose from among the 400 films on offer and see everything that sounds interesting. Then, throw in the actor tributes (which get starrier each year: last year, Anjelica Huston and Sam Elliott), the discussions and workshops, the Secret Festival and archival features and tons more, and attending SIFF becomes a series of agonizing decisions about what you have to skip during its three packed weeks. As always, the festival keeps a tight lid on programming until approximately May 3, which is when you should check the website and start planning. Times, prices and venues vary. siff.net
L-R: Photographs by David Conger, Angela Sterling. Seattle's Thunderpussy at the 2017 Upstream Music Fest + Summit, which returns for a second year in June; MoPop's huge Marvel exhibit swings into Seattle in April; Pacific Northwest Ballet performing Crystal Pite's insect-inspired Emergence in 2015; the work returns to PNB in April
OPERA
Aida
5/5–5/19 
Audiences expect spectacle in productions of Aida, and always have; Verdi's 1871 tale of a love triangle set in ancient Egypt was even then a throwback to the grand-opera approach of an earlier generation, extravagant affairs full of processions, ballets and as many extras as you can pack onto a stage. But how, today, do you present visual dazzle without merely copying the fusty traditions of the century before last? For its new production, Seattle Opera will restage San Francisco Opera's edgy version that incorporates Los Angeles–based street artist RETNA's hieroglyphic-inspired designs; the result should be both gorgeous and up to-the minute. Times and prices vary. McCaw Hall, Seattle Center, 321 Mercer St.; 206.389.7676; seattleopera.org
THEATER
Ironbound
3/23–4/15
New York–based playwright Martyna Majok's multi-award-winning 2015 play is based on her experience immigrating to America from Poland with her mother, a house cleaner. This story about the working-class immigrant's ongoing struggle in the States—fraught with difficult choices, and up against the impossible American dream—is helmed by a team of decorated theater vets, including Seattle Public Theater's Gregory Award–winning coproducing artistic director Kelly Kitchens, set designer Julia Welch and in the lead role as Darja, Alexandra Tavares, of Seattle's renowned Chekhov-only ensemble, The Seagull Project. Majok, whose work is now widely commissioned, said because of the play, her mother now feels more valued by society. But: "She still cleans houses." Times and prices vary. Seattle Public Theater, Green Lake, 7312 West Green Lake Drive N; 206.524.1300; seattlepublictheater.org
DANCE
Pacific Northwest Ballet: Emergence
4/13–4/22 
For Canadian choreographer Crystal Pite, whose 2009 work Emergence gives PNB's spring show its name, inspiration came from insects: How do organisms build social structures? More specifically, how might this be a metaphor for a ballet company? Pite's approach was collaborative: "Get everyone contributing material: delegate, divide and conquer…[a hive] is not a hierarchy at all. The queen does not govern." It'll be(e) an intriguingly fresh take on a traditionally ballerina-centric art form. Times and prices vary. McCaw Hall, Seattle Center, 321 Mercer St.; 206.389.7676; pnb.org 
DANCE
Transfigurate
6/8–6/16
The culminating performance of Whim W'him's 2017–2018 season hedges its bets that good things come in threes: It's the third production in a contemporary dance series in which each production is composed of three parts. Company founder Olivier Weavers, Los Angeles–based artistic director of Ate9 Dance Company (and former Batsheva Dance Company member) Danielle Agami and French-born choreographer Pascal Touzeau will each debut a new piece of modern dance performed by this season's repertory dancers Liane Aung, Cameron Birts, Jim Kent, Mia Monteabaro, Tory Peil, Adrian Hoffman and Karl Watson. 8 p.m. Prices vary. Cornish Playhouse at Seattle Center, Seattle Center, 201 Mercer St.; 206.315.5776; whimwhim.org
L-R: Photographs courtesy artswest, Tim Summers, four seasons. (Top center) Portland, Oregon artist Wendy Red Star's "Indian Summer" from her 2006 series, Four Seasons; (bottom center) actor, choreographer Alice Gosti's new work explores materialism and "stuff-centered culture"; (right) Actor, director and playwright Brandon J. Simmons directs Branden Jacob-Jenkins' An Octoroon, an adapation of Dion Boucicault's The Octoroon, at ArtsWest
DANCE
Alice Gosti: Material Deviance in Contemporary American Culture
3/29–4/1
Is Spring cleaning still a thing? You may be inspired to renew that annual ritual after seeing choreographer Gosti's new work. She describes it as an exploration of "stuff-centered culture" that asks those who watch it: "Do objects imbued with so much of our worth start to take over and take on a life of their own?" A Seattleite since 2008, Gosti has been well positioned to reflect on issues such as economic growth, consumerism and acquisition. Times and prices vary. On the Boards, Queen Anne, 100 W Roy St.; 206.217.9886; ontheboards.org 
THEATER
An Octoroon
4/19–5/13
If the weirdly antique terminology of the title gives you pause—it refers to a person who is one-eighth black—that's because this is a contemporary deconstruction of Dion Boucicault's melodrama The Octoroon, which packed 'em in in Dickens' day. Through copious use of fourth-wall breakage and white-, red- and blackface, this 2014 play from Washington, D.C.–based playwright Branden Jacobs-Jenkins has concocted a provocative theatrical experience that uses the form's conventions to comment on racial issues. It's another show in ArtsWest's season-long exploration of outsiders. Times and prices vary. ArtsWest Playhouse and Gallery, West Seattle, 4711 California Ave. SW; 206.938.0963; artswest.org
CLASSICAL 
Joshua Roman
5/10
Though he didn't grow up here, Seattle can claim cellist and composer Joshua Roman as a sort of a native son; the two seasons, 2006–2008, that he spent as head of the Seattle Symphony's cello section were an early milestone before his renown became worldwide. (If you're a Seattle Sounders fan, think of Roman as sort of the classical equivalent of DeAndre Yedlin.) His 10th season of curating Town Hall's new-music-friendly "Town Music" series will culminate in an appearance by New York City's JACK Quartet; its members will join Roman for the premiere of his piece "Tornado." 7:30 p.m. $15–$20. Plymouth Church, 1217 Sixth Ave.; townhallseattle.org 
THEATER 
Until the Flood
6/8–7/8
Pulitzer Prize finalist Dael Orlandersmith's one-act, one-woman show examines the deluge of civil unrest following the fatal shooting of teenager Michael Brown in Ferguson, Missouri. Drawn from a series of personal interviews with St. Louisans, Orlandersmith presents eight composite characters grappling with the issues. Times and prices vary. ACT – A Contemporary Theatre, downtown, 700 Union St.; 206.292.7676; acttheatre.org 
FILM
Langston Hughes African American Film Festival
4/19–4/22
Unlike industry–or market-specific film festivals, building and gathering community are the focus of this annual event, now in its 15th year: "We're more of a filmmaker and audience festival," says Karen Toering, consulting producer for the festival. That focus makes good on a core component of the festival's mission statement—to "Cultivate Black brilliance"—and is celebrated and nurtured through screenings (of features, documentaries, shorts and experimental films), workshops, panel discussions, screenplay readings and much more. Times and prices vary. Langston Hughes Performing Arts Institute, Central District, 104 17th Ave. S; 206.684.4757; langstonseattle.org 
VISUAL ART 
Reframing Western Art: 5 New Exhibitions
On view now; end dates vary
Five companion exhibits make up Tacoma Art Museum's exhaustive exposition of art and culture in the American West: Animals: Wild and Captured in Bronze; Winter in the West; Native Portraiture: Power and Perception; Places to Call Home: Settlements in the West; and Immigrant Artists and the American West. Lead curator Faith Brower explains that while Western American art is often characterized by cowboys, Indians and bison, this exhibit explores the genre's backcountry in search of "multiple stories and diverse viewpoints," with an aim to inspire "visitors to explore both controversial issues of appropriation and immigration…and to think differently about Western art and how it relates to their lives and communities." Visit to better understand how art can lead the discussion of these difficult subjects—and how it may illuminate new possibilities for the future. Times and prices vary. Tacoma Art Museum, Tacoma, 1701 Pacific Ave.; 253.272.4258; tacomaartmuseum.org  
Sign up and get Seattle's best events delivered to your inbox every week.