31 Local Events to Get You in the Holiday Spirit
The best bets for holiday entertainment this month
By Gavin Borchert and Gwendolyn Elliott December 3, 2018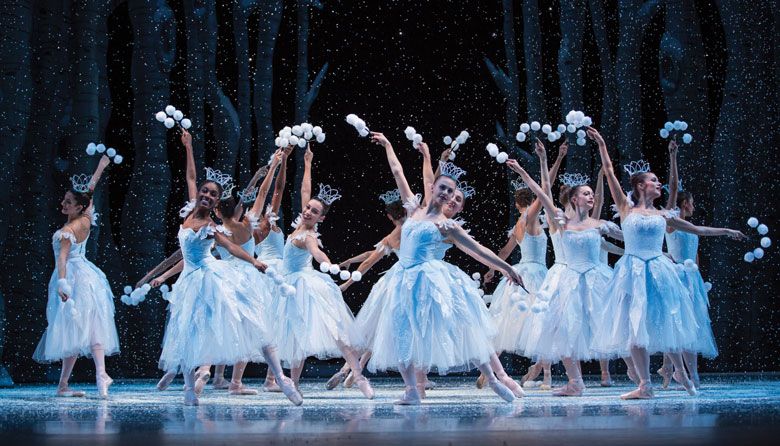 This article appears in print in the December 2018 issue. Click here to subscribe.
HOLIDAY SPICE
Buttcracker IV: The Final Countdown!
12/7–12/16
This '80s-themed Nutcracker takeoff combines modern dance and hair metal. Starring Wade Madsen as God. Times and prices vary. Erickson Theatre Off Broadway, Capitol Hill, 1524 Harvard Ave.; 206.329.1050
A John Waters Christmas
12/2
Lifting the Yule log to see what's crawling underneath, the filmmaker/raconteur poses burning holiday questions: "Is Prancer the only gay reindeer?" and "Has Santa ever been nude?" 8 p.m. Prices vary. Neptune Theater, University District, 1303 NE 45th St.; 206.682.1414
Homo for the Holidays: Jingle All the Gay
12/7–12/30
Burlesque duo Kitten N' Lou keeps the yuletide gaaaaaaaay with a luminous lineup of Seattle's finest drag and cabaret artistes. Times and prices vary. West Hall, Oddfellows Building, Capitol Hill, 915 E Pine St.; strangertickets.com
The Dina Martina Christmas Show
12/6–12/24 
The annual holiday banquet of "questionable song, unnecessary dance and overburdened costumes" from camp diva nonpareil Dina Martina, with "adult prodigy" Chris Jeffries at the keyboard. Times and prices vary. ACT – A Contemporary Theatre, downtown, 700 Union St.; 206.292.7676
Can Can's Wonderland
Through 1/13 
The website of this cozy cabaret promises an "unrivalled intimate theater-turned-holiday-chalet," which roughly translates to "saucy dialogue, stripteases and Santa." Times and prices vary. Can Can, downtown, 94 Pike St.; 206.652.0832
Land of the Sweets: The Burlesque Nutcracker
12/7–12/30 
Lily Verlaine and Jasper McCann keep the traditional sparkle but spice up the sugarplums in this naughty but nice retelling. Times and prices vary. The Triple Door, downtown, 216 Union St.; 206.838.4333
MUSIC
Jose Gonzales Trio: A Charlie Brown Christmas 
12/9 
Vince Guaraldi's sophisticated cool jazz matches and enhances the wry, dry tone of A Charlie Brown Christmas, and makes a nostalgic but elegant backdrop for an afternoon family matinee and evening party and concert that benefit Strawberry Theatre Workshop; afternoon for family, evening for grown-ups. 1 and 6 p.m. Prices vary. Cornish Playhouse at Seattle Center, Seattle Center, 201 Mercer St.; 206.315.5776
Hear Handel's triumphant Messiah by the Seattle Symphony at Benaroya Hall. Photo by James Holt
Seattle Symphony: Messiah
12/14–12/16 
You think your holiday season is busy? Countertenor Dmitry Sinkovsky is conducting and singing the alto solos in Handel's 1742 oratorio. Times and prices vary. Benaroya Hall, downtown, 200 University St.; 206.215.4747
THEATER

A Christmas Carol
Through 12/28 
ACT's popular stage version of the timeless classic sees Ian Bell and David Pichette sharing the lead role. (What's the story's most fantastical aspect: the ghosts or greed transformed into generosity?) Times and prices vary. ACT – A Contemporary Theatre, downtown, 700 Union St.; 206.292.7676
Miss Bennet: Christmas at Pemberley 
Through 12/29 
Lauren Gunderson and Margot Melcon's holiday-themed sequel to Jane Austen's Pride and Prejudice puts the nerdy, sententious Mary Bennet at the center of the plot. Times and prices vary. Taproot Theatre Company's Jewell Mainstage Theatre, Greenwood, 204 N 85th St.; 206.781.9707
Christmastown: A Holiday Noir
Through 12/24 
The archetypal femme fatale, Holly Wonderland, is an elf, and she's got scandalous photos of Santa in Wayne Rawley's pun-packed detective spoof. Times and prices vary. Bathhouse Theatre, Green Lake, 7312 W Greenlake Drive N; 206.524.1300
Murder on the Mistletoe Express
12/7–12/29 
Becky-June Beasley-Jones, the heroine of the Nordo troupe's 2017 holiday show The View from Santa's Lap, returns, bringing "absurdity, surrealism, hallucinations and a four-course meal" along with nefarious doings on the rails. Times vary. $89. Café Nordo's Culinarium, Pioneer Square, 109 S Main St.; 206.209.2002
TRADITIONS AND LIGHTS
The Great Figgy Pudding Caroling Competition
12/7 
This annual fundraiser for the Pike Market Senior Center & Food Bank features teams of carolers stationed around downtown Seattle, competing for a shot at the culminating sing-off. 6–8:30 p.m. Free, donations encouraged. Westlake Center, downtown, 400 Pine St.; 206.467.1600; pikemarketseniorcenter.org/figgy-pudding
Jingle Bell Run 
12/9 
Is that Rudolph? No, just hundreds of runners, bells on their shoelaces, dashing all the way at this 12K and 5K fun run for the Arthritis Foundation. 7 a.m. Prices vary. Westlake Park, downtown, 400 Pine St.; events.arthritis.org
Snowflake Lane
Through 12/24 
A Christmas-themed parade takes over Bellevue Way nightly, with lights, marching bands, snow and more. 7 p.m. Free. Bellevue Way between NE Fourth and NE Eighth streets; snowflakelane.com
Garden d'Lights
Through 12/30 
Half a million twinkling lights transform the Bellevue Botanical Garden into a nighttime wonderland. Times and prices vary. Bellevue Botanical Garden, Bellevue, 12001 Main St.; 425.452.2750
Woodland Park Zoo WildLights 
Through 1/5/2019 
Go wild at this annual showcase of dazzling light displays, with hot chocolate and other family fun. Times and prices vary. Woodland Park Zoo, Phinney Ridge, 5500 Phinney Ave. N; 206.548.2500
Point Defiance Zoolights
Through 1/6/2019 
Illuminated polar bears and twinkling tigers are among the animal light displays at this seasonal Tacoma tradition. Point Defiance Zoo and Aquarium, Tacoma, 5400 N Pearl St.; 253.404.3800
Bloedel Reserve's Holiday Village 
Through 1/6/2019 
Seasonal light displays and a miniature holiday village erected at the visitor center, complete with model trains and intricate, holiday-themed dollhouses. Times and prices vary. Bloedel Reserve, Bainbridge Island, 7571 NE Dolphin Drive; 206.842.7631
NUTCRACKERS

Pacific Northwest Ballet
Through 12/28 
George Balanchine's holiday classic features Ian Falconer's elegant storybook sets, fanciful costumes and a charming video prologue to set the scene. Times and prices vary. McCaw Hall, Seattle Center, 321 Mercer St.; 206.441.2424
International Ballet Theatre
12/14–12/23 
With choreography by Vera Altunina, in a Russian tradition going back to the creators of the 1892 premiere. Times and prices vary. Meydenbauer Center, Bellevue, 11100 NE Sixth St.; 425.284.0444; ibtbellevue.org
Emerald Ballet Theatre
12/1–12/9 
The 12th annual production, with pros and Emerald Ballet Academy students accompanied by the Emerald Ballet Theatre Orchestra. Times and prices vary. Northshore Performing Arts Center, Bothell, 18125 92nd Ave. NE; 425.298.3449; emeraldballet.org
Evergreen City Ballet
11/30–12/16 
The Renton-based company stages its annual performance. Times, prices and venues vary. evergreencityballet.org
ARC Dance
12/7–12/15 
A child-friendly and shortened Nutcracker Sweets production, first at ARC Dance in Ballard, then at Shorewood Performing Arts Center in Shoreline. Times, prices and venues vary. arcdance.org
Olympic Ballet Theatre
12/13–12/23 
Two venues, and shortened matinees on December 13 and 21. Times, prices and venues vary. olympicballet.com
Tacoma City Ballet
12/8–12/23 
A sampler of "Sweets" for tots the first weekend (in Tacoma at the Pantages Theater), then The Nutcracker & The Tale of The Hard Nut (at the Federal Way Performing Arts & Event Center) to give the Prince some backstory. Times, prices and venues vary. tacomacityballet.com
NEW YEAR'S EVE

First Night Tacoma
Ring in the new year at this annual, all-ages, alcohol-free downtown event featuring live music, dance, theater, comedy and more. 6 p.m. Prices vary. Downtown Tacoma; firstnighttacoma.org
Spectra 2018
Party under the arches of the Pacific Science Center at this annual New Year's Eve blowout, featuring top DJs, games, fireworks and much more. 9 p.m.–2 a.m. Prices vary. Pacific Science Center, Seattle Center, 200 Second Ave. N; 206.443.2001
New Year's Eve Celebration at Seattle Center
Bundle up for this free and family-friendly event at Seattle Center that includes a live set from rock band Sway, a Fountain of Light DJ dance party and front-row views of midnight fireworks. 8 p.m.–midnight. Free. Seattle Center, 305 Harrison St.; 206.684.7200
Ring in 2019 at the Chihuly Garden and Glass bash. Photo by Rod Mar
New Year's Eve at Chihuly
Enjoy appetizers, desserts, drinks and a midnight champagne toast at this annual New Year's Eve bash, this year showcasing the sounds of the Michael Benson Band. 8 p.m.–1 a.m. $250. Chihuly Garden and Glass, Seattle Center, 305 Harrison St.; 206.753.4940
7th Annual Artist Home New Year's Eve Celebration 
Music promotion company Artist Home hosts this evening of song featuring the local talents of The Moondoggies, Adra Boo, Cumulus, Smokey Brights and many others. 9 p.m. $50. Neptune Theatre, University District, 1303 NE 45th St.; 206.682.1414
Sign up and get Seattle's best events delivered to your inbox every week.