5 Best Old Fashioneds in Seattle
This classic drink's popularity remains high around town, whether in traditional or updated forms
By AJ Rathbun September 27, 2019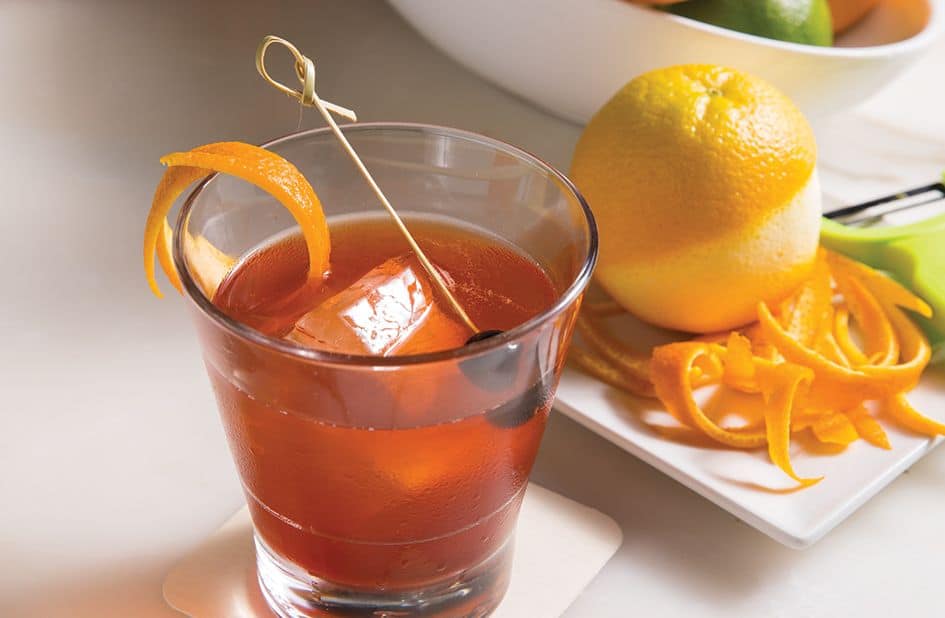 This article appears in print in the October 2019 issue. Click here to subscribe.
Simple yet sophisticated, the old fashioned isn't so much a cocktail as the cocktail. Legend has it that the old fashioned's basic ingredients—spirit, sugar, bitters, water—were listed alongside the first printed usage of the word "cocktail" in 1806. (Since records aren't always reliable, especially those dating that far back, this is open to friendly disagreement.)
As the century rolled along and whiskey became the preferred spirit of many, there was just the "whiskey cocktail"; when other base spirits were used, that particular liquor's name preceded "cocktail," such as the "gin cocktail," and so on down the bar shelf. The "old fashioned" name was attached to the recipe later, during the cocktail revolution of the late 1800s—a bow to its long-standing popularity. Since then, it has never completely gone out of, well, fashion, especially in Seattle, where imbibers can find the drink, or some interpretation of it, on nearly every bar menu.
According to Katie Frazier, bar manager at The Gerald, a cocktail bar in Ballard, the old fashioned's popularity is due to "its simplicity in construction and complexity in flavor." But it hasn't always been a simple sip: Over the years, ingredients ranging from syrups to liqueurs to large dollops of soda water and often enough fruit for a salad have found their way into the glass. (As author and bon vivant Crosby Gaige said in 1941, "Serious-minded persons omit fruit salad from old fashioneds.")
Oaxaca old fashioned from Gracia
Still, the drink has persevered, and not all improvisations have been bad ones. You'll find today's creative bartenders changing the classic formula, too, with tweaks small and large, while maintaining the drink's approachability, appealing taste and ability to show a spirit's best qualities. As Chris Bollenbacher, bar manager at Eastlake sister restaurants Serafina and Cicchetti, says, "It is such a malleable cocktail that as long as the bartender who's making it understands tricks of balance and uses quality ingredients, there are endless delicious variations."
Whether a traditional presentation or a fresh take, the old fashioned is a reliable drink to chance when at a particular bar for the first time—and a good way to judge the bartender. George Engelstad, bartender at Greenwood's FlintCreek Cattle Co., likes to follow this practice. "I think it is the best way to test the merits of a bartender and bar program, by how they prepare and present an old fashioned," he says. Amen to that—and here, we've done the research for you.
FIVE STELLAR OLD FASHIONEDS
There are many worthy old fashioneds offered locally, but without a sure hand doing the stirring, the drink's simple nature can swiftly go south. Below are five reliable members of the old fashioned family from local bars, some traditional, some pushing the fashion into more avant-garde territory.
Cicchetti 
Eastlake
Cicchetti Old Fashioned ($12)
If you're hunting for an iconic old fashioned option, this one from Chris Bollenbacher, bar manager for this Eastlake restaurant, is ideal. Based on an 1864 recipe, it has Larceny bourbon's caramel and butterscotch notes mingling smoothly with pressed orange peel, angostura bitters and a house gomme syrup (a full-bodied favorite of 1800s bartenders), which is made with gum arabic, the crystallized sap of the North African acacia tree.
The Gerald
Ballard
Ballard Old Fashioned ($11)
The old fashioned at this charming Ballard bar and restaurant doesn't stray far from the classic: Four Roses bourbon serves as the whiskey component, with plush Demerara sugar bringing the cuddles, a murmur of smokiness from a Laphroaig Scotch rinse and cherry bitters. The last ingredient is where the drink subtly strays; the bitters are made in house from dried sour cherries, schisandra berries, cherry bark, gentian, devil's club, clove and cinnamon, creating a clean cherry, woodsy aroma with delicate smoke and spice whispers.
Sign up and get Seattle's best events delivered to your inbox every week.