5 Things You Need to Eat and Drink in January 2019
Forget that Whole 30 and enjoy yourself instead
By Chelsea Lin January 2, 2019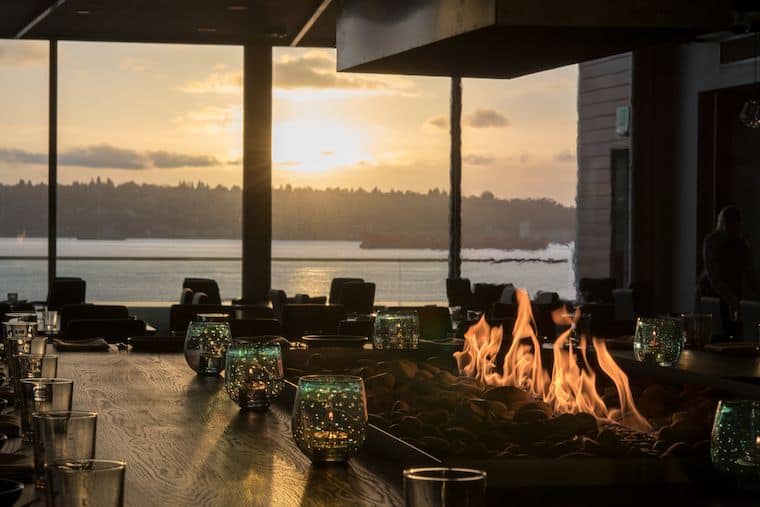 After the excess of December, January rings in with the promise of fresh starts—and an actual craving for fresh vegetables. But because I don't think anyone should deprive themselves of good food, even for the sake of New Year's resolutions, here are a few fun excuses to eat and drink well this month:
Check out a new Pike Place stunner.
Not directly in the market but just up Western, new Fire & Vine Hospitality (run by chef Jason Wilson and the team behind El Gaucho, etc.) restaurant Aerlume opened just after Christmas. It's a cozy space that promises Elliott Bay views from every seat, and features a menu of seasonal dishes driven by executive chef Maggie Trujillo. Dinner and happy hour are open now; lunch and weekend brunch service will start "in early 2019."
Indulge responsibly.
For their monthly flavors, Salt & Straw has gone all vegan for January. Before you balk, listen to these flavors: toasted coconut milk and cookies, Elvis peanut butter banana split, candied apricot, oatmeal moonpie with marshmallows, and lemon chevre cheesecake. We've been told that this is the beginning of a more expanded vegan menu at all the Portland-based ice cream company's scoop shops. Sure, Frankie & Jo's has a lock-down on the plant-based ice cream market in this town. But the more delicious, healthy(ish) dessert options the better, right?
Experience a dream meal.
A reference to the stages of sleep rather than the '80s rock band, REM is a new pop-up dinner series from chef Kris Kim. Kim has an impressive pedigree: former chef de cuisine at Trove and current sous chef at The Willows Inn on Lummi Island. While Willows is closed for the season, Kim's coming back to Seattle to show off his skills, by way of "an imaginative, dreamscape pop-up dinner" that promises to "explore food in a way that is ethereal and playful." Look, I'm not sure what all that means either. But I know that anyone who's trained under both Rachel Yang and Blaine Wetzel is worth checking out. Dinners will take place January 4 and 5 at Almquist Family Vintners; tickets ($115 per person) are available here. 
Shuck and sip—but bring a coat.
It's practically common knowledge in Seattle that the coldest months are the best ones for eating oysters. They also coincide with low tides (needed for harvesting the bivalves) that happen in the dark. If you're smart, you've already got tickets to some of the extremely popular oyster events—like the late Jon Rowley's coveted Walrus and Carpenter picnics—that involve bussing from Seattle out to the flats. But, if you're late to the game, you can still partake: all you need is a license, a tide chart, a shucking knife and a warm jacket. Read this and you'll be set; just remember that you have to shuck and eat your limit on the beach, as the shells have to be left where you found them.
Plan ahead for February's Seattle Wine and Food Experience.
This mega four-day-long food fest  is one of our biggest events of the year, and this year promises to be bigger and better than ever—as cliché as that sounds. In addition to the previous years' popular events, we've added a Sunday Supper event with seriously talented local chefs that you'll definitely want to experience. SWFE will take place over February 21 through 24; get your tickets now so you don't miss out.
Sign up and get Seattle's best events delivered to your inbox every week.