5 Tips for National Nutrition Month
A guest blogger from The Humane Society on why (and how) we should eat more vegetables
By Chelsea Lin with Amy Webster March 21, 2017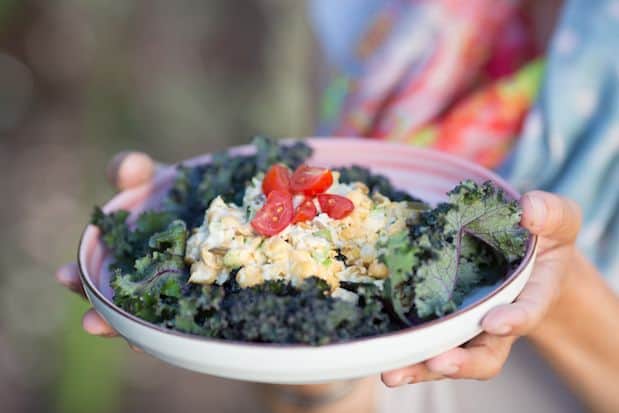 Mostly, we use food holidays to justify cravings. For example, when I tell you that today is National Crunchy Taco Day, you'll spend the rest of your day dreaming of crispy tortillas and cursing me later. But a couple of weeks ago, Amy Webster reached out to inform me that March is National Nutrition Month. Webster is the food and nutrition coordinator for The Humane Society of the United States for the Pacific Northwest—she works with schools and universities, health care companies and corporations to promote plant-based menu options through recipe planning, chef trainings and marketing support. She knows her nutrition. She may scold you for eating a crunchy taco (sorry, Amy).
Now, plant-based dining is nothing new to us, and as a former vegetarian, I'm pretty happy about the fact that chefs are finally giving veggies top billing. So I asked Webster to share a few tips on setting nutrition goals, for the month and beyond. Her words, below: 
Go Meat Free on Mondays
Why not try going meat-free for one day? Meatless Monday is an initiative supported by The Johns Hopkins School of Public Health and The American Heart Association to help fight preventable disease. You can find information on where to start, meal ideas and reasons to stay inspired here. The Humane Society of the United States didn't start Meatless Monday, but we sure like it! And so will you. 
Partner Up
Did you know that we're more likely to be successful in sticking healthy eating plans when we do it with friends and family? Hear from experts and share information with locals at inspirational events around Seattle. Here are a few to get you started: On March 23, author Kristie Middleton will showcase her new book, MeatLess: Transform the Way You Eat and Live—One Meal at a Time at Third Place Books in Lake Forest Park. Seattle's VegFest is a great way to learn about resources to help eat less meat and taste delicious plant-based samples. It's family-friendly and whether you're a seasoned plant-foodie or just veg-curious, there's something for everyone at any stage. This year's VegFest is April 1 and 2. Bring your friends and come make some new ones!