50 Things Seattle Gave the World
By Niki Stojnic November 30, 2016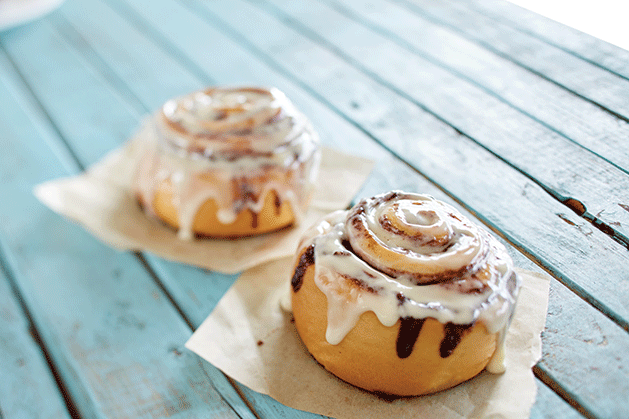 Looking back on 50 years of Seattle magazine (an evolution that started with Pacific Search, see "The 50-year Evolution of Seattle Magazine") can be humbling. Amazing inventions, people and ideas have come from the Emerald City. Sure, we have problems to solve. But with many of the best minds in the city charting our future path, there's plenty of reason to believe in that old adage: The best is yet to come.
Ask people from other parts of the country to name things that come from Seattle and they may mention Starbucks, but more often than not, they come up empty. Last year, a GeekWire correspondent took a stroll through New York City's Central Park, asking walkers where companies such as Amazon and Microsoft are based. The answers weren't pretty. Is it our aversion to doing anything that looks like showing off? When statewide budget cuts came around in 2011, we became the first state in the country to nix our tourism bureau, the official bragging arm of the state. So, it's time to gloat. For Seattle magazine's 50th anniversary, we're having a surge of civic pride—and claiming our bragging rights.
EATING AND DRINKING
We take a lot of pride in our fabulous local food—handcrafted this and artisanal that—but Seattle is also responsible for some of the most iconic bits of modern, fast-food Americana.
Fresh Off the Shelf
Carnation evaporated milk (1899): Elbridge Stuart developed shelf-stable evaporated milk as a sanitary alternative to fresh milk. He found success under the brand name Carnation (inspired by a display of cigars with that name in a Seattle shop window) and established Carnation, the company, in Kent, and Carnation Farm on the east side of Lake Washington. The company went on to make a variety of food products that became household staples, such as Carnation Instant Breakfast (now known as Breakfast Essentials). The town of Tolt was renamed Carnation, which is what locals know it as today. 
The Coffee Break
Starbucks (1971): Exactly what influence Starbucks has had on the world depends on whom you talk to—it's not always flattering. There's no doubt, however, that it's a worldwide coffee icon, which has introduced everything from the cult-inspiring pumpkin spice latte and Frappuccinos to perhaps infamously over-roasted beans. And it created that reliable "third place" gathering spot between home and work in the some of the most remote corners of the world.
Spoonfuls of Sugar
Cinnabon (1985): Like Starbucks, Cinnabon took a classic comfort food and brought it to the mass market, turning it into an icon recognized nationwide. The first wafts of cinnamon and yeast drifted from a Federal Way mall (then known as SeaTac Mall) and made its way, well—everywhere, thanks to Seattle-based restaurant chain Restaurants Unlimited owner Rich Komen and CEO Ray Lindstrom, who had set out to create the perfect cinnamon roll.

Image by: Almond Roca 
Packaging from the 1940s of Tacoma-based almond- and chocolate-covered toffee, Almond Roca
Almond Roca (1923): These addictive almond- and chocolate-covered toffees from Brown & Haley, along with their iconic pink tin cans, were born in Tacoma.
OUTDOOR GEAR
In the land of outdoor enthusiasts, pricey down and fleece are kingly indeed, but we don't just wear the cozy stuff—we created much of it. The ensuing practical, all-weather-proof look has seeped well beyond Pacific Northwest borders and into cities across the U.S.
Image by: Eddie Bauer
The original puffy coat, Eddie Bauer's down-filled jacket
Seattle-born Eddie Bauer came up with the down-filled jacket in 1936. Similarly, Filson created its wool Mackinaw Cruiser in 1914, and while the original rugged jacket is still as popular as ever, you'll find plenty of knockoffs of this style in stores ranging from Nordstrom to the Gap. And any talk of Seattle fashion is incomplete without the quirky Utilikilt (2000)—a melding of a Scottish kilt, cargo pants and Carhartts that has engendered a following well beyond the Pacific Northwest.

Image by: John Vicory
Bremerton resident Lloyd F. Nelson's "Trapper Nelson." Nelson carried his daughter in the backpack on sales calls to demonstrate the strength of his wood frame bag
The backpack (1922): It is essential camping gear, so it's only natural that the hardy hikers of the Pacific Northwest would come up with a new and improved version. Lloyd F. Nelson of Bremerton created a backpack with a wood frame and canvas sack, called the "Trapper Nelson," which was the precursor to the backpacks we know and love today.
Therm-a-Rest (1972): Gardening discomfort jogged this idea loose from Boeing engineer John Burroughs, who came up with an alternative to foam sleeping pads for campers that uses a combination of foam and air to both insulate and comfort folks sleeping on the ground.
REI (1938): Lloyd and Mary Anderson started Recreational Equipment Incorporated, a cooperative to help seriously outdoorsy types get good gear affordably; Jim Whittaker, the first American to summit Mount Everest, was the company's first full-time employee and later the CEO. Today, REI is the largest consumer co-op in the country, with shops that are staffed with gear experts and stocked with items for all levels of outdoor enthusiasts, who are encouraged to try before they buy.
INNOVATIONS
Computer technology may be one of the few things we're (somewhat) known for by outsiders, but local innovators have been known to tinker with practical—and sometimes very low-tech—solutions, solving such vexing problems as how to cut butter faster, get teeth cleaner and make more doughnuts.
Seattle engineer David Giuliani created the Sonicare toothbrush (1992) and the Clarisonic (2004), a device that cleanses facial skin the way the Sonicare cleans teeth, with a brush powered by sonic vibrations. The Sonicare continues to be recommended by dentists everywhere for keeping those pearly whites sparkling.
Doughnut maker (1923): Former marine engine builders Thomas and Walter Belshaw came up with the first manual and automated doughnut-making machines in Seattle. Their company lives on today as Auburn-based Belshaw Adamatic, the world's largest doughnut-making equipment maker and distributor.
Butter cutter (1920): It's questionable whether folks commonly use this particular innovation, but it's out there—and it came from Seattle's William Ruttle, who patented a cast-aluminum tool that slices 1-pound butter blocks into uniform pats with just one squeeze. Today's butter cutters are usually plastic, but still seemingly convenient; next time you go to a casual diner and get a little pat of butter served with your rolls, you'll have a perfect conversation starter. 
Wireless phone (1962): Cutting the cord was on the minds of folks decades before it became a reality. Pacific Northwest Bell invented a form of wireless phone for the rotating restaurant at the top of the Space Needle, which debuted during the Seattle World's Fair. Diners had a phone at their table that connected with a radio transmitter, which would patch them through to an operator.
Compact depth sounder (1953): Small enough to fit on all types of boats, this device was developed by Seattle-based Ross Laboratories, making sonar technology—necessary for depth measurement and navigation underwater—available and affordable on a smaller scale, such as for local fishers.
Kindle (2007): The first electronic reader, courtesy of our overlords at Amazon, is where Seattle's love of books and tech met. The wildly popular device can store more than 1,000 books and download them in seconds (including from the library). It spawned imitators such as Barnes & Noble's Nook.   
SPORTS
Sure, we play ball, but we also excel in other (mostly) outdoor sports.
Pickleball (1965): Invented on Bainbridge Island by dads Joel Pritchard, Bill Bell and Barney McCallum, this combined game of tennis, badminton and pingpong has recently been billed as one of the fastest-growing sports in the U.S., because of its all-ages accessibility and indoor or outdoor court option.

Badminton shuttlecock (1934): Eddie Bauer strikes again! The man developed and patented the badminton shuttlecock design that became the standard for the game and remains so today. 
Fiberglass skis (1962): Bill Kirschner developed the first fiberglass snow ski, forever changing the way we slide down the mountains. He and his brother Don founded and ran K2 Corporation from Vashon Island, improving the ski design over the years, as well as producing other sports equipment.
Aluminum-frame bikes (1975): Gary Klein defied people's expectations of what light-weight aluminum could do by building whole bikes out of the stuff. He crafted the frames using his own welding process, thicker tubes and other engineering innovations to make the lightest bikes of the time, still popular today. His company, Chehalis-based Klein Bikes, was eventually purchased by big-name bike business Trek.
HOME IMPROVEMENTS
Single-handle Moen water faucet (1947): When a young man named Al Moen scalded himself with water from an old-fashioned two-handle faucet, he thought he could come up with something better. He did, and the resulting single-handle faucet, first manufactured in 1947 at Ravenna Metal Products in Seattle, is as iconic as the brand name "Moen," which is seen atop many a sink today.
Pellet stove (1980s): Boeing engineer and inventor Jerry Whitfield developed this efficient residential stove, which burns compressed wood or biomass pellets. A majority of pellet stoves on the market are still manufactured in Washington state. 
MUSIC
Grunge music (1990s) may be the top thing, in addition to Starbucks, that non-Seattleites might credit our fair city with—thanks to Sub Pop Records and Nirvana—but there are a few other music notes from Seattle as well.  
Seattle musician Paul Tutmarc created the electric bass guitar in the 1930s, which he sold through his instrument company, Audiovox. The Tutmarc family never saw the instrument achieve mass market success, however—that happened when Leo Fender came onto the scene, in the 1950s.
Bremerton-born James Russell gets the credit for inventing compact discs (CDs) in 1965, envisioning and developing an alternative to vinyl records that would record and replay sounds with no touching parts (unlike a phonographic needle on a record). He was granted a patent, but Philips and Sony licensed it soon thereafter and developed, refined and brought CDs to market in the 1980s.

Image by: Boeing Images
Boeing brought us the first American jet passenger airliner (707) and jumbo jet (the 747) but few know they also introduced the idea of stewardesses, pictured here in a 377 Stratocruiser luxury lounge, circa 1940s
FLIGHT
Founded in 1916, Boeing's impact on the world has come in a few different forms. It developed the first American jet passenger airliner, the 707 (1954), which led to the iconic first jumbo jet, the 747 (1970). Boeing also brought us the idea of stewardesses (now known as flight attendants, thank you very much), who first flew on a Boeing Air Transport 80A in 1930. And because size matters in this business, Boeing's Everett plant also currently holds the record as the largest building in the world by volume at 472,370,319 cubic feet.
LUMBER
Tree farms (1941): Weyerhaeuser pioneered the concept of farming trees like any other crop, setting aside 200,000 acres of land in Washington in order to produce lumber for building and paper, and (in theory) to preserve more forestland.
TECH 
Microsoft (1975): From Windows to Microsoft Office to Xbox, the company is ubiquitous in homes and offices around the world. For Seattle, the company represents the first big tech boom for the area, famously creating at least 10,000 millionaires in the state by the year 2000 and, some say, the beginning of the tech era of 18-hour workdays. Alumni of the company have ventured into new influential arenas, including philanthropy and politics.
RealPlayer (1995): One of the first pieces of software to stream media over the Internet was developed in a Pioneer Square office by RealNetworks, one of Seattle's best-known tech companies of the late-'90s/early-'00s dot-com boom era. RealPlayer quickly became a part of most computer setups, particularly as it was bundled with Microsoft's Windows.
T9, aka predictive text (late 1990s): Those of us old enough to remember life before smartphones also remember the learning curve that came with texting. Martin King (along with Cliff Kushler, who went on to develop another texting technology, Swype) developed the foundation for texting as we know it today, with T9 ("text on nine keys") predictive text, and the company that produced it, Tegic Communications. The technology was an extension of King's primary interest, developing communication tools for people with disabilities.