Amazing: Bride Makes Her Own Dress on the Bus
Seattle bride-to-be crocheted her wedding dress, piece by piece, on her daily bus ride
By Shuchi Mehta September 25, 2014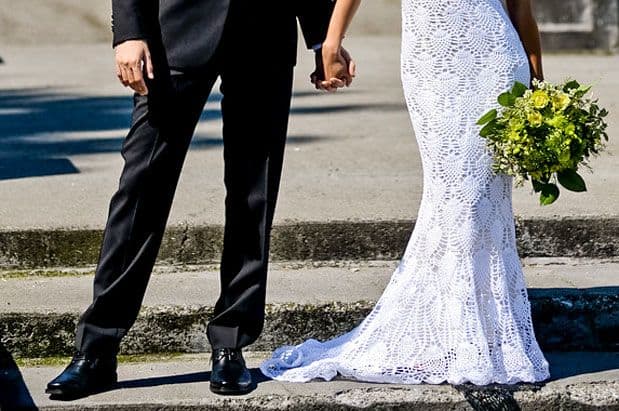 Chi Krneta, a local bride and architect is an inspiration to those of us who think we have no time to do the things we want. With five months to go until her wedding, Krneta crocheted her bridal gown out of simple, white cotton thread while riding the bus on her daily 50-minute commute to work. (At least something good came of Seattle traffic congestion!) Most brides would frantically be searching high and low for the perfect wedding dress with just the right amount of elegance and grace, but this beautiful bride-to-be took matters into her own, hardworking hands. What came of this endeavor is gorgeous and only cost Krneta $30 (plus bus fare).

Krneta crocheted the exterior with Aunt Lydia's cotton thread and stitched the interior lining
with ivory, satin fabric. 
PHOTO COURTESY OF: JEROME TSO PHOTOGRAPHY
We asked Krneta what inspired her creativity and more. See below for her answers, plus a few stunning shots from her wedding and of course, the dress.
Seattle Magazine: What inspired you to create your own wedding dress?
Chi Krneta: I learned how to sew from my mother and aunt and have been designing and making some of my own clothes since I was a teenager. Designing and making my own wedding dress is something I always knew I was going to do. Originally, I was going to sew a a floor-length version of the Chrysanthemum dress (see photo below) for the ceremony, but then I thought that it would be more efficient to crochet a dress because I [could] do it using commute time on the bus and use my spare time to make other things for the wedding. For the reception, I wore the shorter Chrysanthemum dress which I designed and made for dancing.
PHOTO CREDIT: JEROME TSO PHOTOGRAPHY

CK: I also thought crocheting my wedding dress would be a nice tribute to my paternal grandmother who taught me how to crochet when I was a child. I wish my grandmother could have seen this dress but she passed away several years before.      
SM: Is the dress something you will likely pass down or is it something you would like to have as a keepsake? 
CK

: 

The dress is something I would definitely keep around but not preserved in a box. Rather, I plan to wear it again with different colored linings underneath and pinned or bustled up in different ways (obviously not as a wedding dress). I would certainly pass the dress onto my future children if they wanted it.

 
The wedding dress was not just a one hit wonder for our bride. Her knack for needlepoint lets her see apparel in a whole new light. Here she shows us how she can wear the reception dress she created in multiple ways. 
Three outfits in one. What a steal!
PHOTO CREDIT: CHI KRNETA

SM
: What else have you created? 

CK: I 
also 
designed and created my bridesmaids' dresses. Knowing how terrible some bridesmaids dresses can be I wanted to make these different–to be not only beautiful, but also comfortable (they're going to be wearing them for 10 hours!), flexible, practical, and reusable after the wedding for all occasions. The dress is convertible from long to short with a drawstring at the skirt's hem that folds up and cinches at the waist. Short for when the bridesmaids are running around setting up for the wedding or dancing afterwards; long and elegant for the ceremony.
Convertible and reusable bridesmaids dresses. Another economically sound, yet attractive decision.
PHOTO CREDIT: JEROME TSO PHOTOGRAPHY

SM
: Any advice for our bride-to-be readers?

CK: 

I think the most important thing to remember if you're going to have a wedding is that there is no right way or wrong way to do it. Your wedding should be about you, your partner, your family and friends. 

I'm an architect by day and I treated my wedding just like an architecture project–to not only make it beautiful, but also meaningful, practical, affordable and sustainable. 

One of the not-so-great things I see with many weddings is how wasteful [they are]. I wanted to make as much of our wedding stuff as reusable as possible. 
Rather than buy a ton of cut flowers that could be very expensive, I grew organic edible herbs and flowers and used them as the centerpieces. These centerpiece plants now adorn my balcony where I can continue to enjoy them–both for their looks and for their taste.
PHOTO CREDIT: YI CHEN