Backstory: The Right Note
A new public art installation celebrates the Central area's history and rich African American heritage.
By Rob Smith August 4, 2021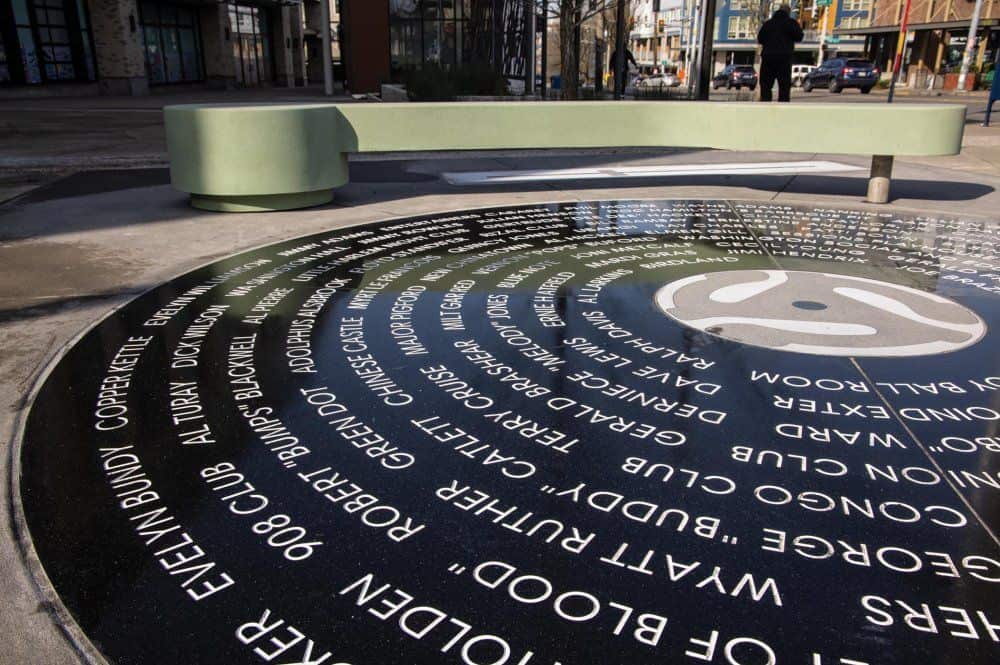 A new public art installation throughout Vulcan Real Estate's Jackson Apartments on South Jackson Street between 23rd and 25th Avenues celebrates the Central area's history and rich African American heritage. Pieces within the colorful collection include sculptures, murals, prints and more.
Vulcan engaged art consultants and neighborhood advocates Vivian Phillips and Leilani Lewis to curate the experience and commissioned more than a dozen Black artists, many of whom were born, raised, and still live in the Central area, to create the artwork, which will be permanently displayed throughout the apartment complex.
One piece, pictured above, is a life-size 78 rpm record made of concrete, granite and steel that celebrates the once-thriving Seattle jazz era. Artist Paul Rucker, a musician and multimedia artist who has lived on Jackson Street since 1998, did extensive research on the city's jazz history before designing the piece. Visitors can sit on a bench-like arm and recall the names of famous musicians and venues along the record's spiral.
According to HistoryLink.org, the jazz scene was "grounded in the speakeasy culture of the 1920s and nurtured by the wartime boom of the 1940s," noting that Jackson Street was home to numerous nightclubs and dance halls.
Photos of each piece and interviews with the artists who created them are chronicled in a virtual art walk: artwalkjacksonseattle.com.
Sign up and get Seattle's best events delivered to your inbox every week.