Balanchine's Famous Plotless Ballet Has No Lack of Sparkle
The glittery "Jewels" opens this weekend.
By D. Scully September 22, 2017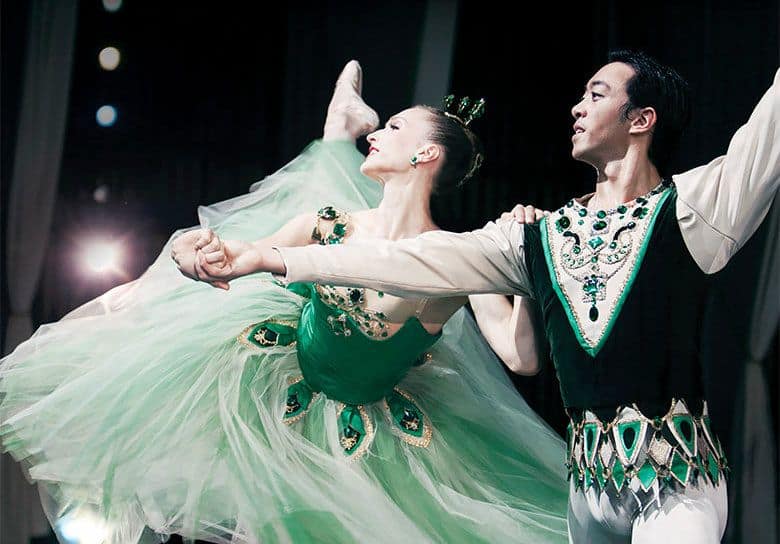 George Balanchine's Jewels, the choreographer's unique three-act dance program featuring the work of three iconic composers—Gabriel Fauré (Emeralds), Igor Stravinsky (Rubies) and Pyotr Ilyich Tchaikovsky (Diamonds)—returns to Pacific Northwest Ballet (PNB) on Friday.
The show's costumes sparkle with a staggering number of gemstones, beads and crystals—attire that keeps the small PNB costume shop on its toes. With new costumes and scenery created by the internationally renowned Jerome Kaplan (who provided memorable threads for Roméo et Juliette and Cendrillon), behold some of the best bejeweled facts and figures from the build.
Jewels by the numbers:
3,378 crystal gemstones sewn on to 16 "Rubies" bodices
3,300 beads and gems for 19 "Emeralds" principal and corps tiaras
2,480 hot-fix [glued] crystals for 16 "Diamonds" corps tiaras
2,025 crystals sewn on to 20 "Diamonds"
9/22–10/1. Times and prices vary. Pacific Northwest Ballet, McCaw Hall, Seattle Center, 321 Mercer St.; 206.733.9725.