Ballard's Sawyer Delights With Playful, Refined Dishes
A veteran of Lark finds his own voice in the best new restaurant in Ballard
By Chelsea Lin November 30, 2018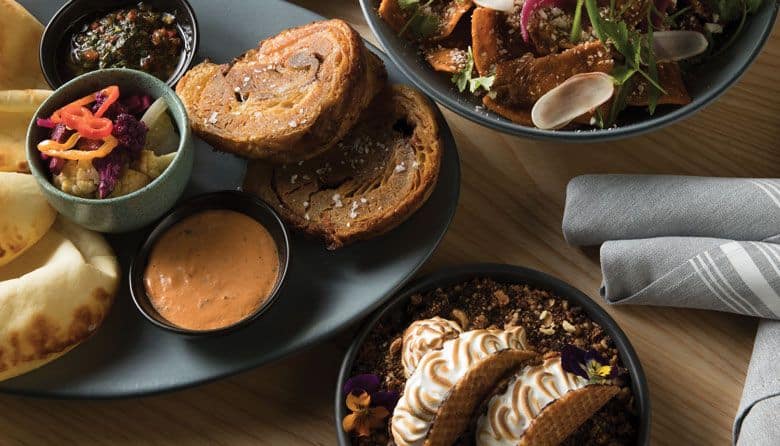 This article appears in print in the December 2018 issue. Click here to subscribe.
Just a few years ago, the trend in finer dining was to create ultraprecise "tweezer food," as it came to be known—artistic (though arguably too fussy) dishes in which chefs used tweezers to meticulously place ingredients, such as each leaf of microgreen. Thankfully, the backlash from diners, food critics and some fun-loving chefs has resulted in more whimsical, playful food that is no less delicious—or less beautiful, for that matter. The perfect example of this is at
Sawyer
.
Former Lark chef de cuisine Mitch Mayers opened the Ballard eatery in early August in the 4,700-square-foot space that formerly housed Kickin' Boot (and long before that, a sawmill in the 1920s). Where that restaurant was dark and broody, Sawyer is bright, timeless and manages to feel intimate for a place that seats 115, thanks to a puzzle of little booths.
The menu of shareable plates is light-hearted but substantial: oxtail nachos ($17), cheesy bread with 'nduja and pimento cheese ($8) and s'more choco tacos ($9) are all hits. They draw on Mayers' family history of running concession stands at fairs. With dishes like the excellent rotisserie porchetta (served with house-made flatbread, $32), he also shows off the skills that earned him Seattle's top spot for two years running in the annual Cochon555 porcine cooking competition. "I love junk food," he says. "I think it's fun, approachable food."
KITCHEN CAPTAIN: Chef Mitch Mayers takes his love of junk food and turns it into creative, playful dishes 
The key to getting the most out of a visit to Sawyer is to go with a big enough group that you get to try a little of everything on the menu; it's a menu that taps into our collective nostalgia. Mayers' version of "junk food" has a way of making us feel like kids again—kids with a (slightly) more refined palate and bigger bank account.
Mayers is hoping this will become a neighborhood staple. I just wish I lived next door. 
MUST TRY: Although the choco tacos are excellent and shouldn't be missed, also be sure to order Mayers' version of a Dairy Queen Dilly Bar, which comes covered in a Theo dark chocolate magic shell and is presented stuck vertically in a bowl of cookie dough semifreddo ($4).
Ballard, 5309 22nd Ave. NW, Suite A; 206.420.7225