Beacon Ave S has amassed a trove of new tastes, out-of-the-box art and community musc spaces to expl
By Patrick Hutchison December 12, 2011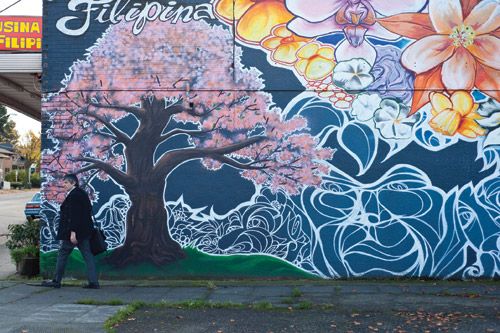 Seattle's South End hilltop neighborhood is heating up. Long treasured for its diversity, Beacon Hill is amassing a trove of new tastes, out-of-the-box art and community music spaces—not to mention the new light rail station that provides quick and easy access for residents and day-trippers alike.
TASTE
>> Longtime favorites such as Kusina Filipina (3201 Beacon Ave. S; 206.322.9433; kusinafilipina.net) and El Quetzal (3209 Beacon Ave. S; 206.329.2970), beloved by this intensely loyal community, have recently been joined by a few tasty newcomers.
>> Inspired by a lifetime of travel to India, Allen Kornmesser has taken a culinary leap with Travelers Thali House (2524 Beacon Ave. S; 206.329.6260; travelersteaco.com), featuring vegetarianthalis (platters of various Indian dishes) made from local, seasonal ingredients (see our review).
>> From here, a five-block walk south takes you across the Mediterranean Sea to Bar del Corso (3057 Beacon Ave. S; 206.395.2069; bardelcorso.com), the new neighborhood pizzeria that opened in July. Fill up on traditional wood-fired pies topped with ultrafresh toppings and baked in the massive oven, handmade and shipped in from Italy. Don't miss the Margherita pizza, one of the best in the city (pictured right).
>> For dessert, be sure to stop by Despi Delite Bakery (2701 15th Ave. S; 206.325.2114), serving Filipino baked goods since 1988, for the ever popular ube macapuno, a purple-yam cake with coconut custard filling (pictured left).
CAFFEINATE
>> Just across from the new light rail hub, The Station (2533 16th Ave. S; 206.453.4892) makes the transition from morning caffeine fix to afternoon happy hour much easier. Herkimer espresso and Hi Spot Café pastries start your day, while local wines, sangría and bottled beers help you close out the afternoon.
>> Or, swing into Victrola Coffee's (3215 Beacon Ave. S; 206.462.6259; victrolacoffee.com) newest outpost, where you'll find the same expertly roasted beans made famous at the Capitol Hill headquarters.
MOVE
>> Take in million-dollar views of downtown and the Olympics while exploring the ongoing beautification of massive Jefferson Park (3801 Beacon Ave. S). Time it right and you can also try your hand at ye olde gentleman's game, lawn bowling. The Jefferson Park Lawn Bowling Club (4103 Beacon Ave. S; 206.762.2490; seattlebowls.org) holds free lessons for first-timers; just call and ask.
>> A block south of the park, say hey to Miki Nishihata, owner of Hello Bicycle (3067 Beacon Ave. S; 206.805.6700; hellobicycle.com), who recently renovated the space to include a larger stock of new bikes, while still providing professional repair services.
>> And at Skin Deep Dance Studio (El Centro de la Raza, 2524 16th Ave. S, #311; 206.322.9500; skindeepdance.com), owner Katrina McCoy offers lessons in American Tribal Style belly dance, Zumba and Tahitian drumming.
GAWK
>> Some Latin American artists, many hailing from Beacon Hill, exhibit at Almendra Sandoval's Quetzalcoatl Gallery (3209 Beacon Ave. S; 206.334.0749; quetzalcoatlgallery.com), which shares a wall with acclaimed Mexican eatery El Quetzal.
>> Housed in a turn-of-the-century Victorian mansion, Rockit Space (2336 15th Ave. S; 206.323.7733; rockitspace.org) is a volunteer-based nonprofit that hosts local folk concerts and music classes designed for toddlers and families.
>> For a truly experimental take on art, try NEPO House (1723 S Lander St.; nepohouse.org), the in-home gallery/project space of Seattle artist Klara Glosova, who fills her house with local art for special exhibits.
Sign up and get Seattle's best events delivered to your inbox every week.