At Belltown Jerk Shack, Seattle Chef Trey Lamont Is Making Caribbean Food His Way
The chef is looking to the islands for inspiration
By Chelsea Lin August 8, 2018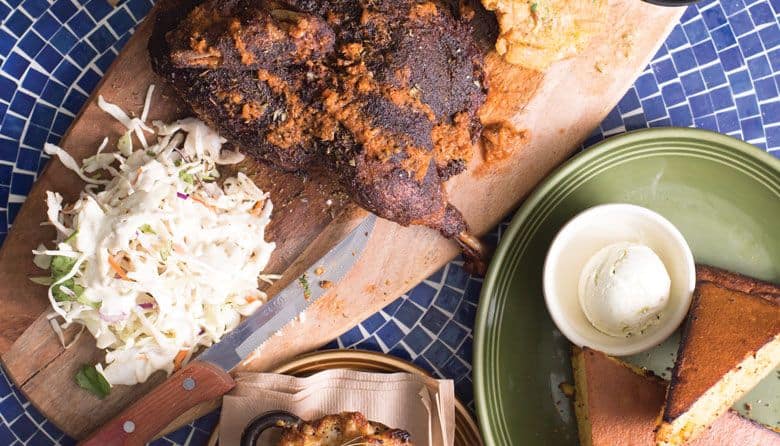 This article appears in print in the August 2018 issue. Click here to subscribe.
Trey Lamont's name is scrawled above the Jerk Shack's name on his Belltown signage—as in Trey Lamont's Jerk Shack, as in this isn't just any restaurant, but his restaurant. In conversation, he's very clear that this is his food: Caribbean-influenced, intensely flavorful, all made from scratch down to grinding the spices for the jerk rub and churning the ice cream for dessert.
"I love cooking everything," Lamont says. "I think cooking is one of the most natural things for me—tasting things, smelling things. Some people can hear a song and play it without taking a lesson in their lives. I think I have the ability to taste something and go and make it."
The chef, born and raised in Seattle, has been working in kitchens since he was just 14. Yet he didn't start cooking Caribbean food until he realized how much he missed Caribbean flavors after returning from vacations visiting family on the islands.
First came Papa Bois, a food truck he launched in 2012. Then, the owners of three restaurants/bars (The Innkeeper, Black Bottle and Bar Vacilando) came calling, asking if he'd take over The Innkeeper and infuse the menu with the Caribbean fusion diners love from his food truck. (He's quick to point out his food is a fusion of the different islands' cuisines and not Asian fusion, which he often reads in reviews.)
Crispy fried whitefish is a crowd favorite. Photograph by Alex Crook
He didn't so much take over The Innkeeper as completely revamp it into the Jerk Shack. The vibe inside is as chill as you'd expect—vibrant with mustard and turquoise to offset the omnipresent Seattle gray—and bigger than the name implies. Cocktails are fruity but pack a powerful punch. Frequently, Lamont himself brings plates to the table. Just don't ask him what his favorite dishes are: "It's like choosing between your children!" Diners lean toward the unbattered, spice-rubbed jerk fried chicken ($20), but I loved the fried fillets of whitefish ($17) with plantains most. Don't miss the dipping sauces—they're all excellent.