Belltown's Discreet New Whiskey Bar Has Southern Charm With a Spanish Twist
The new bourbon-lovin' bar from the Pintxo team doesn't disappoint.
By AJ Rathbun September 8, 2017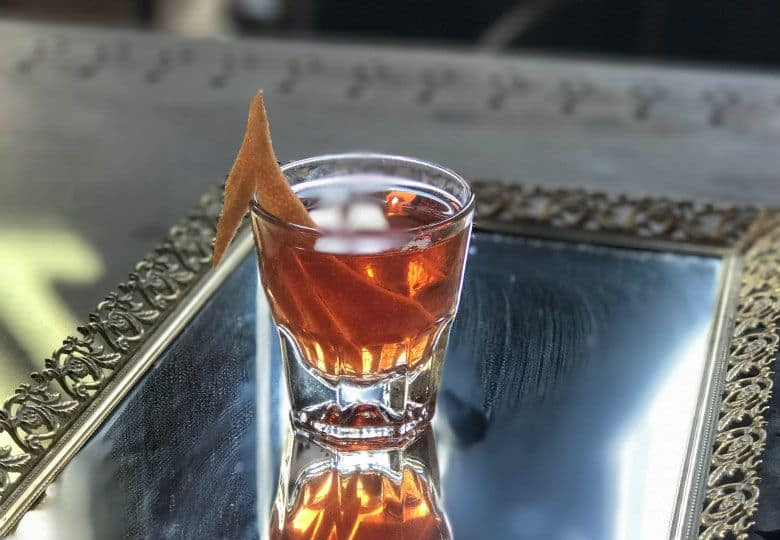 The latest opening from the folks behind the recently moved Pintxo, Commonwealth comes less than two months after Spanish gin-and-tonic joint Bar Abajo settled into Pintxo's old Belltown space. The new whiskey-focused bar, tucked between 3rd and 4th avenues in the Bell Street alley, started slinging Kentucky-inspired drinks and eats last week. My wife and I found our way in over the weekend and here are three impressions.
The Drinks
The cocktail list has decent range, but expectedly shades toward bourbon and rye. There are three choices on the house menu and eight "Craft on Draft" options (all on tap). Classics like the Manhattan and Vieux Carre dominate, but best of all was the Mighty Jack—created by convivial bartender Andy Burton (also at The Upstairs). With Old Grand-Dad bonded bourbon, Laird's bonded apple brandy and lovely and bitter Braulio amaro, it had the requisite umph you want from a whiskey cocktail, balanced with a smooch of sweetness from the bourbon and brandy.
If you're not feeling the brown liquor, the B.Y.O.B. with gin, lemon, almond and blood orange is a tangy selection, and you'll also find a short list of beer and cider on draft. Commonwealth also has a fun Boilermaker list where you can pair one of six shots with a schooner of draft beer. Matching up Italian artichoke liqueur Cynar with a Spanish lager seems adventurous.

Photo by Amber Fouts
The Food
In keeping with the Southern motif, the short and down-home food menu has eight options. Many Deep South mainstays show the Pintxo Spanish influence. The mac and cheese, for example, features Spanish Iberico and Mahón cheeses, and the BBQ ribs are brined in Iberico ham stock before being dry rubbed and grilled with a bourbon BBQ sauce.
But my favorite, the corn bread and beans, keeps its influences more solidly on this side of the Atlantic. Served in a sturdy little cast iron pan, the bread has a crispy edge and warm, soft interior with a lovely hint of honey and brown sugar, and comes topped with smoky beans carrying a bit of spice. It's a comforting combo.
The Space
Deceptively large, the 60-seat Commonwealth has eclectic décor on multiple dimly-lit levels, much of which was inherited from co-owner (along with husband, Cory) Amanda Chigbrow's parents after they traded in their old Kentucky home for the RV life. You'll find comfy couches, easy chairs and curious squirrel and assorted lamps. A large art deco light fixture and candles faintly illuminate the room, while a fire pit anchors an open-air section facing the alley.
There are two bars, too. The larger bar is made of dark wood and has the whiskey selection, as well as the craft-on-draft numbers, while the non-whiskey drinks are dispensed from the smaller second bar. It's a unique setup, but one the staff seems to be settling into.
One note: The hostess at Pintxo was adamant about not allowing us to travel through the hallway connecting Pintxo and Commonwealth, which meant a trip back around and through the alley. Be prepared and cut through the parking lot on 3rd Avenue between Bell and Blanchard—you'll end up right at the Commonwealth door.