This Is the Best New Fish and Chips Spot in the Seattle Area
An Edmonds fishmonger may be serving the area's best fish and chips
By Chelsea Lin October 10, 2018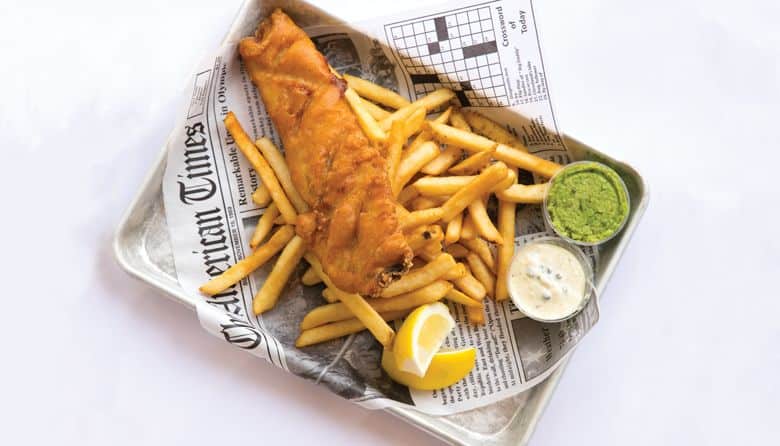 This article appears in print in the October 2018 issue. Click here to subscribe.
Chef Shubert Ho has established that he's an expert in the kitchen—his restaurants Bar Dojo and Salt & Iron (owned with business partner Andrew Leckie) are beloved Edmonds institutions.
But at the new Market Fishmonger & Eatery, open since June, he and Leckie are doing something different. It's a retail (everything from whole branzino to local salmon and "all the shellfish," Ho says) and restaurant operation, with a small kitchen that churns out fish tacos, lobster rolls and the most excellent British-style fish and chips ($15), all available inside and at a walk-up window.
For those fish and chips, local rockfish is dredged in a combo of flour and cornstarch—for maximum crunchiness—plus Rainier beer and seasonings; the single, flaky mega-fillet is served with hand-cut fries and minty peas on a piece of newsprint.
Nosh (the food truck currently holding the winning fish-and-chips trophy) may have some competition.
Edmonds, 508 Main St.; 425.967.5329
Sign up and get Seattle's best events delivered to your inbox every week.