The Best Of Seattle's Classic Dishes
From salmon to teriyaki to the famous Seattle Dog
By Aimee Rizzo November 1, 2021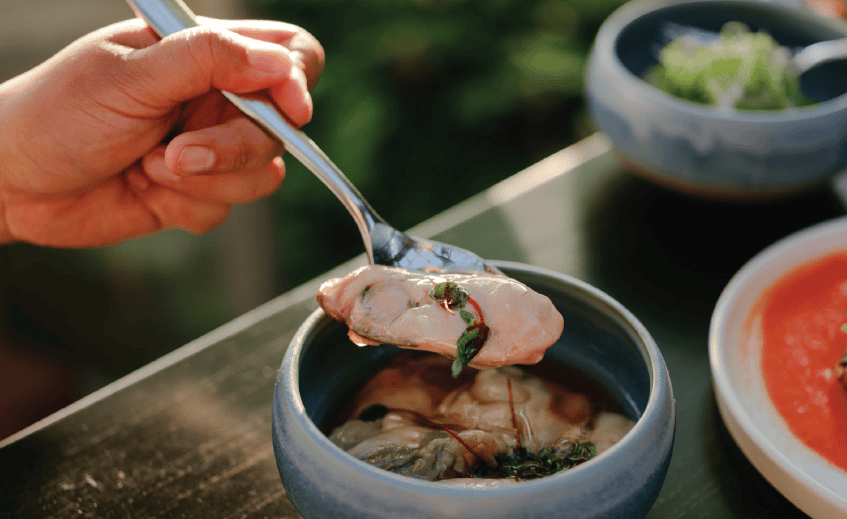 Seattle is known for many things, and some of them are not great. We're looking at you, drizzling mist. Thanks a heap for the rainy reputation.
Thankfully, when it comes to food, this great Pacific Northwest city has quite an edible bounty to call our own. From seafood caught in local waters to iconic hot dogs eaten during the wee hours of the morning, behold, my favorite five: the best of a handful of Seattle's most classic dishes.
Oysters are so popular in Seattle that they could feasibly be used as citywide currency. Sure, it would be a logistical nightmare, but it would also be highly satisfying to watch a certain billionaire haul around approximately 1,708,333 tons of raw mollusks (give or take). Anyway, my top pick for these shucked treats are the smoked ones on the menu at Musang. This excellent Filipinx spot on Beacon Hill changed the way I feel about slurping oysters on the half-shell, and that's not just the round of coconut pandan cocktails talking. It's because theirs have a great deal of the briny seawater replaced with the flavor of smoke, tag-teamed by a luxuriously custardy mouthfeel and a drizzle of garlic oil to bring it all together in pure, oceanic harmony
What's my runner-up? The Walrus and The Carpenter's crispy fried oysters dunked in fragrant cilantro aioli, of course.
Coffee tends to steal the spotlight from all of the other Seattle beverages. That's not new information. But it's certainly not because Starbucks is headquartered here; there are so many other independent companies simply doing it better. Boon Boona is the quintessential example of this, as it sources beans directly from various African regions and roasts them in-house. The result is an incredibly rich and bold cup of coffee that rightfully earns a "Best-of-Seattle" title. You can find me there all autumn long, sipping outstanding mocha lattes spiked with earthy berbere.
Salmon is obviously a local star here. You already know that if you've ever brought an out-of-town visitor to the Hiram M. Chittenden Locks to stare at some fish doing absolutely nothing if they even made an appearance at all. The Seattle food scene features nearly every type of salmon preparation imaginable, from outstanding buttery sockeye nigiri at Maneki to shoyu-slicked poke tacos at Sam Choy's. But my personal favorite is blackened and stuffed in a baguette with layers of rosemary-infused aioli, crisp romaine and griddled onions. You can get your hands on this superb sandwich at Market Grill, a counter located at the center of the Pike Place hustle and bustle. Between decadent medium-rare fish, herby sauce swirling with the heat of Cajun spices and pillowy bread, it's really the best way to experience Pacific Northwest seafood and the market in one convenient bite.
Teriyaki (Seattle-style as we know it) was first introduced to the Emerald City in 1976 when Toshi Kasahara, a Japanese immigrant, opened the very first teriyaki shop in town. The rest is history, and now, seeking out sweet-and-smoky charred chicken thighs around here is as easy as finding a corner slice joint in New York City. But make no mistake. You'll find my preferred interpretation of this marinated, grilled delicacy at Manna Teriyaki in Lake City. With a well-balanced, not-too-gingery sauce, trademark stripes of char on each piece of perfectly cooked chicken and the seared onion that comes with spicy versions, I could stop there. But I won't because then there's the phenomenal dressing that comes alongside the tradi-tional cabbage and iceberg salad. Manna's is thicker and stickier than rival restaurants, with this incredibly savory punch of sesame to counteract all of the creamy sweetness. Add a shatteringly crunchy housemade pork-filled egg roll and you're set.
The Seattle Dog is equal parts midnight snack and iconic right of passage. Ask anyone who's ever bar-hopped around Capitol Hill. My neighborhood of choice for drinks and necessary subsequent street munchies also happens to be the hill, and my heart belongs to Hawk Dogs, a cart stationed in the parking lot of a Shell station on Broadway and Pike. The key components to the Seattle Dog are the singe-marked sausage in question, a neat stack of caramelized onions and the ever-polarizing slathering of cream cheese, all on a sturdy hoagie roll dusted in cornmeal. The end result is an ideal marriage of smoke, spice and velvety tang – with an added bonus of soaking up whatever you just guzzled at Comet Tavern. Side note: If you're plant-based, Hawk Dogs does serve Field Roast, but truth be told, you're better off heading to Cycle Dogs in Ballard for the fully vegan package.