If money were no object, what one thing would you do to fix Seattle?
By Seattle Mag August 29, 2011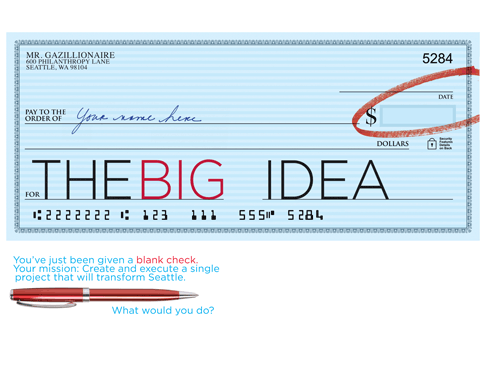 Like most who live here, we're fiercely in love with Seattle—but our love isn't blind. Along with our singular natural vistas, thriving neighborhoods, leading-edge innovations and savvy, well-read locals, we have hideous transportation issues, under-performing schools and the all too common big-city heartbreakers: homelessness and hunger.
If money were no object, what one thing would you do to fix Seattle? We put that question to dozens of prominent locals—from Rick Steves and Tom Douglas to leaders in politics, culture and media—and to our readers, and we got some pretty interesting answers. Some of them we expected, such as the many creative suggestions for tackling gridlock and fixing schools. But a few responses were startling, refreshing and gloriously strange—perhaps a little like Seattle itself. Edited by Kristen Russell 
TRANSPORTATION
No Parking
by Rick Steves
To improve Seattle, I'd outlaw all on-street parking and build lots of free eight-story-tall garages around the perimeter of the city center. Then I'd bump up bus service (to the degree at which people preferred being downtown with no car) and let anyone who used the "park and ride" garages ride the buses for free. With the extra urban space, I'd have more ped zones, public art and landscaping.
>> Steves is a travel expert and the author of Europe Through the Back Door. He wrote this after spending a third of his adult life in Europe, where pedestrians have it easier.
SPORTS
I Want the Sonics Back
by Chris Vance
…and I want them to play in Seattle Center, not near Bellevue Square. Seattle needs to replace KeyArena with a modern facility. I want an NHL hockey team. I want the NCAA basketball tournament back in town. I want major concerts in Seattle, not the Tacoma Dome. And I want Seattle to benefit from hosting the largest conventions and trade shows.
>> Vance is a former state representative, King County Council member and state Republican Party chairman who is currently a public affairs consultant.
EDUCATION
Billionaire University
by John Cook
Seattle needs to become a destination for the smartest people in the world. Microsoft, Amazon.com, the Institute for Systems Biology, Boeing and the University of Washington are doing their part. But we need more. So, here's the Big Idea: We need the citizens of the state, along with some of our billionaires, to step up and create a new private university on the scale of Stanford or MIT.  
>> Cook is the co-founder of Seattle-based technology news site Geekwire (geekwire.com).
POLITICS
Tax the 'Seattle Process'
by Josh Feit
Seattle needs a new tax. Not a tax on its citizens, but a tax on its leaders. I call it the Seattle Process Tax, or SPT. The tax would apply to the mayor, all nine members of the City Council, all seven Seattle School Board members, the five Seattle port commissioners and the nine members of the King County Council. The tax would be imposed on their campaign funds: 3 percent on every piece of legislation, including legislation that authorizes capital projects, that stays in the pipeline for more than 12 months. The tax increases by a 10th of a percentage point every three months thereafter. The tax would be collected by the city of Chicago—a city that doesn't have an existential crisis about process, and actually builds projects and passes laws—and would help maintain Chicago's El system.
>> Feit is the founder and editor of PubliCola, Seattle's online news and politics website (publicola.com).
URBAN PLANNING
Model Citizen
by Knute Berger
My Big Idea has two parts. One is to fund urban planners to create elaborate competing city and regional dioramas, both real ones and virtual ones, to help us envision outcomes. We talk about the "surface option" to the downtown tunnel, but what would it look like? We talk transit-oriented development: Show us.
Second, I'd like to see a computer program that would begin with Seattle as it was when the first white settlers arrived in 1851, then let us re-imagine the kind of a city we could have built if we had known what we know now. Would we have cut all the forests? Washed away the hills? What would Seattle be like if we'd truly incorporated Native American traditions? It would start a citywide design charette showing alternative Seattles in tangible forms. It would be a compelling way to help cut through civic dithering and provide us with a concrete way to see, and play with, possible futures.
>> Berger is Seattle magazine's editor at large, the Space Needle's writer-in-residence and a Crosscut contributor (crosscut.com).
EDUCATION
Fire the School Board
by Cliff Mass
If a genie gave me one wish, my selection would be clear: Reform the governance of Seattle Public Schools. The failures of the district's leadership are manifest, from the poor performance of our children on objective evaluations to the corruption and inefficiencies of the district's administration. I would begin with the school board, removing the current incumbents running for election and giving the mayor the power to appoint individuals of experience and judgment. The current board is provided little pay for a full-time job; they would be given a reasonable wage. And the school board would be provided enough staff to ensure they did not have to depend on the school administration for information. The bloated central administration of the district would be reduced in numbers and the ideology-driven "education reformers" replaced by experienced, proven educators.
And if a genie can't be found, the voters in Seattle can do the same job during school board elections in November. 
>> Mass is a professor of atmospheric sciences at the University of Washington and a popular weather blogger (cliffmass.blogspot.com). In May, he was fired from his weekly weather segment on KUOW's Weekday radio program after making comments on multiple occasions about education issues.
HUNGER
Feed People!  
by Tom Douglas
Seattle is beautiful. Seattle is thoughtful. Seattle is my town. Seattle is as lively, charming and inspiring as any place in the Good Ole U.S. of A., but from a city planning perspective, we have some room for improvement. Aren't we kicking ourselves for not building the Commons—twice? Aren't we taking the Pike Place Market for granted? Shame on us. Rapid transit is anything but. We can do better! While we have an embarrassment of physical beauty in this town, we can do better for the people of Seattle who don't have a job at Amazon, didn't retire early from Microsoft, or who don't enjoy a generous city pension.
I often say that my job on this green earth and in this fair city is to feed people. Many people can afford to pay for this service, and I appreciate deeply the great life my family and I enjoy because of that. But just because some folks can't afford a meal at one of my joints doesn't let me off the hook to try to feed them. Food Lifeline has been my chosen avenue of giving for the last 25 years—in volunteer time, food and financial support. They are the most efficient charitable organization in the state and understand the mechanics of sourcing food and getting it to the consumer better than anybody else.
My blank check would be made out to Food Lifeline using "capital" numbers. By that I mean it's a proven fact that we already grow enough food in this country to feed everybody, but the challenge has always been getting our hands on that food and spreading it out to those who need it most. I would build a state-of-the-art distribution center the envy of UPS or FedEx or the North Pole and let the good folks at Food Lifeline work their magic. Seems like a perfect fit—a simple, delicious, efficient and satisfying use of funds for those who don't have quite enough to eat, and for me, whose job is to feed people!
>> Douglas is a restaurateur, chef, cookbook author and community activist.
WORK/LIFE BALANCE
A Gap Year for All
by Kraig Baker
Establish a scholarship or incubation fund that would allow people of all ages to take a "gap year." This would allow people the opportunity to take a year off—even midcareer (or especially midcareer)—and volunteer in their communities, develop new innovations and businesses, or create books, films and art. Seattle would benefit from the expertise, creativity and entrepreneurship offered by people who don't normally have the time or financial flexibility to create, volunteer and innovate. Individuals would have the chance to experiment and pursue a passion to create or innovate without fear of extreme economic consequences. Businesses and organizations would benefit by having renewed and energized employees who would return with new skills and networks. 
>> Baker is an attorney and a Four Peaks and former TEDxSeattle co-organizer.
ARTS
Walden Three
by Greg Lundgren
I'd create Walden Three, a large-scale, long-term investment in Seattle arts and culture, harbored in the six-story Seven Seas Building on First Avenue directly across from the Seattle Art Museum and former home of the Lusty Lady. Understanding that film is the most economical and effective way to export culture, Walden Three is both a contemporary art center and documentary film studio, designed to constantly challenge, experiment, produce and export the ideas and ideals of artists living in the Pacific Northwest. Walden Three would operate 12,000 square feet of commercial and non-commercial gallery space, a 5,000-square-foot artist bazaar, a ground-floor nightclub (accessed via Post Alley), a film production studio, a commercial kitchen and residential living quarters.
>> Lundgren is a Seattle-based artist, designer and curator.
GREEN SPACES
Market Boom
by Chris Curtis
I would purchase open space in Seattle neighborhoods specifically dedicated to hosting large, robust farmers' markets. These permanent market sites and "great good places" would host farmers, start-up cottage food businesses, educational culinary gardens, a community kitchen, public meeting space, cooking class facilities, a stage and performance space, public seating, and picnic and playground areas…and Seattle would be a better city for it.
>> Curtis is the director and founder of the Neighborhood Farmers Market Alliance  (seattlefarmersmarkets.org).
EDUCATION
Start It Up
by Jordan Royer
We know that not every kid will go to college. So, while we should continue to make sure every kid is college-ready, let's also prepare those kids who won't get a four-year degree for a productive, meaningful work life. My Big Idea is to create the Seattle Trades, Applied Research and Technology (START) Academy—a  free, two-year public academy open to any qualified graduate of Seattle Public Schools—which would infuse the energy and education needed to fill Seattle's maritime, aerospace, energy-generation and -conservation technology jobs, bolstering the region's long-term prosperity and vitality.
There are good high school and community college programs out there, but there is a need for a consolidated academy to support our manufacturing, trade and industrial sectors; attract middle-class families; and promote the president's export trade agenda. The goal would be to provide work-based learning, so our young men and women have options. And the opportunities are there. Baby boomers are retiring, and there aren't a lot of people in the pipeline to take these jobs. Boeing will need more than 1,500 air-frame mechanics a year; the state is producing only about 150. The $5 billion-per-year maritime and commercial fishing industry will need to fill jobs with average salaries of $70,750 per year. This need is consistent across all sectors of our manufacturing base—the jobs are there if you have the right skills.
>> Royer is vice president for external affairs of the Pacific Merchant Shipping Association and a Crosscut contributor (crosscut.com).
TRANSPORTATION
Park Your Cars
by Chip Giller
You'd think car-free commuting would be more common in this mecca of sustainability. But according to recent data, a mere 10.7 percent of people in Seattle bike or walk to work, and only 19.5 percent use public transportation. Of those who drive, only 9.6 percent carpool. My Big Idea is this: Invest in public transit that is efficient, fast, clean and appealing, taking our cue from cities like Curitiba, Brazil, where cutting-edge alternative transportation has reduced car trips by 27 million per year. While we're at it, let's make it effectively free to use.
>> Giller is the founder and president of Grist (grist.org), a leading source of green news and views.

TRANSPORTATION
Get Moving
by Nancy Guppy
I would fund a kickass transit system that linked up the entire city. Trains, subways, tunnels, elevated tracks—whatever is needed to get the job done. Everyone would know that it's always going to be quicker and cheaper to take the train than to drive. In addition, the entire system, transit cars as well as stations, would be festooned with art! Local artists would be commissioned to create site-specific works—sculptures, murals, paintings, soundscapes, videos, etc.—that would give this most public of spaces a cool, positive and lively vibe.
>> Guppy is the host of The Seattle Channel's Art Zone (seattlechannel.org/artzone).
HOMELESSNESS
Housing for All
by the Rev. Earl Grout
On most nights, St. Mark's shelters and feeds 30 or more homeless women through Noel House, and several months a year plays host to Tent City. Many of our guests hold jobs, but don't earn enough even from a couple of jobs to afford permanent housing. Some of them are homeless due to various disabilities that keep them from holding jobs at all. A Big Idea that would bless the lives of these good people and the rest of us as well would be to create a larger pool of affordable housing for low-wage earners and the disabled….Every religious tradition contains hospitality to the stranger and care for the poor as a central tenet, and should be an ethic common to all of us. A public-private initiative to expand our affordable housing pool can be a way to address a basic need that is fundamental to our moral
nature.
>>  Grout is a deacon at St. Mark's Episcopal Cathedral. 
MEDIA
Fund Unsexy Journalism
by Naomi Ishisaka
My Big Idea: Employ a team of full-time, professionally paid journalists in a publicly funded news organization with a mandate to use evidence-based newsgathering to report on issues that have no monetary value, but clearly serve the public good. This organization would not evaluate stories based on traffic and revenue potential, but on the value to the Seattle community. There are hundreds of independent websites in the Puget Sound [region] that are filling important gaps, but have they reported on issues such as intergenerational conflict facing the Somali community in South Seattle? Or delved deeply into the impact of budget cuts on the most vulnerable? What would be the "traffic potential" in those types of stories? How long could someone afford to work on stories like that for free?
After the startup funds run out, in my fantasy world, the community would see the value of a media organization in the public interest and would agree to publicly fund it—as they have done with the award-winning Seattle Channel. They would say it was worth $1 million or ($1.60 per person) to keep this resource alive. And then I would apply for a job.
>> Ishisaka is a journalist and the director of communications for SEIU Healthcare NW Training Partnership.
CITY CULTURE
Fix the Weather
by Dan Bertolet
For those who tread the wonky realms of urban planning, all the best big ideas for Seattle could be neatly summed up in a single directive: Do like Copenhagen. But allow me to propose a Big Idea that is way, way bigger than any of that, an idea that's not afraid to take on the absolute worst thing about Seattle. No, not gridlock. No, not self-righteous cyclists. Nope, not even excess earnestness. Seattle's lamest factor by far is its relentlessly damp and gray, cruelly calm, but ultimately suffocating weather.
My solution? A weather machine.
I got the idea from my wife, who got the idea from the classic daytime soap General Hospital, which back in 1981 had archvillain Mikkos Cassadine plotting to achieve world domination with a weather machine that could create blizzards. All we need is a similar machine that brings the weather of Santa Barbara to Seattle. Google could totally do it.
And the thing is, not only would some decent weather help snap us out of our collective vitamin-D-deficiency-driven lethargy, it would also go a long way towards improving the stuff we urban planners endlessly fuss over. Because when it's nice out, lots more people walk and bike. The streets come alive with actual human beings exposed to the world rather than cloistered within shiny glass and metal boxes. Sidewalk cafe culture flourishes. People leave their homes, talk to each other face to face, and create this mythical thing we like to call community.
I know I'm not the only one who's thoroughly perplexed about how a city so full of smart people can be so timid when it comes to the mounting need to reshape Seattle's built environment for the 21st century. There is a remarkable lack of bold leadership. I've run out of theories except one: the weather. Can there be any other explanation for the 30 years it took to get light rail? Seattle weather turns backbones to mush.
>> Dan Bertolet is an urban designer and the founder of City Tank (citytank.org), an online think tank that features commentary on the importance of cities.
EDUCATION
Shake Up Schools
by Teri Hein
 
It is odd when the best job isn't to be a teacher. If you find the company of children uplifting—and consider that people might rather spend their time learning things than not—why isn't there a line out the door for jobs where your day is spent teaching children? Money, perhaps? I'm guessing it's really more workplace conditions. Change the culture. Stop spending money on the latest curricula and mandating teachers use it. Fund a volunteer corps that helps in classrooms. Make it sexy to volunteer.
Give more professional options with new work for teachers who have been in the classroom for years. Honor experienced teachers by paying them to mentor new teachers and volunteers.
Make the schools a place where children wish to be. Add new classes like graphic design and "How to Tweet." Bring back shop and home economics. Have camping and snowboarding along with physics and math. Let's choose a well-rounded citizenry who can take care of themselves over creating math brains to challenge the Chinese.
>> Hein is the executive director of 826 Seattle (826seattle.org), a nonprofit writing and tutoring center for youth.
HOMELESSNESS
Fund Compassion
by Carlo Scandiuzzi
It is not every day that one is given the opportunity to change people's lives, so what would I do? Promoting the arts and giving everyone the opportunity to experience culture by subsidizing tickets is indeed a grand idea. But would it really make life better for Seattle? Every day I walk the streets of Seattle, I am reminded of the countless homeless people scavenging for some food, a dollar or a beer. I am also reminded that most of them are dealing with mental illness with no hope for treatment, medication, counseling or the possibility of learning a skill. If I had a blank check, I would subsidize treatment homes for all mentally ill people regardless of age, color or sex. I would put at their disposal a place to stay, counselors, medication and the access to vocational training. I would petition to move all mentally ill inmates out of prisons and into treatment centers. This initiative would reduce crime and give meaning to a section of the community that is now disenfranchised. It would change the fabric of our society and create understanding and compassion. It would make Seattle the envy of our nation, if not the world.
>> Scandiuzzi is the executive director of ACT, A Contemporary Theatre.
CIVICS
Thaw the Seattle Freeze
by Nassim Assefi
 
We are an innovating, global city—rainy but brainy. We hold the highest advanced degrees and have been rated the most literate city in the US. We are the first city in the world to adopt the Charter for Compassion and are leaders in numerous national indicators for civic participation and service. But our outward-looking focus comes at the cost of neighborliness, where we score lower than average. We Seattleites are friendly but reserved, the nicest people you may never know.
My blank check goes to The Next Fifty (thenextfifty.org), a six-month initiative led by the Seattle Center in 2012 to both appreciate and critically evaluate our progress in science and technology, global health, sustainability and commerce, but also education (we still have huge disparities) and civics. The Next Fifty supports a Seattle Sister Neighborhoods Project, through which I hope we can thaw our "Seattle freeze" and cultivate deeper relationships within and between our neighborhoods. By helping each other be better off, we will all be better off.
>> Assefi is a doctor, novelist, TEDFellow and civic volunteer.
CIVICS
Seattle's Social X Prizes
by Eric Liu
It's both cruel and clarifying to imagine a blank check: cruel, because in times of stagnant job growth and shrinking public budgets, the fantasy of blank checks reminds us of how confining "the new normal" feels; clarifying, because it makes us realize that to solve our toughest shared problems, it's never enough to have a blank check. To fix our public schools, to make our neighborhoods safer and more trusting, to get better health care for more people, to stimulate demand for a robust arts scene, money is very necessary—and very insufficient. In all these instances and many others, smart, good people work in dumb, bad silos. They forget to collaborate. They end up, over and over again, making 1 plus 1 equal something less than 2. They become incremental in their sense of possibility.
So I would invest my blank check in a set of Seattle Social X Prizes: large-scale challenge awards that spark more imaginative and innovative approaches to big problems in this city. Just as the original X Prize spurred aviators, rocket scientists, investors and inventors to be the first private team to achieve manned suborbital space flight, these competitive prizes would be aimed at breaking civic barriers and offering incentives for creative social collaboration. Imagine huge prizes to cross-sector teams that come up with novel and effective strategies to drive down rates of childhood obesity by 90 percent; to ensure that every family becomes financially literate; to eliminate most carbon emissions, neighborhood by neighborhood; to ensure every person born in Seattle enters school healthy and ready to learn; and, in turn, to come up with even more interesting and ambitious goals. My Big Idea is to create an ecosystem that yields better big ideas—and gives people the motivation to execute them. What the promise of a blank check would buy, in my scenario, is both the audacity of the goals and the intensity of the competition to achieve them.
>> Liu is the founder of the Guiding Lights Network and the co-author with Nick Hanauer of The Gardens of Democracy
EDUCATION
Invest in the Jockey
by Chris Korsmo
A few months ago, a friend and I were talking about some of the challenges in education, and she gave me this little nugget to chew on: Invest in the jockey, not the horse. At first, I thought she had been watching Seabiscuit. But no; it's taken from investors who say: Bet on the jockey, not the horse. Put that way, it makes total sense. In education, the person whom almost no one invests in is the principal. To run this little horse racing analogy into the ground, principals are treated more like the stable boy. Clean, feed, soothe, brush.
Making change at a systems level comes down to school-by-school implementation, which comes down to school-building leadership, which takes us back to the jockey. If we invested in principals like the race depended on it, we would do two things: provide excellent leadership training, and give principals far more oversight for the outcomes in their schools. Start by creating a higher standard of accountability for performance. Provide school-based incentives for academic growth. Invest in the jockey by building a leadership academy that works with school leaders and would-be and practicing principals. Highly competent people in the right place, focused on the right things can—and do—get better results.
>> Korsmo is the CEO of the League of Education Voters.
EDUCATION
Pay Teens to Think
by Sandra Jackson-Dumont
If I had a blank check, I would pay teens to be creative and innovative thought leaders. I propose bringing cultural organizations into the mix of workforce development. Many young people from vulnerable situations are often faced with choosing between providing for themselves and their family or participating in the enrichment programs their friends are involved with, because of the need to get a job. As a result, many young people are unable to participate in free programs like SAM's Teen Advisory Group, which expand their thinking, help them learn persistence and foster greater collaboration. The skills teens could learn through involvement in arts and cultural organizations would foster a more creative workforce that would fuel a healthy and safe community.
>> Jackson-Dumont is the deputy director for education and public programs for the Seattle Art Museum.
OUR READERS RESPOND
I would invent a time machine and travel back to the late '80s. There, I would begin the process of installing a light-rail infrastructure extensively within the city. —Jake Gravbrot via seattlemag.com
My suggestion is to have everyone in King County pay a $30 safety sticker fee to fund the tunnel. When the tunnel is paid for, the money can be used in the rural area to improve [road] capacity….We don't live in Seattle, Renton, Bellevue or Enumclaw; we all live in the greater Seattle area. —Rick Spence via seattlemag.com
Buy up all abandoned buildings and land; rehab, convert, replace or build well-designed, comfortable, easy-maintenance, LEED [certified] communities of nonprofit or "public" housing for all people with incomes at 30 percent of median (priority given to homeless). Every human being, no matter how poor or flawed or old or weak, deserves to have a home. This country produced thousands of units in a short period of time for workforce housing during the [WWII] war effort in response to that crisis. We can do it again to respond to the current economic and systemic crisis of homelessness: 8,500 people in King County are homeless on any given night! Seattle could set an example for the nation. —N.J. Sherman via seattlemag.com
I have a vision for building a tunnel that replaces the Viaduct with both cars and a monorail running through it, and one of the stops is a basketball arena where an NBA team named the Sonics plays. —Ken Hunt via seattlemag.com
Read more Big Ideas from Seattle City Council members, the CEO of Seattle Storm and more exclusively online.
Sign up and get Seattle's best events delivered to your inbox every week.