Book: A tribute to Northwest Films
New book details a thriving, rich film culture
By Seattle Mag May 24, 2023
Photo courtesy of the author
David Schmader lives in El Paso, Texas, now, but he's no stranger to Pacific Northwest culture.
Schmader is a former staff writer and editor at Seattle alt publication The Stranger, where he wrote the popular column, "Last Days: The Week in Review" for 18 years. He is also a performer, and his solo plays were performed across the United States for almost two decades. His first book, Weed: The User's Guide, was published in 2016.
His latest book, FILMLANDIA! A Movie Lover's Guide to the Films and Television of Seattle, Portland, and the Great Northwest, was released by Seattle's Sasquatch Books in April. The book highlights more than 200 film and television productions filmed in the Pacific Northwest.
Here is an excerpt (copy is as it appears in the book).
From Hepburn to Streep to Poitier, PNW cinema has drawn huge stars, some so regularly they've earned de facto citizenship.
*Jeff Bridges: In the '90s, the versatile Hollywood mainstay starred in three Seattle-based films that saw him hit career peaks and veer into weirdness. In The Fabulous Baker Boys, he's a gifted jerk with an ambivalent crush on Michelle Pfeiffer; in American Heart, he's an ex-con rebuilding his life in Pioneer Square; and in The Vanishing, he's a creepy Norwegian with dark secrets and a brain-bending accent.
*Julianne Moore: Before ascending to Oscar-winning star, Moore was a supporting player who improved any movie she entered, including four PNW-ers. In The Hand That Rocks The Cradle, Moore's spirited ex-girlfriend charms all before learning a terrible lesson about greenhouses; in Assassins, she has a secret life as a computer hacker and a cat; in Benny & Joon, she's Aiden Quinn's hash-slinging love interest; and in Body of Evidence, she's a betrayed wife who gets to slap Madonna.
*River Phoenix: Cinema lost much when this exceptionally talented film actor died, but a trio of Northwest movies capture what he had to offer from all sides: the soul-deadening complexities of childhood in Stand by Me; the softness under the tough surface of military recruit in Dogfight, and the existential restlessness of a narcoleptic street hustler in My Own Private Idaho.
*Keanu Reeves: Cinema's most soulful mannequin has starred in one crucial PNW film (two if you count Point Break) and provided noteworthy support in two others. Best in show: Reeves' dilettante rentboy delivering fake Shakespeare in My Own Private Idaho. Runners up: his outrageous pantomime of Siddhartha in Little Buddha, and his spiritually hungry orthodontist in Thumbsucker.
*Ally Sheedy: The Breakfast Club's sullenest teen has a resume dotted with PNW film roles, including Gene Hackman's overshadowed daughter in Twice in a Lifetime, Matthew Broderick's charming girlbud in WarGames, and the grating female lead in the awful Short Circuit.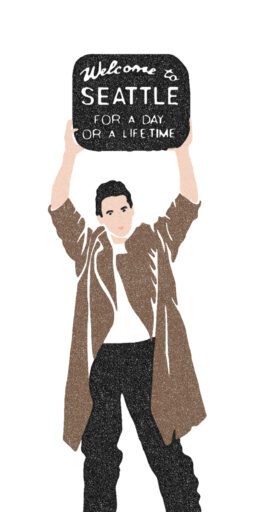 Say Anything
(1989, dir. Cameron Crowe)
Say Anything is so many things — the directorial debut of Cameron Crowe, the source of the eternal "In Your Eyes" boombox scene, and, according to Entertainment Weekly, the best movie romance of the past quarter-century — that it's almost easy to overlook that it's a Seattle film. 
But from John Cusack's rainy heartbreak drive around Westlake Center and Wallingford (with Replacements on the stereo and Tapeheads on the Guild 45th cinema marquee) to Ione Skye's status as valedictorian at Lakewood High School, this is a deeply Seattle movie (that of course was largely made in California). The plot is straightforward: a pair of seemingly mismatched high school students (one a philosophical underachiever, the other a dutiful overachiever ready to break free) fall in love the summer before the latter leaves for college.
But things get special fast, thanks in part to fledgling director Crowe's deep collaboration with hands-on producer Polly Platt, whose genius for unearthing and maintaining deep idiosyncratic humanity was showcased in films like The Last Picture Show, Paper Moon, and Broadcast News and is put to full use here. (In the film's best non-boombox scene, Cusack's trio of best friends, all female, fuss over the fluctuations of their friend's love life, and it's the sweetest, realest thing you'll ever see.)
The supporting characters — John Mahoney's instantly lovable father who's hiding ruinous secrets, Lili Taylor's clear-eyed victim of heartbreak singing revenge folk songs (written by Heart's Nancy Wilson) — are indelible. And the chemistry that powers the film feels real because it is: On the DVD commentary track, John Cusack and Ione Skye speak frankly about falling in (chaste) love with one another during the filming.
Streetwise
(1984, dir. Martin Bell)  
In this essential Seattle document, a film crew haunts the de facto sex-and-drug exchange east of Pike Place Market, getting close with the teenage drug dealers and sex workers hustling on the streets of what had recently been crowned "America's most livable city." It's harrowing, with scene after scene of kids navigating the darkest adult concerns and emerging with that hardness that only comes to perpetual survivors. But it's also roiling with life, as these gun-toting, drug-smoking, queer-bashing kids seize their days — meeting with social workers, visiting estranged parents, dyeing their hair in gas station bathrooms, jumping off bridges into Puget Sound. Give it your full attention and you'll never forget it.
Late Autumn
(2010, dir. Kim Tae-yong)
Co-produced by South Korea, China, and the U.S., Late Autumn is the beguiling English-language drama detailing the transformative Seattle adventure of an immigrant Chinese woman given 72-hour parole from prison and the South Korean hustler devoted to making her weekend of freedom mean something. Tang Wei stars as Anna, incarcerated in Washington State for the manslaughter of her abusive husband (John Woo, shown in flashback), and given temporary leave to attend the Seattle funeral of her mother.
Hyun Bin co-stars as the hustler-on-the-run Hoon. Together he and Anna embark on a situational romance with a hard deadline ala Richard Linklater's Before Sunrise, but Late Autumn has a dreaminess all its own. As our hard-luck pair wanders around downtown Seattle — strolling through Pike Place Market, taking the Market Ghost Tour, riding the damn Ducks — they get to know the facts of each other. By the time they reach Seattle Center's Fun Forest amusement park, things have grown dreamy, with the partially dismantled amusement park providing the setting for a surprise modern dance sequence between our two leads. The movie's ultimate message gets yelled out by the Ride the Ducks tour guide: "Enjoy the sun now, fog will come back!"
McQ
(1974, dir. John Sturges)
In this endlessly mockable conservative fantasia, Seattle is a lawless hellpit where crime rules, cops are for target practice, and the only person who can fix this shit is 67-year-old John Wayne in a lime green Trans Am. When he's not stomping hippies or gunning down suspects, John Wayne's pre-corpse lives on a boat and says things like "I'm up to my butt in gas!" Nevertheless, this celebration of police brutality and can-do senior living makes great use of Seattle, from the Jose P. Rizal Bridge and a Sonics game at Key Arena to the centerpiece car chase through the streets of downtown.
Sign up and get Seattle's best events delivered to your inbox every week.