Capitol Hill's New Late-Night Deli, Hidden High-Concept Cocktail Bar is Ambitious
It's deli in the front, party in the back for By the Pound and Bar Justice.
By AJ Rathbun December 15, 2017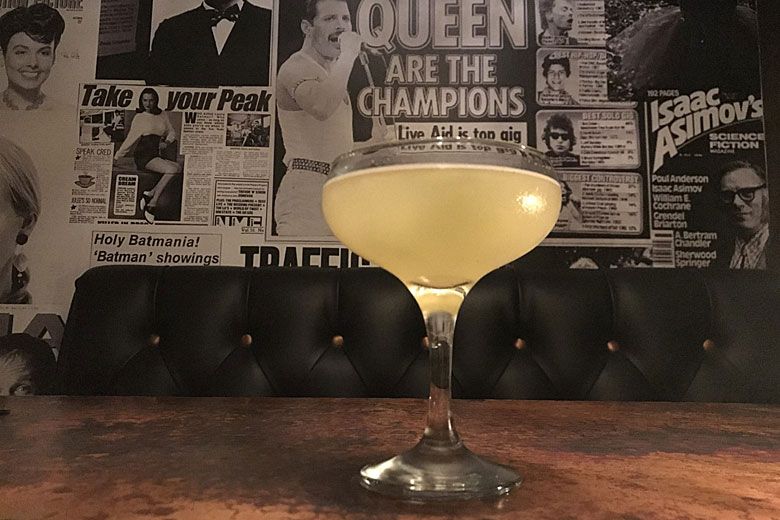 From F2T Hospitality, the folks behind West Seattle's Alchemy, By the Pound opened two weeks ago on Capitol Hill. People are already talking about the takeout delicatessen (open 11 a.m. to 4 a.m.) and Bar Justice, the hidden bar behind it. I stopped by recently and here are three impressions.
The Drinks
Like everything at By the Pound, there are two sides to the drink story. The deli offers an array of sodas, including throwbacks Bubble Up and RC Cola (a fave from my youth). In the bar, soda naturally takes a back seat to booze. There are eight from F2T's top barman Tony Larson and his staff, plus a rotating house mule variation. If feeling (slightly) spicy, the Chihiro with Reyka vodka, Ancho Reyes verde chili liqueur, lime, pineapple and cilantro is a piquant and zingy treat.
But the Darling Nikki was my top sipper. An Aviation variation with delicious Sipsmith London gin (newly available in Seattle), maraschino, crème di violette and a house lemon cordial was delicate and unveiled layers of botanicals and citrus. Larson's pet project is the menu of 12 thoughtful boilermakers, with unexpected combos like Aspall's Imperial dry cider paired with Woodinville Whiskey Co.'s rye. It's a perfect list to pick from after a long work day. They also serve beer and wine.
The Food
The sandwiches, available for takeout at the deli or plated in the bar, star on chef Chris Jensen's menu. They range from updated standards like a remixed Reuben and turkey club with herb-roasted turkey, to a veggie sandwich called the Orange County with cider-wheat bread, avocados, red peppers, basil chiffonade and a balsamic reduction.
The Benny & June was one of the finest grilled cheeses I've had in years, with Beecher's Flagship cheese melted between broad slices of impeccably grilled Macrina brioche. It's crisp on the outside, soft and gooey on the inside with a smidge of that brioche sweetness. A tangy tomato soup comes on the side. Up front in the deli, meats and cheeses are for sale in bulk, as are salads, including a chopped kale and edamame with ginger sesame vinaigrette. In the bar, ancillary snacks include warmed chewy cheese curds mingling with fresh herbs (nice on a cold night) and a small menu of sliders.
The Space
The deli is bright, with a back wall of white subway tiles, a display case with salads, meats and cheese, and smiling staff waiting to whip out sandwiches. There's also a friendly bathroom covered with pictures of staff and friend's pets. To get to the hidden bar, called Bar Justice, you travel through what appears to be a walk-in fridge door. From 6 to 10 p.m., it's reservation-only and guests are given a passcode to get it. After 10 p.m., it's first come first served.
The bar is cozy and cool, with a purpose: establishing a space away from the always-connected and often-confrontational social media world; a place where face-to-face conversations can happen. To help kick start the process, each room has a focus to drive dialogue. The main room's is arts and humanities, and it has one big wall covered by newspaper and magazine stories about musicians, artists and writers (think Walden to Queen). Behind the three comfy booths there's also a loaded angular bookcase with reads ranging from Edgar Allan Poe to World War II. The case was made by carpenter Eric Allen, who also made the wooden bar shelves behind the bar and its six tall bar stools.
A sliding door leads to the red room, with red walls and a long shared table that has lights hanging low above. It has a late night political council feel—which makes sense as this room's focus is on activism and civil rights with articles on one wall featuring Martin Luther King Jr., Harvey Milk and others, with murals to come.
Accessed from a spiral staircase, the green room won't be open until later this year or early next. Its focus? Invention, science and exploration (Marie Curie to Leonardo), with a big fish tank and Narnia vibe.
The whole Bar Justice idea from co-owner Sean Majors is… ambitious. But if it works, more rational dialogue (if only for a night) couldn't hurt. Especially when accompanied by good drinks.
By the Pound and Bar Justice
1801 E Olive Way
Sign up and get Seattle's best events delivered to your inbox every week.