Circadia Wants You to Know It's Not as Fancy as You Think
The glitzy downtown restaurant makes some big menu changes to reflect a new emphasis on approachability
By Chelsea Lin April 18, 2017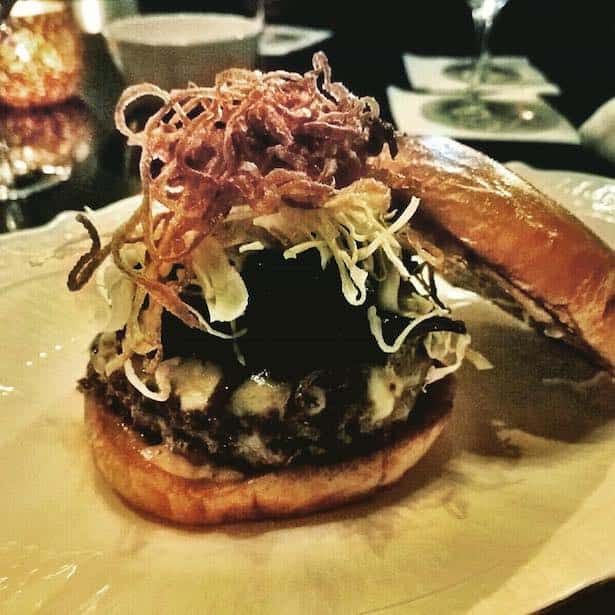 They may not be calling it a pivot—a startup term borrowed by the recent spate restaurants shifting focus after being open awhile—but what's happening at Circadia is a study in Seattle's dining scene.
The downtown restaurant, dripping in Vegas-level sparkles, opened in November. We weren't the only ones who heralded the much-anticipated opening as the arrival (finally!) of Seattle's fine dining scene. 
But as anyone who's been to the opera and found their seatmate wearing ripped jeans and Gore-Tex knows, Seattle has a complicated relationship with formality. With the release of the new spring menu today, Circadia is downplaying its fine dining aesthetic and urging guests to come as they are—Gore-Tex and gowns are both perfectly acceptable.
The goal here was to double down on what's working, specifically the dishes that are playful reinventions of classics. You'll find more (and more relatable) dishes on the menu, including some that were only bar options before, like the short rib burger with Taleggio, roasted mushrooms, crispy onions and anchovy mayo. Ultimately, the real news here is that chef Garrett Melkonian, a Southern California transplant with Lebanese roots and a global palate who most recently wowed everyone at Mamnoon, is reportedly being given more leeway in the kitchen. If this is true, I think it's a smart move. Melkonian is an extremely talented chef—one unfairly blocked by the… oh… persona of Circadia that may have scared people off. When I visited recently, my favorite dishes were the ones that felt personal to him and his experiences. Making the restaurant more about the food and the chef and less about the glitz and glamor—something Seattleites, weirdly, get their hackles up over—may be the saving grace. 
All that said, don't stop by expecting casual casual. The classy service will stay, the food still high quality. The price point, while cheaper, is still not cheap—the tasting menu that used to be $125 is now $95. 
We've seen it with Naka's change to Adana. We've seen it with the closing (and impending reopening) of Vestal. When there are an increasing number of Seattleites making big tech bucks—a conversation for another day—and people are eating out plenty, I can't imagine it's the price that's scaring diners off. What gives? Anyway, it may be time to give Circadia another (or first) chance.