Cooking in Quarantine: A Mouth-Watering Halibut and Risotto from the Woodmark
Chef Brian Doherty shares a perfect recipe for spring of flaky fish and hearty risotto
By Tricia Romano April 20, 2020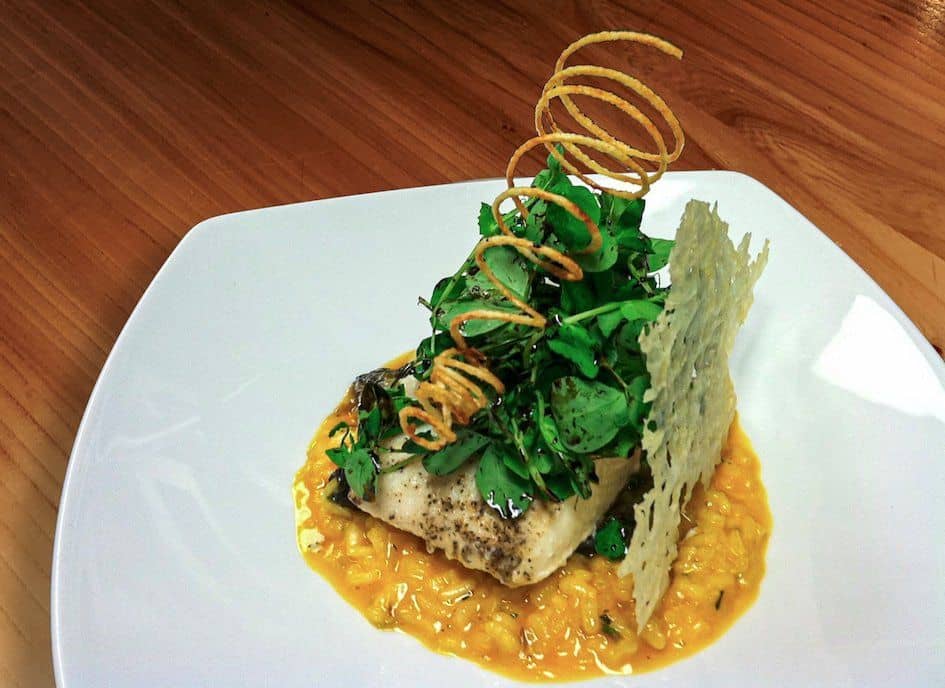 It's going on who-knows-how-many-days of quarantine and we figure that, like us, you are tired of your own cooking. We asked local chefs to share some of their favorite safe-at-home foods to cook during the isolation period. Interested in submitting a recipe? Email chelsea.lin@tigeroak.com.
"I am continuing to follow all of the CDC guidelines and recommendations to stay healthy and get through the coronavirus. I usually open up our restaurant, Carillon Kitchen. We're really focusing on the quality of food and making each order perfect. With some downtime, I'm planning for the upcoming year by designing new spring menus, menus for future projects, etc. Both in Carillon Kitchen and at home, I've been making a lot of baked goods lately, such as cinnamon rolls, banana bread, and huckleberry coffee cake. At home, I've also been smoking fish, canning and dehydrating.
For meals I cook whatever I can find, such as pasta, burgers or chicken and make it my own. I am also keeping bees on my property to make honey for the Woodmark. I have been busy setting up the hives for that, as the bees are scheduled to arrive this weekend.
The Woodmark Hotel & Still Spa is dedicated to creating a safe environment for guests, staff and the community. They have always maintained the highest levels of cleanliness, and are currently implementing more preventive measures in line with the recommendations of the Centers for Disease Control and Prevention (CDC), as well as state and local health agencies. One of the hotel's restaurants, Carillon Kitchen remains open for takeout breakfast and lunch daily. Looking into the next month or so, we are planning for the future with hopes that things will start to pick back up soon. That being said, we want to make sure that the community is safe and healthy before things return to business as usual."
—Brian Doherty recently joined The Woodmark Hotel & Still Spa's culinary team as Executive Chef. He launched a new culinary direction in Beach Café in early 2020. He began his career at The Four Seasons Seattle and has held senior leadership positions at the Fairmont Olympic, Fairmont Newport Beach and SLS Seattle. 
Carillon Kitchen at The Woodmark is open for takeout from 7 a.m.—2 p.m. daily, offering select menu items and a variety of beverages, including wine, beer, hard ciders and seltzers to-go. Orders may be placed online at www.carillonkitchen.com or by calling 425-739-6363.
Seared Halibut with Spring Carrot Risotto, Basil Peas and Favas
Ingredients:
For the halibut:
1 tablespoon kosher salt
1 teaspoon freshly ground black pepper
4 (6- to 8-ounce) skinless, boneless halibut fillets
2 tablespoons olive oil
For the peas, fava:
1 cup blanched fresh english peas
1 cup blanched fresh spring fava beans
1 tablespoon whole butter
1 tablespoon freshly chopped basil
Kosher salt and freshly ground black pepper
For the carrot risotto:
6 tablespoons unsalted butter
Kosher salt and freshly ground black pepper
4 cups fresh carrot juice
1 tablespoon olive oil
1 medium shallot, minced
2 cups arborio rice
1/2 cup freshly grated Parmesan cheese
1 tablespoon minced fresh chives
2 tablespoons minced fresh flat-leaf parsley
Preparation:
Halibut:
Season halibut with salt and freshly ground salt and pepper 
Make carrot risotto:
Fill a large bowl with ice water.
In a medium saucepan over high heat, bring salted water to a boil. Add the peas & fava beans and boil, uncovered, until crisp-tender, 1 to 2 minutes. Drain, then immediately plunge the peas & favas into the ice water to stop cooking. Drain the peas & favas again and pat dry.
In a medium saucepan sauté pan over moderately high heat, melt 2 tablespoons of the butter. Add the peas, favas and toss it in the melted butter. Season with salt and pepper and set aside.
In a medium saucepan over moderate heat, warm the carrot juice. Keep the juice hot on the stove. 
In a second medium saucepan over moderate heat, warm the olive oil. Add the shallot and sauté, stirring occasionally, until tender. Add the rice and sauté, stirring constantly, until just toasted. Add 1 cup of hot juice and simmer, stirring frequently, until the juice is almost absorbed, about 4 minutes. Add more juice, 1 cup at a time, allowing each addition to be absorbed before adding the next and stirring often, until the rice is tender and the mixture creamy, about 20 minutes longer. Add the remaining 4 tablespoons of butter, Parmesan cheese, chives, and parsley. Season with salt and pepper and keep warm.
Finish the halibut:
Preheat the oven to 350°F.
In a large sauté pan over moderate heat, warm the olive oil. Sear the halibut on all sides, then finish in the oven for 3 to 5 minutes.
To serve:
Divide the risotto among 4 plates. Top with peas and favas and halibut, and drizzle balsamic reduction.