Cool New Hotel Bar Currant Bistro Arrives in Belltown
And that's not all: There's two more hotel hot spots to check out
By AJ Rathbun March 11, 2019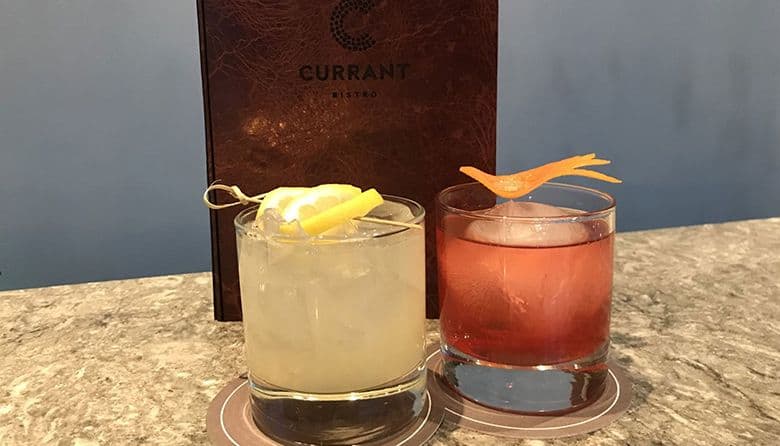 We've had a number of new hotel bars open over the last year, helping to redefine what – outside of a few outstanding spots – we'd grown used to in this particular bar genre. Instead of being cloned out of some hoteling head office, they've shown individuality and care with cocktails and food, bringing hotel bars back into a once-prominent place. Currant Bistro, in Belltown's new Sound Hotel, is charting the same path, while utilizing talent rich with Seattle experience. And if that wasn't enough on the hotel bar front, two more hotel bars have recently opened, too, The Mountaineering Club and The Hound and The Hare.
But let's dig into Currant Bistro, which is slightly different in that it sits between both the Sound Hotel and the Arrivé apartments. It feels slightly more bar than restaurant, leaning into that European bistro category. The pretty marble-topped bar itself runs parallel to Fourth Avenue, with a few wooden tables, booth-and-table seating, and a wall bar all right against the big windows facing the street (those will open up onto patio seating once weather allows), and a comfy couchy seating area near a fire.
It's only been open a few weeks, but hotel guests, apartment occupants and locals staying at neither are finding their way in, welcomed in by the friendly staff led by food and beverage manager Jon Langley, who spent nine years with Seattle's Heavy Restaurant Group, chef-ing and opening four different restaurants. He's brought in even more locally driven talent with chef Leif Thornquist (past at Edgewater and Thompson Hotels), and restaurant and bar manager Cristina Buenaventura (past at Knee High Stocking Company and others).
Buenaventura has shaped a cocktail program that's exploratory and accessible, with sections covering spins on classics, original creations and dessert cocktails. I was especially jazzed to see the latter, as bar-raising dessert cocktails are few and far between in our modern cocktail world dominated by the bitter and strong. Don't get me wrong, I love those, too, but a good dessert cocktail is an essential, often overlooked part of the bar repertoire. She has four worthy dessert drinks, with the Flannel Shirt a lovely, smooth, creamy, rich choice featuring Scotch-based liqueur Drambuie, house London Fog-tea-infused almond milk, honey and Scrappy's amazing lavender bitters.
On the flip side of your meal, The Rush was an ideal aperitif, light, citrus-y and a hint bitter (taking inspiration from the classic Negroni) with Edinburgh gin Buenaventura's infused with oranges and kumquats, Portland's New Deal Cascadia Bitter liqueur and Mezzodi, a citrus-y red-hued Italian liqueur. If you're thinking classic, the Smokey Manhattan is fun, served on a platter with a smoke-filled upside-down-glass, a little smoke-topped mini-carafe containing the drink and garnish—she upturns the glass, releasing a billow of smoke, before pouring the drink in at the table—and there's also an Earthy Martini with olive oil-infused gin. An agreeable wine list, beer, cider,and teas from Steepologie up the road round things out.
Chef Thornquist's food matches the drinks nicely. There is something for everyone without overwhelming, including cheese and charcuterie, snacks, a short raw selection, salads (highlighted by the delicious and artistically-presented roasted cauliflower salad with frisee, crunchy toasted almonds, Mama Lil's peppers, lush preserved tomatoes and a zingy red-wine dressing), tartines, flatbreads and sandwiches. A favorite – and one of chef's favorites, too – was the Salame flatbread, which (veggie alert!) was just as good when made without the named ingredient. The bread itself a bit chewy, a bit crisp and with a beautiful tangy, briny spread of pureed Mama Lils peppers and Castelvetrano olives topped with fresh mozz. Oh, go for soup as your side: the night I was in it was a velvety roasted parsnip, perhaps my top taste when there. With all the Northwest focus on staff and products, it's almost hard to believe the hotel is from Hilton. But it's part of their Tapestry collection, which appears to give loads of control to those running it, thankfully. 
Two other hotel bars have opened in Seattle recently, including The Hart and The Hunter in the also-newly-opened Palihotel Seattle. It's a younger sibling to the first The Hart and The Hunter in in LA's Palihotel Melrose (a small boutique chain, there are five Palihotels, mostly in CA, with more on the way). It serves Southern-inspired food, including "famous" (and who am I to doubt them?) butter biscuits served with pimento cheese, maple butter and seasonal jam, as well as Northwest-driven selections like local oysters and Washington cheese. The cocktail list covers classical variations like an Elliot Bay Gibson with oyster shell infused-gin and a few new numbers.
Our third hotel bar on the scene also comes via LA, specifically restaurateur duo Marc Rose and Med Abrous, who have a number of CA spots, and who now are behind the new (just days open, really) Mountaineering Club atop the Graduate Hotel Seattle. The bar promises indoor-and-outdoor seating with wide-reaching views. On the eating side, they're aiming to utilize items from the "coast's pristine waters" like oysters, as well as ones matching the mountain-y idea: think upscale campsite spreads. Drinks are being led by ex-Dino's shaker Jabriel Donohue, and promise as well to lean into local produce, plus offering larger-scale treats served in Thermoses.
Sign up and get Seattle's best events delivered to your inbox every week.