Cupcake Royale's Summer Flavors are Back
Treat yourself with one of these limited-edition lovelies starting June 1
By Sabrina Nelson May 24, 2016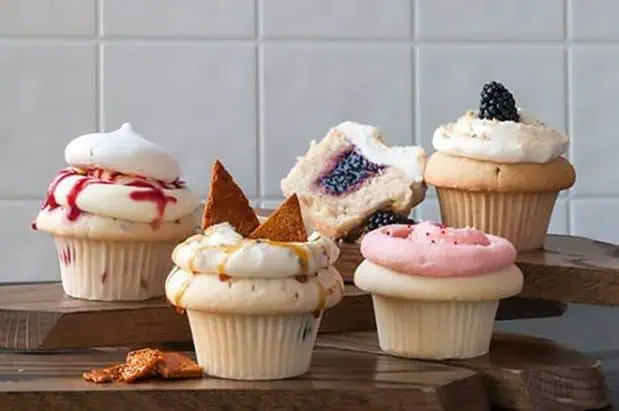 The many delights of a Seattle summer: iced coffee, long-awaited sunshine, strolls through beautiful parks and local sweet treats that take inspiration from summery ingredients. Case in point: Beloved local bakeshop Cupcake Royale is once again offering its summer berry cupcake flavors: lemon raspberry pavlova, strawberry 66, blackberry brown butter and blueberry brown betty. The four special cakes will only be available from June 1 to August 31, so celebrate the season and embrace the irresistable call of the cupcake.
"Our berry cupcakes take you back to kitchen windows open, a cool breeze, sunshine streaming in, and grandma with her apron on," Nicki Kerbs, Cupcake Royale director of operations, said in a press release.
Each flavor truly does evoke a distinctly summer vibe: there's the strawberry 66, made with vanilla cake, sweet strawberry frosting and red and white sprinkles; the lemon raspberry pavlova, which is topped with sumptuous lemon buttercream, drizzled with raspberry sauce and finished with a piece of Pavlova (a Russian meringue cake). If cream cheese frosting is more your thing, go for the jam-filled blackberry brown butter with graham cracker streusel and fresh blackberry toppers, or the blueberry brown betty, a delightful swirl of vanilla and blueberry cake, brown sugar cream cheese, dried blueberry and buttermilk cake crumbs.
Find these seasonal treats at any of Cupcake Royale's six locations around town. Or, if you can't bear to move in the summer heat, they deliver! For larger specialty orders, call 206.883.7656 or visit CR's website.
Sign up and get Seattle's best events delivered to your inbox every week.