Delicious Seafood and Drink Pairings
Our creative duos prove that odd couples can make the most interesting dinner companions
By Kendall Jones, Paul Zitarelli and Jessica Yadegaran May 12, 2016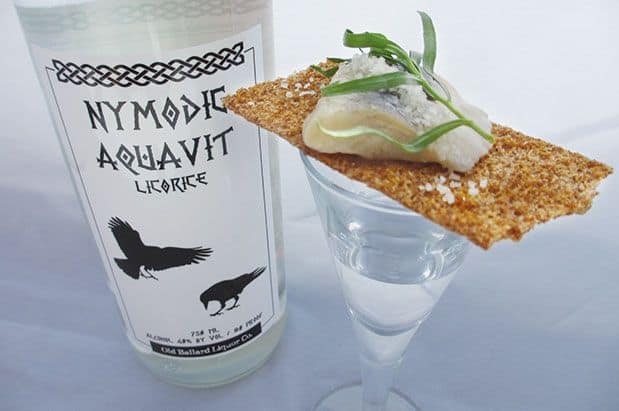 Sip and Slurp: Beer and Oysters!
The essence of an oyster is rich and complex, with flavors that curiously manage to be both pungent and delicate. Almost any beer pairs well with oysters. The only rule of thumb is to avoid overwhelming the oyster's subtle flavors with a robust beer, such as an imperial stout or roasted porter; opt instead for a beer that will amplify or complement all that the oyster offers, such as a crisp pilsner or a fruity IPA. The intensity of flavors presented by these humble, simple bivalve mollusks is perfectly suited for serving, with some guidance, alongside the abundance of flavors offered by today's craft beers.
Reuben's Gose, Reuben's Brews Many Gose-style (pronounced GOES-uh) wheat beers are bracingly tart and intensely salty, scaring away all but the most stalwart of beer geeks. But this award-winning brew (a gold medal at the 2015 Great American Beer Festival) is surprising quaffable and mild. A perfect summer beer, Reuben's interpretation is bright and hazy gold, with an aroma of green grapes that carries over just slightly into the taste as it goes down smooth, crisp and dry. Clocking in at 4.3 percent alcohol by volume, this one is available on tap at the brewery in Ballard (5010 14th Ave. NW; 206.784.2859; reubensbrews.com) and in 12-ounce cans at bottle shops and grocery stores. Sip and slurp: Pair it with Kumamoto oysters and let the beer's slightly salty character enliven the oyster's briny and sweet flavor.
Lucidity Czech-style Pilsner, Sumerian Brewing Sumerian's interpretation of an Old World beer style delivers a refreshing blast of mineral-rich, herbal flavors that are pleasantly bitter and bone dry. For a beer so light in color, with a tight, white head of foam and just 4.5 percent alcohol by volume, you'll get plenty of flavor. The Woodinville brewery (15510 Woodinville-Redmond Road NE; 425.486.5330; sumerianbrewingco.com) fashioned this beer after the original pilsners, which were brewed in the town of Pilsen, Czech Republic, more than 150 years ago. Available on tap at the brewery and in 22-ounce bottles at Seattle-area grocery stores and bottle shops. Sip and slurp: Choose this beer to enhance the crisp mineral and fruit flavors of Hama Hama oysters, grown by the Hama Hama Co.
Trickster IPA, Black Raven Brewing Co. Until recently, this very popular IPA from Redmond's beloved brewery (14679 NE 95th St.; 425.881.3020; blackravenbrewing.com) was a rare bird, only available on tap and occasionally in 22-ounce bottles. But this Trickster is now also packaged in 12-ounce cans and more widely available at local grocery stores and bottle shops. The bouquet of citrus, pine, grapefruit and grass that wafts from the off-white foamy head is a precursor to the balanced flavors of fruity hops and bready malt in this 6.9 percent alcohol by volume beer. Sip and slurp: The hoppy character will intensify the cucumber and melon notes in shigoku oysters. Also pairs well with any oyster slathered with horseradish and cocktail sauce. —Kendall Jones
Wines and Seafood
Most seafood is traditionally paired with a white wine, and rightly so: The tannins present in red wine can convey metallic flavors when paired with many finfish, and robust reds tend to overwhelm the delicate flavors of many shellfish. But there are exceptions. There are red wines—and also red wines that aren't really red at all—that make sense with both of these types of seafood.
Clams and…Syrah?
Earthy, humble Manila clams are a wonderful exception to the seafood-and-whites rule. While a white wine pairing can be lovely with a pot of steamers, certain reds work equally well, especially if you're mixing clams and pork (which, for generations, denizens of the Iberian Peninsula have shown to be a very good idea). Sauté diced dried Spanish chorizo and leeks, deglaze the pan with clam juice or fish stock, and then steam your clams in that same pot with a handful of chickpeas and a splash of cream. Serve with a loaf of crusty bread for dipping and a glass of 2013 Gramercy Cellars Lower East Syrah ($32). Walla Walla–based winemaker Greg Harrington's Syrahs always possess savory subtleties that tend toward earthy and meaty notes, perfect for this dish.
Spot prawns and bubbly
Spot prawns are a rare Northwest delicacy, and if you happen to find a mess of them in your kitchen, that's reason enough to celebrate with a bottle of sparkling wine. Sparkling wines are also tremendously versatile for food pairing. My favorite prawn preparation is a simple sauté in butter spiked with a pinch of saffron or a few tablespoons of chopped tarragon. Then I would crack open a bottle of NV Treveri Cellars Brut Blanc de Noirs ($20). Wapato-based Treveri is unusual in Washington wine circles: a winery dedicated entirely to sparkling wines. Likewise, it's unusual to see much Pinot Noir grown in Washington, but this Blanc de Noirs (white juice from black grapes) comes entirely from Yakima Valley Pinot grapes. The richness of this sparkler pairs perfectly with the buttery prawns, and the bright acidity and fine bubbles invite the next sip. —Paul Zitarelli
Aquavit cocktails with herbs and fish
Swedes say that aquavit, the caraway-flavored Scandinavian digestif, helps the fish swim down to your stomach. Indeed, the liquor's snappy, herbaceous underpinnings pair with many of the savory flavors we use in seafood cookery, explains Lexi, the first-name-only owner of Tumble Swede, a Nordic pop-up restaurant (tumbleswede.com), and Old Ballard Liquor Co. (oldballardliquorco.com), a nanodistillery specializing in aquavit. She's particularly fond of snapas, a contemporary Scandinavian term for artful small bites that are served right on top of the aquavit glass. You can present the suggested pairings below in this manner with the addition of a base cracker.
To her dirty dill martini, which is made by mixing Midsommar dill aquavit (750 milliliters; $40) with vodka and a tablespoon of olive brine, Lexi adds a spike of olives, cornichons and Havarti or blue cheese. "Yes, I treat this martini like a Bloody Mary," she says. Sip with: Cold smoked salmon (she likes that of the Loki Fish Company, available at the Ballard Farmers Market) topped with dill mustard sauce. In a pinch? Mix mustard with cream cheese and add a sprig of dill.
A salty, dry Collins—called Salt Lakrits Collins—gets its unabashed flavor and complexity from licorice aquavit. Lexi suggests Sound Spirits' Blekksprut aquavit, available at most QFC stores, tempered with a tablespoon of simple syrup, roughly torn fennel or tarragon, salt, club soda and a squeeze of lemon. "I love toasting fennel seeds and making a fennel salt rim for this one," Lexi says. Sip with: Pickled herring or simple whitefish rillettes. —Jessica Yadegaran
COCKTAIL RECIPES
Dirty Dill Martini
2 ounces Midsommar Dill Aquavit
1 ounce vodka (optional) or use 3 ounces aquavit and no vodka
1 tablespoon olive brine
Shake with ice until cold and pour into martini glass. Serve with generous spike of olives, dill cornichon, blue or havarti cheese, and hard smoked salmon.
Salt Lakrits Collins
3 oz Nymodig Aquavit
1 Tbsp Simple syrup
Squeeze of Lemon (approx 1/8 wedge)
2 Tblsp Roughly torn fennel or tarragon
1/2 tsp Salt
Club Soda
Salt the rim of a collins glass.
Muddle the first four ingredients over ice, bruising and breaking up the herbs well. Pour into the salted glass and top with club soda.
Garnish with a stalk of fennel, lemon wedge, or salt licorice candy.
Sign up and get Seattle's best events delivered to your inbox every week.