Ethan Stowell Continues to Build his Restaurant Empire with These Two New Spots
Ethan Stowell adds two new—and very different—restaurants to his domain
By Chelsea Lin November 14, 2018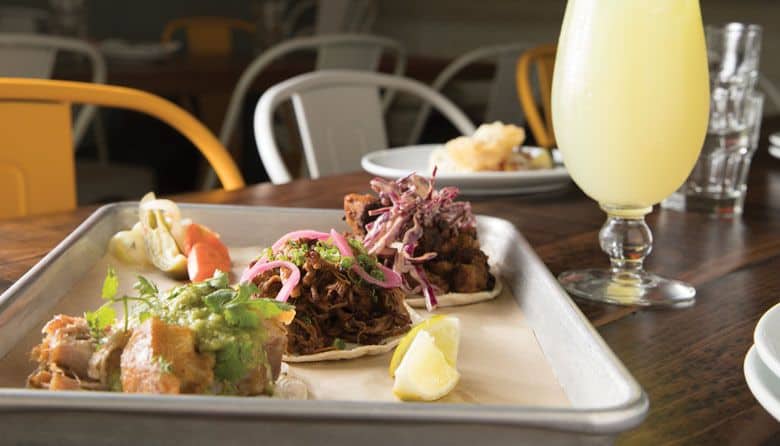 To say that Ethan Stowell is a busy man is perhaps the greatest understatement of the year. Not only is he an award-winning chef and restaurateur, but an active philanthropist and father to two young boys. In a span of two weeks in May, he added two new restaurants to his growing empire: Super Bueno, a kid-friendly Mexican joint on that developing strip of Stone Way N, and Cortina, a fine dining restaurant downtown with a decidedly different clientele and vibe.

CLASS ACT: Cortina is a Stowell eatery through and through, from bucatini to burrata
"Cortina is right in our wheelhouse," Stowell says by phone before jetting off to Nagoya, Japan, for a restaurant project he worked on at the airport there. Cortina fits the profile of a Stowell establishment: a contemporary, 8,000-square-foot space in neutral tones—with a crazy long bar able to seat more people than many other entire restaurants—offering a menu of pastas ($19–$26) and pizzas ($17–$19). The menu reads swankier and more American than the likes of Tavolàta and Rione XIII, however; there are also entrées such as a New York strip steak ($52) and fresh seafood towers ($95–$175). It suits the needs of the neighborhood, from happy hours drawing well-heeled business professionals to pre-theater fare on date nights.
Super Bueno is another story. "It's a new thing for us," Stowell says of the colorful, casual spot half the size of Cortina, with a departure in cuisine style: a Mexican-inspired menu of kid-friendly quesadillas ($9) and platters of tacos packed with flavorful meat options (three for $14, five for $21 or 10 for $40). The idea came from Stowell's wife and business partner (and new CEO of FareStart), Angela Stowell. "Super Bueno reminds us a lot of when we opened [the original] Ballard Pizza Company," he says. "It was hard and fun, and every day it got better and better."
Indeed, Super Bueno is reminiscent of Ballard Pizza Company, which has a sibling in Frelard, in the way it's designed with both parents (good food and good drinks!) and kids (contained play space!) in mind. Stowell says it's also built according to a similarly scalable recipe,with the idea that if this Super Bueno goes well, they can use the same formula to create Super Buenos in other neighborhoods around town.
Some restaurateurs build a collection of restaurants that all look strikingly similar and offer variations of the same dishes. It's refreshing to see one stretch in two very different directions. 
Cortina
Downtown, 621 Union St.; 206.736.7888
Super Bueno
Fremont, 3627 Stone Way N; 206.456.2666
Sign up and get Seattle's best events delivered to your inbox every week.