Filson Stays True to its Authentic Brand DNA
One of Seattle's oldest retailers finds new life among authenticity-seeking millennials
By Ali Brownrigg September 18, 2014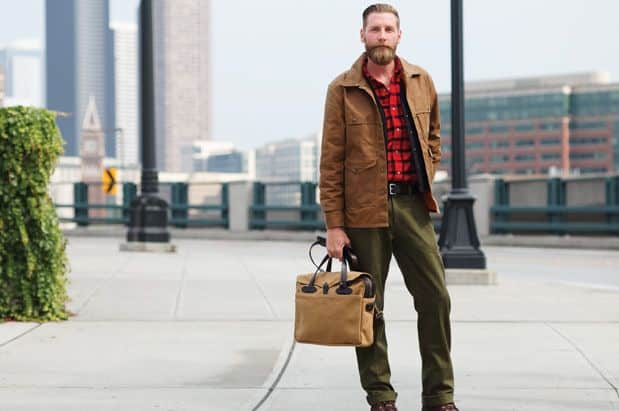 The Filson flagship store sits near Safeco Field, at the base of an off-ramp from the tangle of elevated roadways that lead to the freeways. Most people drive past the unassuming building on Fourth Avenue South with nary a glance, let alone a clue as to the retail wonderland that lives inside—or the legacy of outdoor gear that has been manufactured in Seattle since 1897. And in a town where REI and Eddie Bauer are household names, even among the non-outdoorsy types, Filson's lack of local name recognition is a question that begs an answer.
Best known today to a core demographic of serious outdoorsmen—hunters, fishers, sports shooters and travelers—the Filson brand has been synonymous with quality and durability since it debuted as an outfitter of men streaming into town on their way up to the Klondike. The first garments manufactured by Clinton C. Filson—an intrepid pioneer who came west from Nebraska in 1890 to open a dry goods store in Kirkland—were made from thick, water-repellent Mackinaw wool, and were so effective in cutting the frigid northern chill and so reliable, that they very quickly became the brand of choice among gold miners. In 1914, with the Gold Rush fading into history, Filson debuted a new jacket, the Cruiser, also made of dense wool but with a multitude of pockets strategically placed with the needs of the Northwest's loggers and timber workers in mind. Filson patented the Cruiser that year and eventually also began producing it in Tin Cloth, a fabric made of paraffin-coated cotton that can withstand rain, wind, brush and abrasion.
C.C. Filson died in 1919, and his widow, Winnifred, allowed the Cruiser patent to expire shortly after that, opening the door for a flood of copycat designs. Regardless, Filson continues to manufacture the Cruiser (and many of its original designs), which is still standard issue for U.S. Forest Service workers.

Filson's new First Avenue South world headquarters
Despite the fact that much of Filson's inventory is still manufactured in Seattle, in its Fourth Avenue South and year-old First Avenue South factories (there is also an Idaho factory, and some items are produced overseas), the brand is surprisingly less well known locally than it is elsewhere. That's in large part because, in 1949, the company closed its retail storefront to focus on manufacturing, wholesale and government contracts. Filson opened to the public again with small storefronts in the 1980s and early '90s before opening its current flagship in 1993.
The product mix has also curtailed Filson's reach. The outfitter determinedly makes garments for serious outdoorsmen—hunters and fishers—and workwear customers (never straying into the more mainstream skier and hiker markets). Perhaps even more critically, it hasn't gone after the female customer. At one point, in 2008, then CEO William "B.K." Kulczycki launched a women's line, which sputtered and disappeared. At its core, Filson has been about outfitting men—missing out on a huge market and consumers who are more likely to spread the word about products they love.
But the pace of growth and brand recognition may be picking up. In 2012, Filson was purchased by Bedrock Manufacturing, a Texas-based development group that acquires—and brilliantly manages—iconic American brands, including the newly resuscitated Shinola, a brand that went from making shoeshine during WWI to manufacturing watches and bikes in Detroit under Bedrock's management. Alan Kirk, a veteran of L.L. Bean and Eddie Bauer, came on board as Filson CEO in 2013 to guide the company's expansion, focusing on steady growth.

A range of Filson's Seattle-made luggage on display at the First Avenue South location
Bedrock is not out to reinvent Filson or alienate its core demographic, says Kirk, on the principle that once you lose them, they're hard to get back. Rather, the plan is to continue to cater to loyal customers by retaining the brand's most popular styles, classic sizing (the Alaska fit, which is larger and boxier to allow for layering) and remaining sticklers for uncompromising goods made in the U.S. with a lifetime guarantee. And while doing so, it will concurrently woo an emerging customer, whom Kirk calls the "urban hunter" but whom most people would recognize as the hip millennial male.
Those new customers are savvy and want to be associated with real brands that have an established history, Kirk says. "Not those that are created to woo them through nostalgia, but those that are made for a greater purpose," he continues. Millennials, as a generation, like to discover something that has been there forever and smacks of authenticity.
One of the brand's responses to this new audience is to introduce the Seattle fit, which, while not a fashion fit, is cut closer to the body for the customer who likes better range of movement.
Filson's retail strategy is another nod to this growing consumer base, one that tends to respond positively to lifestyle brands that reflect the way its members want to live, almost like a Pinterest board come to life. All seven Filson stores, including those in London, New York City, Aspen, Portland and, most recently, Minneapolis (which also has an outlet), are designed with a distinctly nostalgic bent, but done in a completely modern way. (The recently opened New York store has a wall of succulents, including some mounted like trophy antlers.) While sibling brand Shinola sells a select inventory of Americana-inspired goods, including real leather basketballs, bandannas and pennants, Filson sells a curated inventory of vintage outdoor gear, such as fishing poles, compasses, axes and knives.
Not every twist for this new market has the expected results. This year found Filson exploring the world of photography. "We asked ourselves what C.C. Filson would be interested in if he were alive today. What's the new gun?" Kirk says. "And we realized that it's the lens." Out of that realization came a strategic partnership with renowned photo agency Magnum Photos, and photographers David Alan Harvey and Steve McCurry, both of whom shoot for National Geographic, who helped Filson redevelop its messenger bags and totes with padded dividers and cushioned inserts. Filson debuted the photo bags in its New York store in May, which was stocked with items the brand thought a more urban shopper would buy—tote bags, weekend travel bags and apparel from the spring collection. Instead, it turns out that shoppers were demanding the classic, more iconic Mackinaw wool and Tin Cloth products.
A fall collaboration promises more items in the classic bent. Kirk facilitated a partnership between Filson and Nigel Cabourn, a U.K.-based designer whose love of vintage British uniforms is rivaled only by his love of vintage Filson, to create a limited-edition fall 2014 C.C. Filson Collection, which features outerwear for men inspired by historical Filson design elements. "Nigel was inspired by his 1930 vintage Filson Cruiser and the real heroes from the turn of the century, the true pioneers that relied on the integrity of their garments and equipment to stay alive," Kirk says. "This combination made for a natural collaboration."
Filson will probably never have the wide popularity of, say, Levi's, an even older American heritage brand that would be unrecognizable today to its founder Levi Strauss. Bedrock and Kirk are focused on continued slow, careful and thoughtful growth over the next five to 10 years, hinting at, but not confirming plans for new international stores. And while there's no plan to go into a fashion line, the design team is researching a women's line. "We're staying true to our course and our DNA while building the business and brand awareness," Kirk says, "but doing it in a way that is authentic to the Filson brand."
Sign up and get Seattle's best events delivered to your inbox every week.