Flatstick Pub is Opening Another Seattle Location
The popular mini-golf bar is coming to South Lake Union.
By Michael Rietmulder October 25, 2017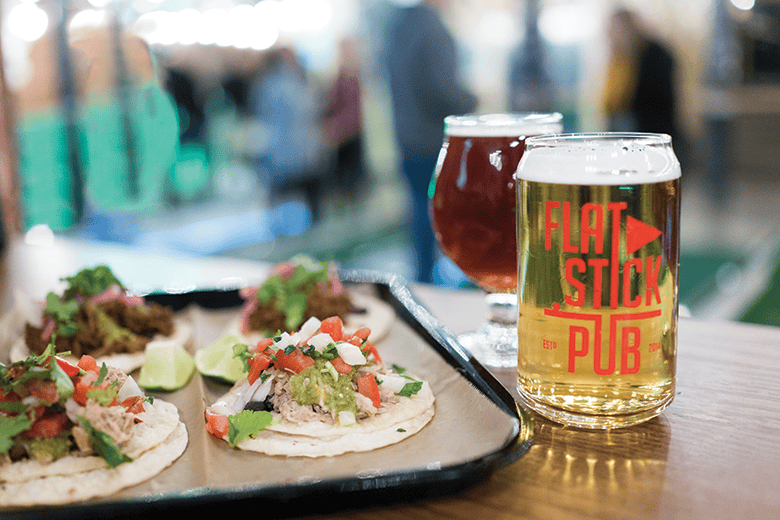 Get ready, Amazonians. Soon drunken mini-golf will be a viable happy hour option in your 'hood.
Inebriation levels will vary putter to putter, of course, but Seattle's favorite (only?) mini-golf bar is headed for South Lake Union. Flatstick Pub plans to open its third and largest location in the Vulcan-owned Allen Institute building at 609 Westlake Ave. N.
Like its Kirkland and Pioneer Square predecessors, the new bar will feature 30-plus tap beers, indoor miniature golf and Flatstick's signature Duffleboard game—a cross between mini-golf and shuffleboard. The Flatstick crew also promises a new, still-in-the-works game that a press release assures us will not suck.
From the sounds of it, fraternal owners Sam and Andy Largent are pretty much sticking to the Flatstick script, just going bigger. The new 11,000-square-foot space is nearly four times larger than their original Kirkland location and will feature more food and game options than its sibling pubs. Look for outdoor seating and a private event space, too.
Since opening its first pub on the Eastside, Flatstick has made a name for itself as a solid casual date spot and even a legit place to watch a Sounders game.
Owners hope to open the new Flatstick location sometime next spring.
Sign up and get Seattle's best events delivered to your inbox every week.