Editorial director Rachel Hart reflects on the bigger picture of our latest issue.
By Rachel Hart April 5, 2013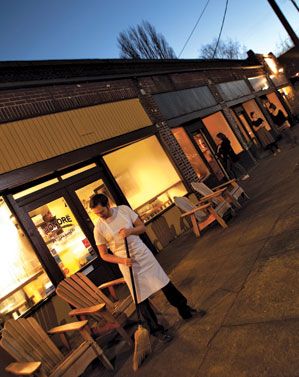 When my husband and I first bought our home, we felt somewhat banished in pre-cool Ballard. (This was 2001, and the sleepy Scandinavian burg was the most affordable neighborhood closest to Lower Queen Anne, where we'd been happily living in an apartment.) But then we stumbled upon Ballard Market and discovered that the humble-appearing grocery store is a foodie heaven. And Ballard Avenue—though only a seed of what it is now (pretty much just Olivine, Habitude and Madame K's brothel-themed pizzeria)—already had the spark of a happy, bustling place.
And that it truly has become. Since we moved, Ballard has grown exponentially with shops, restaurants, brewpubs, bars, nightlife and other city trappings. It's grown so much that the micro-neighborhoods of Whittier Heights, Sunset Hill and Loyal Heights have started emerging with stronger identities, so saying one lives in Ballard doesn't quite paint a precise picture any more. And though our lives and priorities have shifted—we're now comparing middle schools (I know!)—we love that all that grown-up stuff is there for us when we have the occasion to get out and play.
This month's issue dives deep into neighborhoods and nearby cities that are desirable, not necessarily because they're necessarily affordable or have great schools—although those are key factors—but because they have the whole live/play package. Beyond that, our criteria for "happy" in neighborhoods we feature are a little different (as you'll see, there is some debate over South Lake Union—I'm a huge fan, for the record), so read on, see how yours stacks up and discover a new spot that will make you smile.
One of our favorite things to do in Seattle's remarkable neighborhoods is eat, and this month we debut our reimagined dining listings. Each month, we'll focus on a different theme or type of cuisine. For March, it's neighborhood restaurants, natch. Food editor Allison Austin Scheff highlights her favorites—and we'd love to hear yours (it killed us that we couldn't get every neighborhood in). If you've been following renowned local forager Langdon Cook's column (Cook's Adventures), you'll now find it, along with some of our other food columns, in the Eat and Drink section upfront, with more lush photos for you to drool over.
Seattle magazine is so passionate about neighborhoods that we've developed a Community Involvement Program (CIP) to give back. For every issue sold in participating neighborhoods, $3 goes to a neighborhood charitable organization. We're already up and running on Queen Anne (in support of the Queen Anne Helpline) and in Ballard (for Ballard Boys & Girls Club). If you live in those neighborhoods, look for Seattle magazine at a special magazine rack. Expansion plans are in the works, so let us know if you have a deserving local organization to suggest. Hope to see you around the neighborhoods!
Until next month,
Sign up and get Seattle's best events delivered to your inbox every week.