Heartwood Provisions is a New Jewel in Downtown Seattle
Summer ingredients and pistachios shine in this spin on a classic refreshing cocktail
By AJ Rathbun May 23, 2016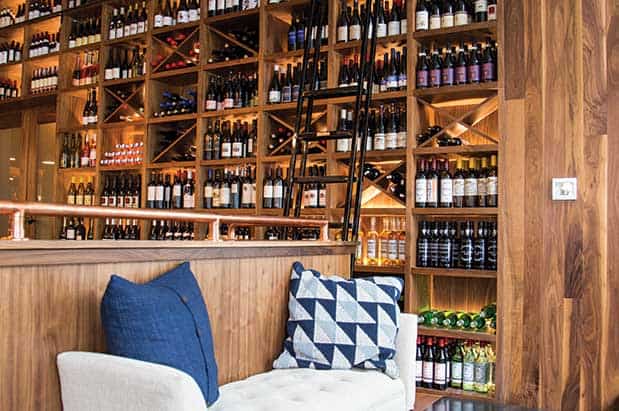 The Cocktail With a refreshing and slightly luxurious mingling of flavors, the What's New Pussycat? cocktail is really a variation on the sour: that large and historic family of drinks usually containing a base spirit, lime or lemon and a sweetener. Here the base is Rhum JM rhum agricole blanc (rhum is a cousin of rum made from sugar cane juice), the juice is lime, and the sweetener is an amazing house-made salted pistachio syrup, which is worth trying solo because of its distinct and lovely taste. It also includes an egg white, which adds a delightful frothiness and a rich body. The drink is finished with a smattering of crumbled pistachios, which add a nice crunch to the textural array. While it has a certain richness that would make it palatable in winter, the drink's tangy undertones and tropical rhum base make it even better in summer.
The Bar The spacious and beautiful Heartwood Provisions restaurant (downtown, 1103 First Ave.; 206.582.3505; heartwoodsea.com) with its lazy U of a bar, ample lounge options, big dining area and "tincture room" (a more private dining area for small parties, with house tinctures decorating the shelves), is a new jewel in our downtown crown, between Spring and Seneca streets. Beyond its looks, it boasts an intriguing cocktail list, great wines and a singular food menu, which pairs each dish with a different drink, crafted specifically to complement the food's flavors. Those drinks are about two-thirds the size of a regular cocktail, usually lower in alcohol content, with fewer ingredients, no garnish and more likely to have wine and beer as a base.
The Bartender A background as a sommelier and a superior shaker makes Amanda Reed ideally suited to be the beverage director at Heartwood Provisions. She started her career behind the bar in San Francisco (at RN74, among others) before moving north to open downtown Seattle's RN74. Since then, she's studied at The Court of Master Sommeliers, and made drinks at Oliver's Twist and Tavern Law (where she was general manager). Through it all, she's keep her amiable attitude—you rarely see her without a big smile.

This cinematically named drink is served in a short rocks glass, the traditional vessel for a sour, which helps to drive the aromas up and into the nose while sipping
The Recipe
2  ounces Rhum JM rhum agricole blanc
1  ounce salted pistachio syrup (recipe here)
½ ounce Mancino vermouth blanc
¾ ounce lime juice
2  dashes of Greenbar fennel bitters
    Egg white
    Pistachios, crumbled
» Combine all the ingredients except the pistachio crumbles in a shaker. Dry shake (without ice) for 30 seconds. Then add ice cubes and shake with ice. Strain through a fine strainer into a chilled rocks glass. Garnish with the crumbled pistachios.
Sign up and get Seattle's best events delivered to your inbox every week.