Holiday Take-Out: Brunch Options
Bakery sweets and savory local meats to round out an easy brunch at home
By Jess Thomson, Cynthia Nims and Sheila Cain December 9, 2015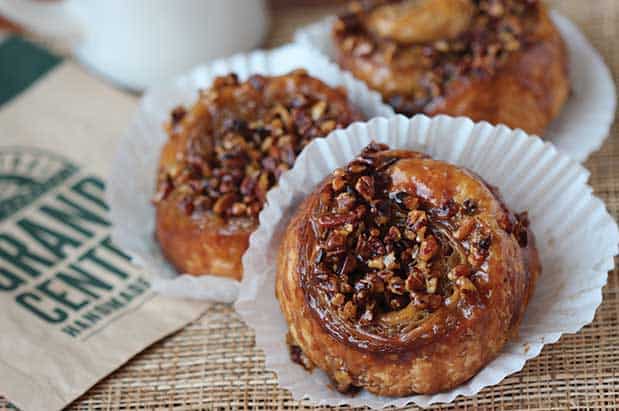 The food focus come December is heavily weighted toward big turkeys and honey-roasted hams, rich side dishes and decadent desserts. But the beloved brunch can be just as good a means for celebration, with the advantage of a relaxed vibe. To keep you in chill mode, here are local resources for front-loading the menu with no-fuss options. Add scrambled eggs, plenty of fresh fruit and orange juice. For the grown-ups, toss a splash of bubbly into that juice for mimosas, with a drizzle of berry liqueur, St-Germain or Grand Marnier liqueur for holiday panache.
Made just north of Seattle in Ferndale, Hempler's bacon (hemplers.com) offers cherished indulgence for your meat-loving mob—especially if you cook enough to allow them their "Oh, it's the holidays, I'll have just one more piece" fill. Available in smoked and uncured (nitrate-free) prepackaged versions, the bacon is also offered at some meat counters in the area by the pound, for just the amount you need—plus an extra half-pound, just in case.
Per-pound prices vary according to the shop. Available at Metropolitan Markets (metropolitan-market.com), West Seattle Thriftway (westseattlethriftway.com), Central Market Shoreline (central-market.com) and many other grocers in the area.
Hint: When cooking bacon for a crowd, skip the skillet and go for the oven instead: Arrange slices snugly (since they'll shrink) in a rimmed baking sheet and bake at 400 degrees F until cooked to your taste, turning the slices once or twice.
You can't go wrong by having quick bread on hand. An ideal snack almost any time, in brunch mode it's the perfect thing to serve guests (particularly fidgety tykes) upon arrival, before you get to the full spread. Dahlia Bakery (downtown, 2001 Fourth Ave.; 206.441.4540; tomdouglas.com) is a solid option for its year-round offering of chocolate banana nut bread ($13.50/loaf), and among the holiday seasonal selections will be pumpkin spice bread ($13/loaf). Call ahead to order the loaves whole, to slice as needed back home. Maybe even stock up on a few early on and freeze them (they hold up beautifully if well wrapped), to dole out over the course of the month's entertaining.
Baked goods are a cornerstone of quality brunching, no doubt. A visit to Coyle's Bakeshop (note: open Wednesdays–Sundays. Greenwood, 8300 Greenwood Ave. N; 206.257.4736; coylesbakeshop.com) presents you with an array of individual pastries to offer your friends. But in this season of splurging, why not have cake for breakfast? Call it "coffee cake" and all is good. This holiday season, Coyle's is baking a luscious olive oil Bundt cake that's embellished with apples, cardamom and lemon zest. Call 48 hours ahead to order the cake whole ($32), enough to serve 12–14 people. And it's moist enough so that any extra (what extra?) will keep well for a few days.
For something more ooey-gooey indulgent, plan on placing an order at one of the three Grand Central Bakery (grandcentralbakery.com) locations for their sticky buns ($2.85 each, one free for every six purchased). Any good sticky bun—or its cousin, the cinnamon roll—is an ideal brunch offering, although Grand Central's are noteworthy because a buttery-flaky croissant dough is used in place of standard bread dough for the pastry swirl. Baked with generous amounts of caramel and toasted pecans, these buns will disappear quickly.
Go back to the main Ultimate Holiday Take-Out Feast article.
Sign up and get Seattle's best events delivered to your inbox every week.