Hood Famous Opens New Location in CID
The couple behind Hood Famous expands beyond the darling, delicious purple cheesecakes
By Chelsea Lin June 10, 2019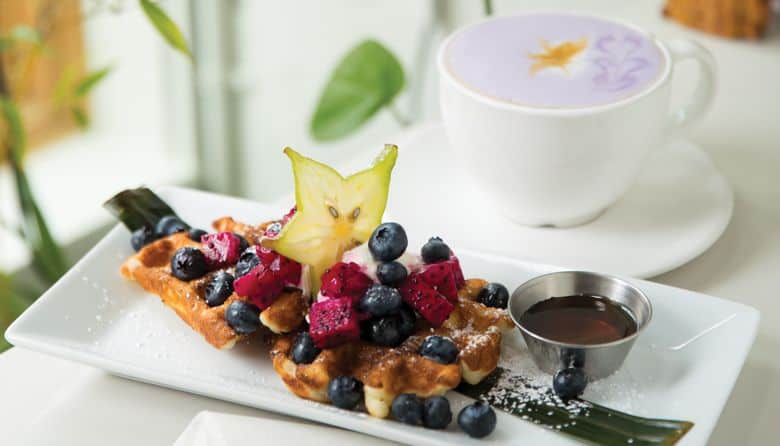 Through ingenuity and a whole lot of hustle, Chera Amlag and Geo Quibuyen of Ballard-based Hood Famous Bakeshop accomplished the unlikely: a baking business built on the success of a singular sensation: those Instagram-perfect ube (purple yam) cheesecakes. Now, they've added another, more approachable and more attractive destination to get those baked goods.
Hood Famous Café and Bar opened in Chinatown–International District in March. The all-day menu includes Amlag's delicious desserts, such as the mango calamansi cheesecake ($6.25) and buko pie (a young-coconut custard pie, $6 per slice). Try them alongside Quibuyen's more savory items, such as quiche made with Filipino ingredients like longanisa, a sweet pork sausage, and bitter melon ($7 per slice); and chewy butter mochi waffles ($9‒$12, plated, with toppings). Amlag's signature ingredient, ube, has found a home not only in cheesecake, but on the coffee menu, where it's made into a syrup and added to lattes.

Quibuyen explains that they want their new spot to be a place of community, and that's why the coffee-shop format makes sense. As they settle into it, he'll be introducing an evening menu of savory dishes pulled from (and expanding on) Food & Sh*t, the Filipino pop-up dinners he used to host. Cocktails will come, too—and you can bet that ube will make an appearance in some of those, as well. 
Most importantly, there's seating, which the original Ballard bakeshop lacks. Quibuyen says, "For everyone who's had to eat our cheesecake outside, or in the park, or on the steps, we're grateful for you." 
Chinatown–International District, 504 Fifth Ave. S, Suite 107A; hoodfamousbakeshop.com