Must List: Seattle Art Fair, CID Block Party, Jet Blast Bash
Your weekly guide to Seattle's hottest events
By Lauren Alexander, Gavin Borchert & Chris Robinson August 1, 2019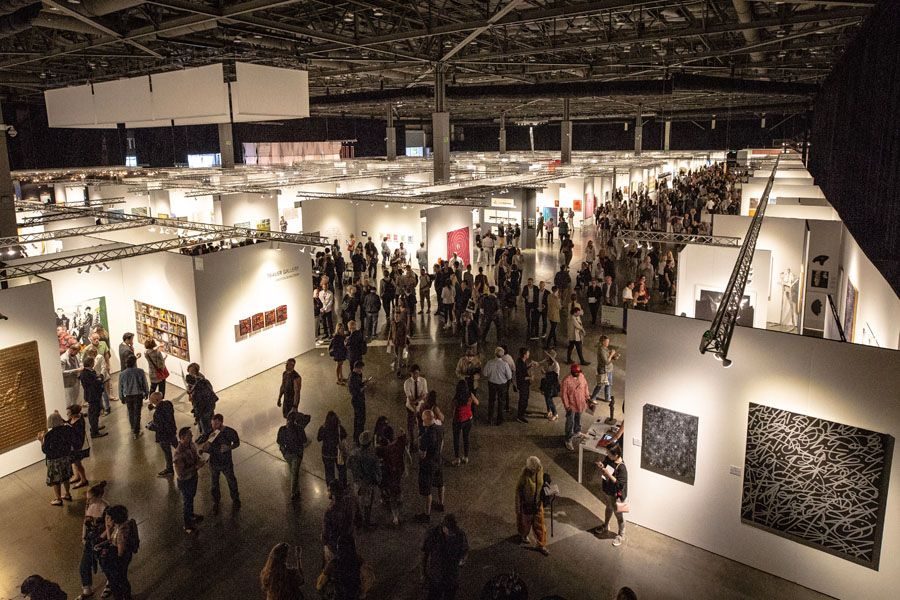 Love the Must List? Get it right in your inbox. Subscribe.
MUST APPRECIATE
Seattle Art Fair 
(8/1-8/4) It's time to get artsy. This iconic Pacific Northwest fair is showcasing artwork from local, national and international galleries, giving viewers a chance to compare collector pieces from Washington state and beyond. The late Paul G. Allen founded the fair in 2015 as a tribute to the arts community. Enjoy gallery exhibits, cafés and lounges, project show casings, artist talks and depending on your chosen ticket package, you'll have access to an opening night preview of the fair. Also, your kiddos get in free if they're 12 or under. Times and prices vary. CenturyLink Field Event Center, Pioneer Square, 800 Occidental Ave. S; 212.518.6912; seattleartfair.com
MUST TAKEOFF
Jet Blast Bash 
(8/3-8/4) You're going to want to pencil this one in—the bash has plenty of entertainment including the Blue Angels' takeoff and landing for the ones brave enough to watch. Live music by The Mix and the Boeing Employee Stage Band will keep you entertained while concession stands keep you fed. Grab a corndog, or something of the like, while photographer, author and pilot Brian Shul presents a Blue Angels history talk. Something to note: The Angels will be taking off from the museum parking lot giving goers the closest view in the city. 11 a.m.– 4 p.m. Free with museum admission. The Museum of Flight, Tukwila, 9404 E Marginal Way S; 206.764.5700; museumofflight.org
MUST SUPPORT
CID Block Party 
(8/3) Seattle's Chinatown is hosting a neighborhood party and everyone's invited. This event pays homage to Asian Pacific American culture, with a lineup stocked to support local talent from these communities. Check out performances by Prometheus Brown, Kronika, Bohkeh, Chong the Nomad and more. The Boozy Boba Beer Garden is a great excuse to sip and recoup before the Shift Import show displaying some of the most coveted cars in the Northwest. And when you're ready to wind down, head over to Hing Hay Park at sunset where Crazy Rich Asians will play on the big screen. 3 p.m.– 9 p.m. Free. Chinatown-International District, 900 S King St.; cidblockparty.com
MUST SEE 
Festival:Festival
(8/2–8/3) Artists' mission statements can now and then get a little, well…jargony, but David Rue—one of the curators for this second annual gathering of artists from historically underrepresented communities—came up with an admirably straightforward rationale. This mixed-discipline arts festival, held at Northwest Film Forum and at Amplifier, is, he says, "interested in how each artist's work exists as a portrait of the world they want to live in and how/why these portraits of desire differ from the world we're in now." This directness bodes well for the work we'll see from choreographer/performance artist Alice Gosti, transgender animator Clyde Petersen, QTPOC soul/hip-hop artist CarLarans, and many others; expect that work to be equally direct, compelling and hard-hitting. Times and locations vary. Free. festivalfestival.art
MUST MEET NEIGHBORS
National Night Out
(8/6) You and your neighbors can apply for a permit to block off your street and then celebrate—with potluck dinners, games, music and more—during this annual nationwide event that promotes strong partnerships between police and community together with neighborhood camaraderie. Night Out is celebrated by 38 million neighbors and 16,000 communities nationwide. Locations and times vary. Free. natw.org
MUST SIP FOR SUMMER
Edmonds Summer Wine Walk
(8/3) Shop small and sip local at this perfect summertime gathering, a collaboration between Seattle Uncorked and Art Walk Edmonds. A ticket gets you a complimentary wine tote bag, 10 tokens and a wine glass for Washington winemakers to pour tastes from their boutique wineries. Supporting the arts never seemed so easy, so take your time meandering through the Sip Stops on a beautiful summer evening—attendance should almost be required. This is a 21 and older event. 5 p.m.– 8 p.m. $30. Edmonds, 108 Fifth Ave. S; 425.298.7947; artwalkedmonds.com/wine-walks
Sign up and get Seattle's best events delivered to your inbox every week.