New Urban Garden Brings Increased Sustainability to Safeco Field
Raised bed beneath batter's eye provides food for Safeco's restaurants
By Kasee Bailey June 30, 2016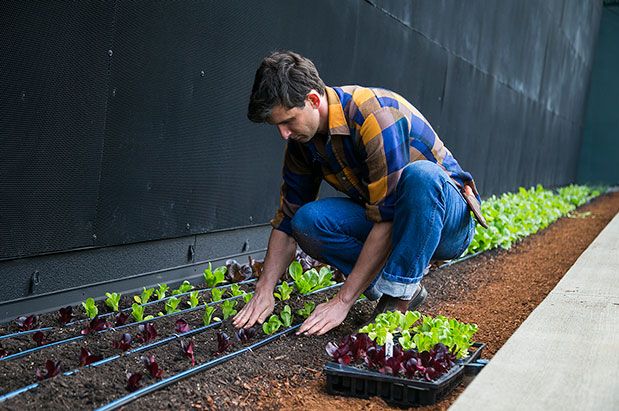 Safeco Field is home to baseball, its fans and all the trappings of an American sporting event. 
But it also contains what represents an additional effort by Safeco Field to be a sustainably green environment: a 450-square-foot urban garden tucked discreetly beneath the batter's eye, a dark backdrop located directly in the batter's line of sight.
Blink (or be seated below the 200s) and you'lll miss it.
Previously home to evergreen trees (removed, too distracting), flowers (often unattended), the raised bed now plays host to a variety of long-season plants, including peppers, basil, tomatoes, beans, chard and parsely, among other things.
In collaboration with the Seattle Urban Farm Company, the garden is tended by company founder Colin McCrate, who helps create urban gardens all over the city. He works with Safeco's executive chef, as well as other stakeholders (Cedar Grove and BASF) to plan for, cultivate and harvest crops that can yield useful product for the field's eating establishments.
"The project is exciting because everyone at the Mariners organization is very dedicated to its success," McCrate says. "Our work is most enjoyable when our clients and partners are eager to learn, enthusiastic and genuinely appreciative of the harvests that come from the garden. At the stadium, everyone seems to be rooting for the crops."

Radishes harvested from Safeco's urban garden. PHOTO CREDIT: Ben VanHouten, Seattle Mariners
The garden was first planted this past March; crops were harvested in May and from there, used in dishes at the baseball field's various restaurants. The crop selection is site-specific, helping to make the most of the garden's limited space; organic gardening methods in the microclimate, a small area with its own set of environmental conditions, provide an additional element of sustainability to the field's operation, even in a challenging space.
"Our projects often require us to grow food in challenging environments, and our spot at Safeco Field is a prime example," says McCrate. "The site has several unique factors including a height restriction on plants—so they are not in the batters' sightlines; an incredibly hot microclimate—due to a concrete wall and a large, black backdrop; and a movable roof—which affects the site's exposure to sun and precipitation. Unique site conditions ensure opportunities for creative problem-solving all season long."
Safeco also sets a precedent for other sports arenas looking to go green. Only half a dozen other sports arenas have gardens. What's more, Safeco Field has the lowest "energy intensity" of any ballpark in Major League Baseball, aided by LED lights that use 60 to 70 percent less energy than traditional lamps. Additionally, the Mariners recycled or composted 87 percent of all waste generated at Safeco Field last year, a rate improve by more than 70 percent in the last 10 years. Every year since 2010, the Mariners have been named the American League Recycling Champions by MLB.
"It is very important to the Mariners that their fans are aware of and participate in their mission towards sustainability," McCrate says. "The garden is a great tool for sustainability awareness in that it provides the final link in the stadium's closed loop waste system."

The Hit It Here salad, made with greens from the garden and radishes that were harvested earlier this season. PHOTO CREDIT: Ben VanHouten, Seattle Mariners
While the garden tangibly benefits the field—you can reap the benefits of its harvest with a taco at Edgar's or a Hit it Here salad—McCrate views the garden as a catalyst for other sustainability efforts around the city.
"It's rewarding to have an organization as large and socially impactful as a professional baseball team take interest in our work. We believe that urban agriculture can improve the quality of life for all city dwellers, and gardening at Safeco Field is a great way to get this message out to a lot of people."