New Veggie Burger Chain Inside Whole Foods is Just Good Enough
(No animals were harmed in the making of this blog post.)
By Chelsea Lin August 24, 2017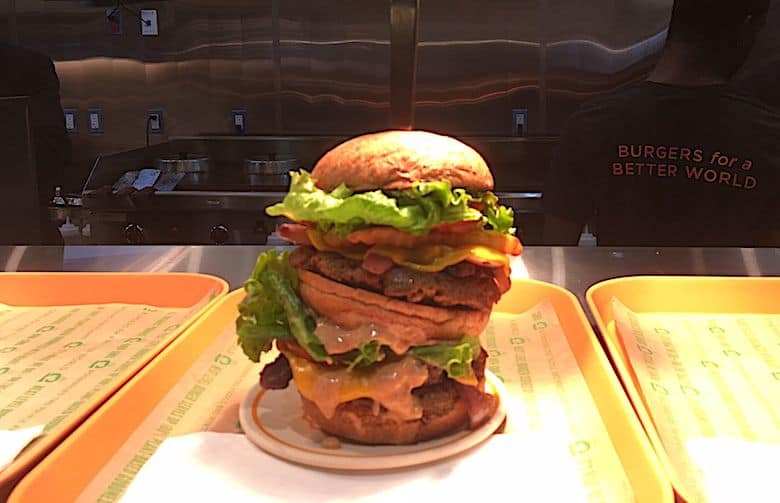 I'm not entirely sure when we started referring to vegan food as plant-based dining, but either way: It's here to stay. And before you carnivores scoff, it's actual fact (read: not fake news) that eating more veggies is good for you. Also, I'm guessing being a vegetarian is the reason 75-year-old Paul McCartney doesn't look a day over 60.
But eating less meat can be a daunting undertaking if you grew up in a meat-and-three family. And for that, let us introduce Next Level Burger, an entirely plant-based burger chain opening Friday inside the Whole Foods location on Roosevelt.
Next Level started in Bend, Ore., with founders Matt and Cierra de Gruyter, an adorably energetic young family with an admirable commitment to health, both personal and environmental. They turned that first burger shop into a few others in Oregon, and this will be the first Washington location—I'm guessing we'll be seeing more from these guys soon, particularly as the relationship with Whole Foods is a natural one. 
To be sure, these aren't frou-frou health burgers. There are no sprouts, and only minor use of quinoa. These are burgers for people who like burgers, but also happen to want to eat fewer animal products. There's "cheese"—quotations used because obviously no milk, but it's made in house and melts pretty convincingly—and "bacon" (made from tempeh) and "mayo" (made with not eggs). They come in around the same calorie count as going to Five Guys, so interpret "good for you" in a way that doesn't mean lower in calories. And don't miss the tater tots.
Where we found plant-based ice cream shop Frankie & Jo's really good ice cream period, Next Level is a good burger for being vegan. It's an important distinction. The burger patties tend to be a little dryer than a properly cooked meat one would be. But it beats a Gardenburger any day, and if you're in the habit of eating this kind of stuff out frequently, you could (and should) replace one of those meals with one of these ones. Plus, you can grocery shop for kombucha at the same time!
Sign up and get Seattle's best events delivered to your inbox every week.